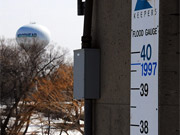 Fargo emergency plans
Minnesota Public Radio
March 26, 2009
The City of Fargo has prepared the following contingency evacuation plan for residents who live within the secondary dike system. Residents will be notified via sirens, CodeRED and the Emergency Broadcast System if there is a levy breach and an evacuation is necessary.
Directions: Look at the contingency sections map below to find out what section of the City you live in, then scroll through or use the search funtion to find your section for emergency instructions. Use the tools at the top of the document to zoom and naviagate the emergency plan.
You can find more flood information and resources here.