Listen to MPR
Stations | Podcasts | More StreamsHide Streams
Noteworthy
This fall MPR News launched six new podcasts hosted by a collection of Minnesotans who represent the voices, perspectives and interests of MPR News audiences. These shows have one thing in common: veteran MPR News producer Chris Roberts. Roberts answered some questions for a behind-the-scenes look here at MPR.
What Members are Saying
MPR is a member-supported, community-based public radio service. Each one of our members' contributions are vital to our ability to bring news and music to their communities.
Want to be a part of our success? Give now.
From Our Services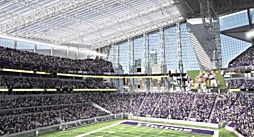 The Minnesota Vikings have sold more than 30,000 seat licenses to fans for more than $80 million. The team aims to sell $100 million in seat licenses for construction costs.
<p>English rock singer Joe Cocker, best known for his iconic covers of the Beatles&#8217; &#8220;With a Little Help From My Friends&#8221; and Billy Preston, Bruce Fisher, and Dennis Wilson&#8217;s &#8220;You Are So Beautiful,&#8221; passed away today following a battle with lung cancer. Born on May 20, 1944, in Sheffield, West Riding of Yorkshire, he was 70 years [&hellip;]</p>