St. Olaf Boe Memorial Chapel Rededication Broadcast
Saturday, March 10 at 8:00 PM on Classical Minnesota Public Radio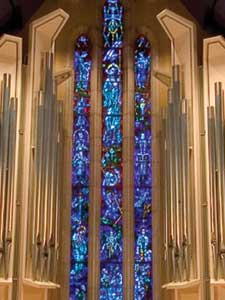 Join us for a special broadcast of the Chapel Rededication Celebration Hymn Festival and the inaugural recital of the new Holtkanp organ recorded February 24, 25, 2007.

The hymn festival includes John Ferguson conducting the St. Olaf Cantorei, with singing from the congregation, in addition to the brass choir and the new chapel organ. Pastor Bruce Benson narrates, weaving the experience into a whole, including Benjamin Britten's Te Deum. The broadcast will also include brief conversation with John Ferguson and organ builder Christian Holtkamp.

Interactive Items:

Follow along in the Hymn Festival Program
PDF file - requires Adobe Acrobat

Audio Extras:
Chris Holtkamp talks about organ building:

The unique qualities of an organ project.

Organ building as a "hands on" endeavor.


John Ferguson demonstrates the various sounds of the Holtkamp pipe organ.

Related Links:

Boe Memorial Chapel

Holtkamp organ information

Pictures of the organ installation

More about the Hymn Festival

More about John Ferguson

Music programs at St. Olaf
Broadcast Audio:

Part 1

Part 2