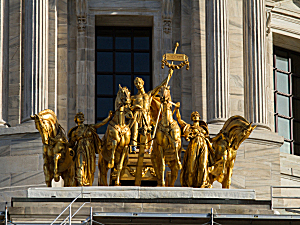 The chariot driver from the Quadriga on top of the Minnesota Capitol was lifted away from his four golden horses Tuesday morning for repairs. He is expected to be back in about three months.
2:18 p.m.
The Guthrie stages a fine production of a play that doesn't age well.
Art Heroes is an MPR News series about people who have chosen to use their artistic talents to make the world a better place.
Each week, Minnesota Public Radio News asks people from the Minnesota arts scene to be "Art Hounds." Their job is to step outside their own work, hunt down something exciting that's going on in local arts, and share it with the rest of us.
Interested in becoming a Art Hound? Sign up!
View All Events
»