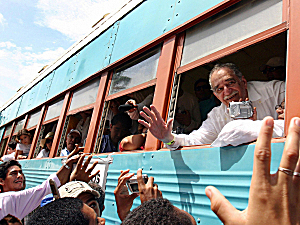 Garcia Marquez's magical realist novels and short stories exposed tens of millions of readers to Latin America's passion, superstition, violence and inequality. Widely considered the most popular Spanish-language writer since Miguel de Cervantes in the 17th century, Garcia Marquez achieved literary celebrity that spawned comparisons to Mark Twain and Charles Dickens.
8:25 a.m.
Jose James, The Shadow War, and celebrating a great children's author
Art Heroes is an MPR News series about people who have chosen to use their artistic talents to make the world a better place.
Each week, Minnesota Public Radio News asks people from the Minnesota arts scene to be "Art Hounds." Their job is to step outside their own work, hunt down something exciting that's going on in local arts, and share it with the rest of us.
Interested in becoming a Art Hound? Sign up!
View All Events
»