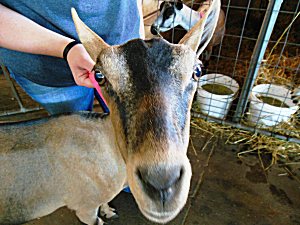 Each day during the Minnesota State Fair, we are introducing you to a different type of animal that you might encounter on the fairgrounds. This morning, there will be lots of goats on display during the 4-H competition. MPR's Cathy Wurzer spoke with the trainer of one of those goats, Johanna Jutz, who lives in Sibley County.
More Arts & Culture News
08/21
Dread Scott, one of the artists featured in the Walker Art Center's "Radical Presence" exhibition, has written an essay for the museum criticizing the actions of police in Ferguson, and looking at the cultural ramifications of the fatal shooting of Michael Brown. Scott says people are increasingly questioning the legitimacy of the police and other…
Art Heroes is an MPR News series about people who have chosen to use their artistic talents to make the world a better place.
Each week, Minnesota Public Radio News asks people from the Minnesota arts scene to be "Art Hounds." Their job is to step outside their own work, hunt down something exciting that's going on in local arts, and share it with the rest of us.
Interested in becoming a Art Hound? Sign up!
View All Events
»