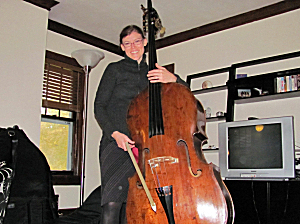 Orchestra musicians from across the nation have sent donations to Minnesota Orchestra musicians, who are struggling to pay their mortgages, rent and health care. But the fund the American Federation of Musicians set up for striking and locked out musicians has long since run out.
12/06
With only a few weeks before St. Paul's Artists' Quarter closes its doors, jazz musicians in the Twin Cities plan a benefit this weekend to help raise money for owner Kenny Horst's closing costs. Horst, a jazz drummer, announced in October that the club's nights would come to an end on New Year's Eve because...
Art Heroes is an MPR News series about people who have chosen to use their artistic talents to make the world a better place.
Each week, Minnesota Public Radio News asks people from the Minnesota arts scene to be "Art Hounds." Their job is to step outside their own work, hunt down something exciting that's going on in local arts, and share it with the rest of us.
Interested in becoming a Art Hound? Sign up!
MPR Events
Hacking Health Care
December 9, 2013
At The Bulldog NE
Story Forms
December 11, 2013
At UBS Forum at Minnesota Public Radio
Wits
December 13, 2013
At The Fitzgerald Theater
View All Events
»