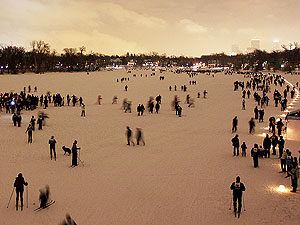 The festival's cross-country ski route typically begins at Theodore Wirth Park and ends at Minneapolis' Chain of Lakes, but this year will be contained within Wirth Park.
10/21
This does not mean that MPR's commitment to arts coverage will be in any way diminished. But we are streamlining our web presence, and making arts coverage easier for you to find.
Art Heroes is an MPR News series about people who have chosen to use their artistic talents to make the world a better place.
Each week, Minnesota Public Radio News asks people from the Minnesota arts scene to be "Art Hounds." Their job is to step outside their own work, hunt down something exciting that's going on in local arts, and share it with the rest of us.
Interested in becoming a Art Hound? Sign up!
View All Events
»