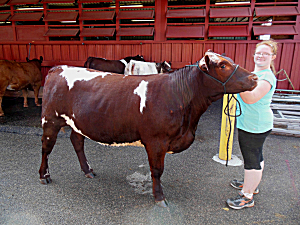 Today is the first day of the Minnesota State Fair and throughout the fair we are going to introduce you to some of the more interesting animals you might encounter. This morning, 12-year-old Liz Jabs, a 4H kid from St. Charles, Minnesota tells us about her short horn heifer that she will be showing today.
08/19
The Minneapolis comedy institution Brave New Workshop is expanding its presence downtown. The company has bought a five-story property at 727 Hennepin Avenue, located just across the street from the theater's main stage, which it purchased in 2011. It will replace the space it leased for nearly 50 years in Uptown, also on Hennepin Avenue,…
Art Heroes is an MPR News series about people who have chosen to use their artistic talents to make the world a better place.
Each week, Minnesota Public Radio News asks people from the Minnesota arts scene to be "Art Hounds." Their job is to step outside their own work, hunt down something exciting that's going on in local arts, and share it with the rest of us.
Interested in becoming a Art Hound? Sign up!
View All Events
»