Celebrate Beethoven's Birthday with the Miró Quartet in concert
December 17, 2006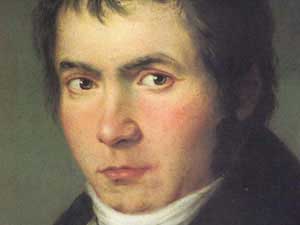 By the year 1800, Ludwig van B., that brash 30-something piano phenom from Bonn, had worked his way into Vienna's wealthy and with-it cultural scene.

As ever, talent wasn't enough, promotion made the difference, and Beethoven was adept in connecting with the musical establishment and wealthy patrons while projecting his own "bad boy" image.

But his hearing was beginning to give him problems, and he knew that a career as a pianist would not long be his. How to make the jump from performer to serious composer? With a set of six string quartets, his Opus 18, the culmination of several years' work and a display of his connections to tradition and innovative notions for the future.
The Miró Quartet presented the Opus 18 six-quartet cycle in concert last April for the Chamber Music Society of St. Cloud. Their energetic and insightful marathon performance gives us the chance to "see" Beethoven's growth -- from his tributes to acknowledged masters (and teachers) Mozart and Haydn, to an evolving sense of self with an innovative individuality unique in history.

The Miró Quartet's players are the same age as Beethoven was when he composed these scores, and they dig into this music with incredible verve and focus.
Miró violist John Largess provides comment and context as we advance from high classicism to the borders of romanticism. Find links below to additional information about Beethoven and his young interpreters, follow along with online scores, and enjoy a special transformational opportunity.

Hear the entire six-quartet cycle in a special broadcast Saturday, Dec. 16 from 8 p.m.-11 p.m. on Classical Minnesota Public Radio, and a live stream on mpr.org.
1 - John Largess gives us a general introduction to the concert concept and the first three quartets.
2 - Beethoven did not spring fully formed from the head of Zeus, but knew the works of the established composers string quartets, Mozart and Haydn. How are those influences demonstrated in the D-major (#3) and G-major (#2) Quartets?
3 - The F-major quartet was the third in actual sequence of composition, but Beethoven placed it first in the Opus 18 collection. There was a reason.
4 - In the first three quartets, Beethoven embraces tradition and begins exploring new ways. In the second three quartets, he shows himself increasingly to be his own man. Largess gives us a brief overview.
5 - Does the C-minor Quartet (#4) point the way to the Beethoven of the Fifth Symphony?
6 - Does Beethoven come to any particular 'conclusion' in the Sixth Quartet (B-flat), or instead of a summary, does this piece look forward?
7 - What was it like to tackle a project of this scope?
8 - In introductory comments you mentioned that this was 'young man's music', and that you all, in the Miró ensemble, were at approximately the same age as Beethoven when you began working on these pieces. Was it, too, a young person's challenge to play all six of these works in a single mini-marathon event?
9 - When the Miró Quartet set out to document their work with Beethoven's Opus 18 (for a 2-CD set released by Vanguard Classics), were the sessions relatively uncomplicated, or was this a whole different ballgame from playing the whole cycle live in concert?
Helpful Links:
The Miró Quartet's performances of these Opus 18 string quartets by Beethoven are available from Vanguard Classics (ATM CD 1655)
The Miró Quartet performed the cycle of Beethoven's Opus 18 on April 1, 2006 at Atonement Lutheran Church in St. Cloud, presented by the Chamber Music Society of St. Cloud. Click here for a PDF of the Society's 2006-2007 concert season.
The Chamber Music Society of St. Cloud.
Opus 18 was published in 1801. Each quartet was composed in the following order (this is also the order in which they are performed by the Miró Quartet.):

More about Ludwig_van_Beethoven.
Get to know the Miró Quartet.

Follow along with scores to Quartet 1 and 4: (note: the scores are available as PDF files for each movment.)
String Quartet No. 1 in F major
String Quartet No. 4 in C minor