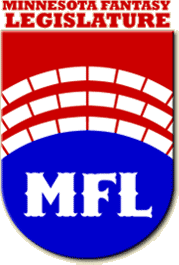 MPR Fantasy Legislature Team Page: Rah Rah Northeast Minneapolis
Rah Rah Northeast Minneapolis
Maroon League
Manager: Doron Clark
Bio: A farm boy by birth (Eyota, MN), Doron Clark calls Northeast Minneapolis home and rides the 4 to work at Target. He enjoys cribbage, his neighborhood, and good food.
Strategy: My team name reflects my current place of residence (NE Mpls) while paying tribute to the dominant city of my childhood: Rochester. Rah Rah! My team pursued legislators who seem to enjoy sponsoring bills. Predictions: Rah Rah Northeast Mpls will dominate from wire to Sine Die.

Sen. Chris Gerlach
GOP
Rep. Mindy Greiling
DFL
Rep. Bob Gunther
GOP
Rep. Frank Moe
DFL

Rep. Kathy Tingelstad
GOP

Sen. David Tomassoni
DFL