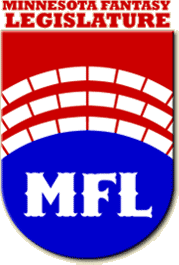 MPR Fantasy Legislature Team Page: Legiliscious
Legiliscious
Maroon League
Manager: Kevin Moberg
Bio: Kevin Moberg is a student of Culture and Literature currently residing in North Minneapolis. He is happily married, and unhappily still finishing his B.A.
Strategy: My wife and I are participating in Fantasy Congress this year, and after watching all but one of our boys and girls win this year, we wanted to start living vicariously through them.
Rep. Doug Magnus
GOP
Rep. David Dill
DFL
Sen. Bill Ingebrigtsen
GOP
Rep. Diane Loeffler
DFL

Rep. Joe Mullery
DFL

Rep. Tim Faust
DFL