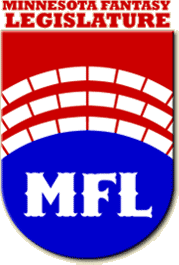 MPR Fantasy Legislature Team Page: House Call
House Call
Maroon League
Manager: Matthew Flory
Bio: I'm a St. Paul native with some experience on legislative campaigns and lobbying. That said, in deference to paid professionals I embrace my status as a political hack.
Strategy: I primarily chose 2nd term House members presuming to maximize single bill point opportunities (I'm pre suming that Chairs will get their bills into omnibus packages).
Rep. Steve Gottwalt
GOP
Rep. Tom Huntley
DFL
Rep. Maria Ruud
DFL
Rep. Dan Severson
GOP

Sen. Terri Bonoff
DFL

Rep. Paul Thissen
DFL