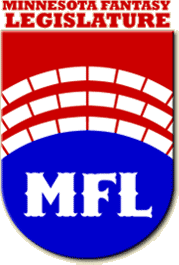 MPR Fantasy Legislature Team Page: Downtowners
Downtowners
Maroon League
Manager: Trevor Gould
Bio: University of London graduate with a masters in human evolution and behavior. Interested in all kinds of local and international politics.
Strategy: With the Democrats firmly in control of the legislature I expect more bills to be proposed by Dems.
Rep. Laura Brod
GOP
Rep. Karen Clark
DFL
Sen. David Hann
GOP
Rep. Frank Hornstein
DFL

Rep. David Bly
DFL

Sen. Larry Pogemiller
DFL