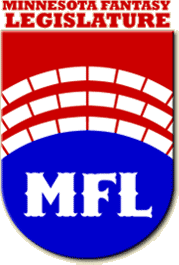 MPR Fantasy Legislature Team Page: AFSCME Got Votes
AFSCME Got Votes
Maroon League


Manager: Wes Volkenant
Bio: I'm a married 50-year old living in Andover, working as a Human Services Department trainer for Hennepin County. I love fantasy games - maybe more than liberal political issues.
Strategy: I pu t John Lesch first on my list. He's AFSCME's only elected legislator this year. As a trainer for Hennepin County, I belong to AFSCME, and have been an officer/activist for about 10 years. I edit Local 34's newsletter, The Banner, located at www.afscmelocal34.org. In 2004 & 2006, AFSCME had successful GOTV (Get Out the Vote) campaigns. Hence my team name is: AFSCME GOT Votes.

I actually had all six names on my list - #6 - DeLaForest is my own legislator, but he met the 2 GOP criteria, and at least he isn't Seifert or my State Senator, Debbie Johnson. Go Chris! Steve Smith is one of the few GOPers endorsed by AFSCME (I was also pulling for Jim Abeler, but he went just ahead of me in Round 1 - or for Kathy Tinglestad, who went in Round 2). I'm pleased to get labor-supported legislators like Chaudhary, Nelson and Anderson on my team, too. Looks like I got a lot of finance-related people - is that good? bad? With 24 teams now, I'm just glad there were enough names to go around!

Rep. John Lesch
DFL
Rep. Aaron Peterson
DFL
Rep. John Berns
GOP
Rep. Margaret Kelliher
DFL

Rep. Neva Walker
DFL

Rep. Steve Smith
GOP