[an error occurred while processing this directive]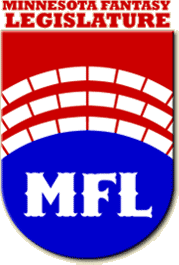 Fantasy Legislature Team Page: Marble Madness
TBD
Gold League

Manager: Brian Simon

Bio: I'm here to learn more about MN politics. After getting into federal politics, I know little about the MN scene, and will use the fantasy legislature to learn more.

Team strategy: My roster was thrown together with a minimum of research. The primary qualification I sought was years of service, on the premise that the longer someone has served, the more likely they are to craft legislation that will get votes. I intentionally did not pick the formal leaders, as they're more likely to be managing than writing legislation - at least to my neophyte thinking. The secondary qualification I used was name recognition, which is less reliable, as Rep Olson's name has been much publicized lately, but not due to his prowess at legislating.
Rep. Bernie Lieder
DFL
Rep. Mary Murphy
DFL
Sen. James Metzen
DFL
Sen. Patricia Torres Ray
DFL

Rep. Connie Ruth
GOP

Sen. David Senjem
GOP
[an error occurred while processing this directive]