[an error occurred while processing this directive]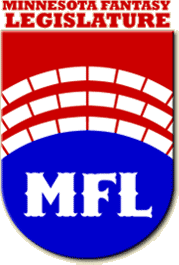 Fantasy Legislature: Caucus-O-Rama
Caucus-O-Rama
Gold League

Manager: David Younk
Bio: Minneapolis marketing professional with an above-average interest in politics.
Strategy: Caucus-O-Rama was the "cleanest" name my advisory staff could devise. We have a two-pronged approach. We drafted who we determined to be the a) noisiest and b) most likely to co-sponsor a bill. If you're a legislator trying to get on the news, I want you on our team.
Sen. Michael Jungbauer
GOP
Rep. Cy Thao
DFL
Rep. Joe Mullery
DFL
Rep. Sondra Erickson
GOP

Sen. John Marty
DFL

Sen. Larry Pogemiller
DFL
[an error occurred while processing this directive]