[an error occurred while processing this directive]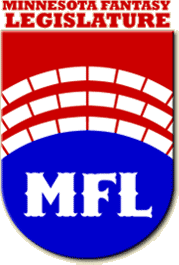 Fantasy Legislature: Bemidji Beavers
Bemidji Beavers
Gold League


Manager: Mike Simpkins
Bio: Was on my first legislative campaign steering committee in 1986. Most recently worked on the Steve Kelley statewide campaign(s) and after the AG primary, worked on a number of legislative campaigns in Northern Minnesota.
Strategy: Bemidji Beavers...hometown college..oops, I mean University. I tried to draft legislators who I thought would be effective and that I also liked. Probably not smart to put "likeability" in the equation but so be it. I see the Beavers as a top 5 team but will need some good fortune and strategery to win the whole thing.
Rep. Frank Moe
DFL
Sen. Steve Dille
GOP
Rep. Leon Lillie
DFL
Rep. Steve Simon
DFL

Rep. Bob Dettemer
GOP

Rep. John Ward
DFL
[an error occurred while processing this directive]