Challenged ballots: You be the judge - Round 2
December 1, 2008
Representatives from the campaigns of Sen. Norm Coleman and Al Franken have been challenging ballots across the state.
It's your turn to play election judge. Tell us how you would rule in the case of these challenged ballots. Use this Minnesota state statute as your guide.
Click for a brief description of these ballots.
In case you missed it, here are
Round One
,
Round Three
and
Round Four
.

Ballot #1: The Apology
View the whole ballot
(PDF

opens in new window)
The Franken campaign challenged this ballot from Plymouth, saying the voter's intent was clear despite an alleged identifying mark made underneath the voter's explanation. An election official's note reads: "Alleged identifying mark redacted from public copy." (Secretary of State's Office)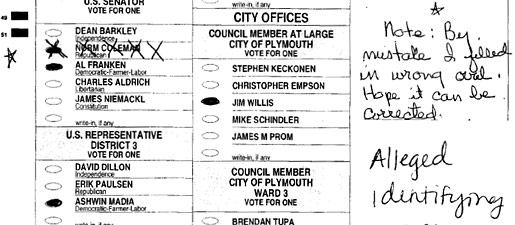 Ballot #2: X Gets the Square
View the whole ballot
(PDF
opens in new window)
The Coleman campaign challenged this ballot from Hopkins, saying the voter's intent was not clear. The voter put an "X" next to some candidates' names in some races, while filling in the oval in other races. (Secretary of State's Office)
Ballot #3: The Democratic
View the whole ballot
(PDF
opens in new window)
The Coleman campaign challenged this Maple Grove ballot, saying the voter's intent was not clear. The voter circled the word "Democratic" beneath Al Franken's name and did the same in the presidential race beneath "Barack Obama and Joe Biden". (Secretary of State's Office)
Ballot #4: The Circle
View the whole ballot
(PDF
opens in new window)
The Coleman campaign challenged this Beltrami County ballot, saying the voter's intent was not clear. The voter appears to have circled the oval next to Al Franken's name. (Secretary of State's Office)
Ballot #5: Missed the Mark
View the whole ballot
(PDF
opens in new window)
The Coleman campaign challenged this ballot from Plymouth, saying the voter's ballot was "not filled out completely." The voter marked an oval to the right of the candidates' names instead of marking inside the oval outline to the left. (Secretary of State's Office)
Ballot #6: The Middle
View the whole ballot
(PDF
opens in new window)
Both the Franken and Coleman campaigns challenged this Olmsted County ballot, each claiming the ballot to be a vote for their respective candidate. (Secretary of State's Office)
Ballot #7: The Write-in
View the whole ballot
(PDF
opens in new window)
This Carver County voter wrote the same name in many different write-in boxes across this ballot. The Franken campaigned challenged the ballot, saying the abundance of names constituted identifying marks. (Secretary of State's Office)
Ballot #8: The Hieroglyph
View the whole ballot
(PDF
opens in new window)
The Coleman campaign challenged this Chaska ballot, claiming the marks made in the Al Franken oval constituted identifying marks. (Secretary of State's Office)
Ballot #9: The Aldrich
View the whole ballot
(PDF
opens in new window)
The Franken campaign challenged this Carver County ballot on the grounds that the voter's intent is not clear. (Secretary of State's Office)
Ballot #10: The New Norm
View the whole ballot
(PDF
opens in new window)
The Franken campaign challenged this Hennepin County ballot, saying the voter's intent could not be determined. (Secretary of State's Office)
More on the Senate recount:
Discuss these ballots on News Cut
Vote on more ballots:
Round One
View all of the challenged ballots as they become available
Video: Recount Day 1