Archbishop John Nienstedt's years in the Twin Cities
Published: December 17, 2013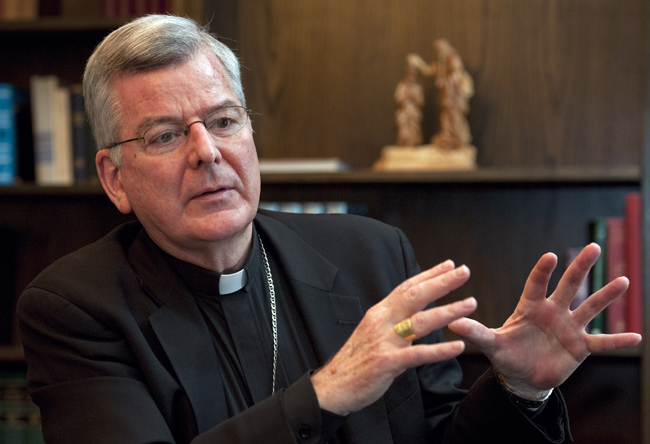 The Archdiocese of St. Paul and Minneapolis announced Dec. 17 that Archbishop John Nienstedt voluntarily "stepped aside from all public ministry" while police investigate an allegation that he touched a boy on the buttocks in 2009.
In doing so, Nienstedt became the first sitting U.S. bishop to voluntarily relinquish some of his duties because of a police investigation into alleged sexual misconduct, said the Rev. Thomas Doyle, a priest and canon lawyer who worked at the Vatican Embassy in Washington, D.C.
Nienstedt denied the allegation.
"I must say that this allegation is absolutely and entirely false," the archbishop wrote in a letter posted on the archdiocese's website. "I have never once engaged in any inappropriate contact with a minor."
During the investigation, Auxiliary Bishop Lee Piche will assume the archbishop's public duties during the investigation, according to a statement from the archdiocese.
• Related: As Nienstedt steps back, an auxiliary bishop steps into the breach
The St. Paul Police Department began its investigation Dec. 16 after the archdiocese encouraged a person within the church who is required by law to report allegations of abuse to contact authorities.In a statement this morning, archdiocese officials said they learned of the allegation from that person.
Archbishop John C. Nienstedt
Born: March 8, 1947 (Detroit)
Ordained: July 27, 1974 (Dearborn, Mich.)
Education: Sacred Heart Major Seminary (B.A.); Pontifical Gregorian University (S.T.B.); Pontifical Institute of Saint Alphonsus, Rome (S.T.D, S.T.L.)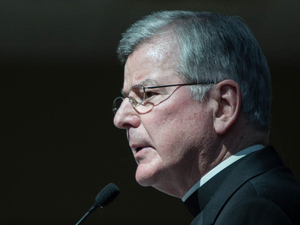 ---
Leadership positions in the Church
Auxiliary Bishop of Detroit: July 9, 1996
Bishop of New Ulm: Aug. 6, 2001
Coadjutor Archbishop of St. Paul and Minneapolis: April 24, 2007
Archishop of St. Paul and Minneapolis: May 2, 2008
Nienstedt, 66, has been archbishop since 2008, after a transition year alongside his predecessor Harry Flynn.
He started addressing the ongoing clergy sex abuse scandal in the Archdiocese of St. Paul and Minneapolis head-on Dec. 15 at Our Lady of Grace parish in Edina, Minn., saying in a homily that he's sorry he overlooked issues of abuse among parish priests.
He told parishioners and reporters after Mass that he was told the issue of clergy sex abuse had been taken care of by the time he became archbishop.
• Full investigation coverage: Archdiocese of St. Paul and Minneapolis
"Unfortunately I believed that and so my biggest apology today, and I did this last week at two other parishes, is to say I overlooked this," he said on at Our Lady of Grace. "I should have investigated it more than I did."
In early December, Nienstedt released a list of 30 priests who the archdiocese says have been credibly accused of sexually abusing children. Nienstedt also ordered a review of clergy personnel files to ensure no other abusers are in ministry.
The action came after an ongoing MPR News investigation has found that church leaders — including Nienstedt — protected abusive priests during their tenures.
St. Paul Police Chief Tom Smith said the archdiocese is not cooperating with an ongoing criminal investigation into clergy sexual abuse.
SOME OF NIENSTEDT'S RECENT DECISIONS
An MPR News investigation found he had approved payments above typical pension amounts to priests who sexually abused children; failed to report to police a priest's pornography that appeared to include children; and did not warn parishioners of a priest's sex addiction and interest in young men. | Read the full investigation
---
Q&A: WHAT HAPPENS NEXT?
Auxiliary Bishop Lee Piche
Covering Nienstedt's public duties
Auxiliary Bishop Lee Piche will cover Nienstedt's public duties during the investigation.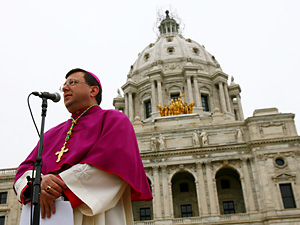 (MPR Photo/File 2012)
Piche attended St. Paul Seminary and was ordained in 1984. He has served as auxiliary bishop in the archdiocese since 2009, and was appointed one of the archdiocese's vicars general.
He has taught at the University of St. Thomas, and has served in a series of Twin Cities parishes. Generally well-liked in the Catholic community, he was also involved in two recent clergy abuse scandals facing the archdiocese.
What does it mean for the archbishop to step aside from public ministry? What does this mean for Nienstedt? For Piché? For parishioners?
Auxiliary Bishop Lee Piché will cover Archbishop John Nienstedt's public duties while the Twin Cities Catholic church leader steps back from contact with parishioners.
The archdiocese won't say what stepping back from public ministry looks like, but it will likely mean his public duties, such as celebrating Mass with parishioners, will be curtailed.
The pressure on the archdiocese and Nienstedt has been ramped up. Nienstedt said he's stepping aside, but it's unclear what that means.
He is still the archbishop. According to church law, only the Pope can remove him or allow him to resign, by accepting his resignation.
Now, the Twin Cities archdiocese doesn't have a clear leader in charge. Auxiliary Bishop Lee Piche has been appointed to cover for Nienstedt's public ministerial duties. But that's only part of Nienstedt's role. Parishioners, then are left without a clear sense of who will guide them — and who will lead them on the path out of the scandal that has enveloped the archdiocese.
Ramsey County Attorney John Choi has said that impaneling a grand jury is not a step he'll likely take in the investigation into clergy abuse allegations. Has the St. Paul police chief's announcement that the archdiocese is not cooperating with their investigation changed Choi's mind?
No. Choi deferred to his spokesman after Chief Tom Smith called a news conference Dec. 17 to discuss the matter — and the investigation into allegations against the archbishop — with reporters. Choi's spokesman said nothing has changed.
At this point, he said, the county attorney's office is waiting for the police investigation to hit a dead end before they move forward. He says he doesn't know how long that will take.
Police have found themselves boxed in by their own investigation: They can't execute search warrants without probable cause. And they can't get probable cause without interviewing the top people at the chancery.
So far, those people — the leaders of the archdiocese — are refusing to talk to police. Chief Tom Smith even sent a letter on Dec. 4 directly to the archbishop, asking for help with the investigation and to be connected with people who have information about these cases. Smith said on Dec. 17 he never got a response.
Under the rules set by police and Choi, no one is forcing the archdiocese to do anything. Investigators are still trusting the church to be honest about what information they have.
As MPR News has reported several times, the archdiocese has files that contain documents no one in the public has seen that show priests admitting to sexually abusing children. The archdiocese doesn't dispute that.
Absent a grand jury, what happens if the archdiocese continues to refuse to answer questions? Will the investigation just go away?
Possibly. But law enforcement officials haven't used most of their investigative tools yet, at least according to a St. Paul Police Department news conference on Dec. 17. There haven't been search warrants or subpoenas executed that would force the church to provide information or turn over its files. And police have said they have had trouble getting people to talk to them other than victims, don't have the information that police would need to investigate a possible cover-up.
"It's never good enough when someone tells us no," Smith said at the news conference. "And as of right now, except for attorneys, and being told no in a specific instance on the investigations before the allegations today, we have not been successful."
Police say they're still investigating. And Choi's spokesman said prosecutors are still waiting to see what they come up with.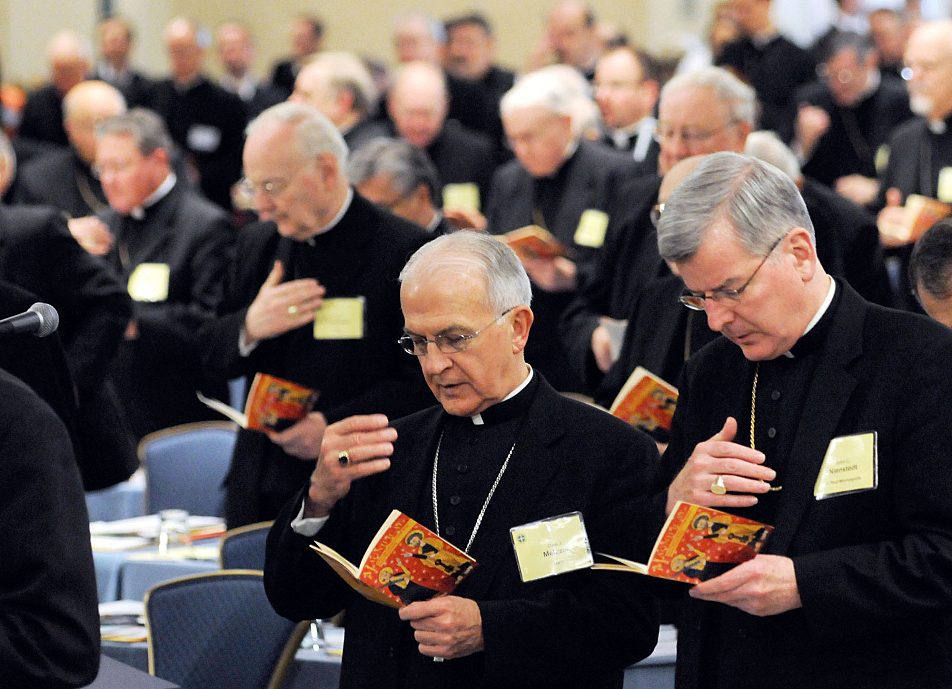 ---
Sasha Aslanian, Madeleine Baran, Molly Bloom, Mike Cronin, Meg Martin, Laura Yuen, Eric Ringham and Tom Scheck contributed to this report
.
---