Stories of "Playing it Forward"
Play it Forward: Classical MPR's Musical Instrument Drive™ is all about getting musical instruments into the hands of children and teens who want to learn to play. What can an instrument mean in someone's life? Share your story about an instrument that was or is important to you.
Heather Olson (Eden Prairie)
My Harmony acoustic folk guitar has survived since middle school days when I first took lessons at the Bob Gand School of Music in Deerfield, IL, in 1970. Generally too shy otherwise to perform in front of a crowd, with my guitar in my lap, I gained confidence and many hours of personal enjoyment. Today, my 20-year-old son has my treasured guitar with him as one of his few prized possessions on an organic farming adventure in western Colorado. The first instrument I ever played was my mother's black Steinway baby grand piano. She had majored in music at Chicago Musical College (today Roosevelt University), then taught lessons at a private girls school in Cleveland. Of course her own two children would learn to play!
Mitch Berg (St. Paul)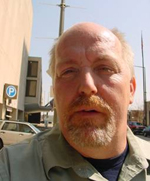 When I was 14, I was a dweeby nerd, too tall for my weight and too uncoordinated to even play water boy. I had horrible acne and greasy hair. But one day my dad brought home an old, cheap guitar someone had left in his locker years earlier. By the time I got it, it had a cracked front and was missing two tuning machines and all but one string. But I scoured the town for parts, repaired and restrung it, and slowly and awkwardly taught myself how to play. After two years of practicing (and eventually saving up paper route money for a better guitar), I got something I'd never had: an identity I liked. I was a guitar player. A rocker. I bought an army-surplus shirt and grew my hair longer and affected that Clash stance. I developed confidence and swagger, and just a little bit of a me that I kinda liked.
Victoria Morrison (Crystal)
I play viola, and have since it was offered in public school in rural Wisconsin. It's made the most difference of anything in my life. We lived at half the poverty level in rural Wisconsin. We had a big garden and only ever bought used clothes. But the viola was mine alone. (I used the school's viola until I was 16 when my family got together enough money to buy me my own instrument.) As Wisconsin Synod Lutherans, we weren't allowed to watch TV, and there were no other kids my age in that tiny village. So I had lots of time to practice.
Playing viola was my ticket out of poverty and out of rural Wisconsin. A recruiter from St. Olaf College came to my high school. When she found out I played viola, she asked me to apply to St. Olaf. I made my college decision based on the strength of St. Olaf's music program, and I loved it there. I could play viola, piano, and bass viola da gamba, and sing. I went on tours. I was so happy. After school, I moved to the Twin Cities and played in the Metropolitan Chamber Orchestra (formerly the Central Chamber Orchestra) and the Bloomington Symphony when Steve Amundson conducted. I sang with the Bach Society and in the St. Mark's Episcopal Cathedral choir.
When I turned 32 and had a child, fitting this much music in was more difficult. I stopped everything for a while other than playing piano and viola at home and for church. hen guess what? When my son Bill reached fourth grade, I said, "You can play any instrument you want to, as long as it's a bowed, stringed instrument." He chose bass, because, he said, it's a manly instrument, big and heavy. Well, even a one-quarter-sized bass is heavy to a small child!
The music program in the Robbinsdale School District is outstanding. I paid for private lessons, of course, but Bill has done all the practicing. He's been to All-State three years, in the top orchestras at Cooper High School for three years, and in the top GTCYS (Greater Twin Cities Youth Symphonies) for two years. My kid with a one-quarter-sized bass is now over six feet tall, with a seven-foot bass (when the endpin is out). Music has really given my life a lot of meaning over the years – my playing and Bill's. When I was laid off from a job, when I divorced, when I got injured, music was there for me.
Barbara Aslakson (St. Louis Park)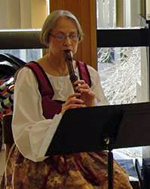 Serendipity played a part in my getting back into playing an instrument. I was teaching a career development class in 1990, and asked my group to take 15 seconds to write down the 10 things they wished they had done or could do. Someone yelled out that I should do it, too. I surprised myself by writing, "play an instrument in a group again." Never owned the French horn I played in school and college. Neck problems forbid me from trying that again. I came home from work and saw that the community education bulletin from St. Louis Park had an adult recorder class in it. Since there was a recorder in the piano bench, I showed up. The rest is history. I now play in a group and belong to the Twin Cities Recorder Guild. Playing in a group is now my fun in retirement.
Michael Barone (St. Paul)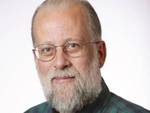 I'd been taking piano since age five, and at the end of fourth grade, when invited to sign up for band instrument lessons, I requested the tuba. I'm not sure why this was my choice, except possibly because of residual fondness for a childhood musical recording, "Tubby the Tuba," and that I've always been the quiet champion of the underdog (and Tubby was the archetypical underdog). My stature at not-quite-10 years was insufficient for a tuba (or the sousaphone, which was what they offered at the bottom end of the brass family). So they strapped me into a baritone horn, part of the "resident collection" in the school basement.
I learned to play it reading the bass clef tuba parts, and advanced, inexorably, from the middle school band to the crack Kingston (Penn.) High School ensemble. I even was selected to sit second chair in a district festival ensemble during my junior year, and I brought my "borrowed axe" along with me.
Indeed, from that experience comes a story of a concert circa 1987 by the Rochester (Minn.) Symphony. That event included a symphony by Tchaikovsky's young student Vassily Kalinnikov. Since the finale of that symphony had been the grand conclusion to that district band festival (in East Stroudsburg, Penn.) in 1963, for sentimental reasons (and because it is a really wonderful piece) I chose the Rochester performance as one for which MPR would provide a live broadcast that season. Only after the fact did I learn that Jere Lantz, the conductor of the Rochester Symphony Orchestra, was the younger brother of my first-chair stand-mate in Stroudsburg in 1963! (Back then he had been a young trombonist who played an antiphonal brass ensemble that ringed the school auditorium and blasted out the grand chorale with which Kalinnikov concludes his symphony.)
So, 25 years later, halfway across the country, two kids who enjoyed the use of high school-owned instruments in their early student years, converged to share their grown-up love of music with a Minnesota-state-wide audience through this concert broadcast. How's that for the power of music, and the importance of music in the schools, and instruments available in schools?!
Steve West (Minneapolis)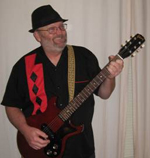 When I was about 12 years old, my sister's brother-in-law sold me his electric guitar. I spent hours teaching myself how to play it. I was so bad at first that my family banished me from the house, and I would sit in the hayloft in the barn and play to the animals we had running around the farm – chickens, dogs, sheep and baby pigs who were small enough to get under the boards. (They used to lay on my legs as I sang to them. The first song I learned was "Love is All Around" by the Troggs. The pigs really liked that one.) I got good enough to play with some friends, so we started a band that played school dances, summer festivals and other events. Playing music is what kept me from going totally insane growing up in a small town in Wisconsin.
Darlys Nelson (Fridley)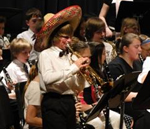 I started playing the trumpet the summer before seventh grade. I took lessons from Mr. Ralph Mendenhall every Saturday, and took the bus and street car to get to his Bloomington home from Robbinsdale. His brother, Bob Mendenhall, was my band director, and band was the reason I continued my education after high school. I graduated from the University of Minnesota and became a teacher. My five children all enjoyed band and orchestra, playing in GTCYS (Greater Twin Cities Youth Symphony). Three are music teachers, helping to encourage students in middle and high school. I now have 17 grandchildren (including grandson Spencer in the photo), and 13 of the oldest are enjoying playing music, too. What fun to see what has happened just because I started playing the trumpet 60 years ago!!
Sloane Wesloh (Stillwater)
When I was 5, I got my violin from a shop in Boston. I had never seen one up close before. On the car ride home, I marveled at its beauty. I play viola as well, and viola concerti mark milestones in my life. When I remember an important event in my life, I associate it with the concerto I was playing at the time. Diagnosed with diabetes? Telemann Viola Concerto in G Major. New school? Handel Concerto in B Minor.
Joshua Trujillo (Pequot Lakes)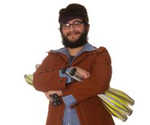 When I was younger, I decided I had to do something for God before I could become a man – a spiritual quest of sorts. I found myself in Toronto, learning about missions at a school of ministry at 18. My missions team leader Gerry asked me to play percussion for our practice run at a church on the Canadian side of Niagara Falls. I had never been gifted musically, but I was willing to try anything.
I was scared as I stepped onto the stage of the church. Two hundred faces stared up at me and the other worship leaders. I couldn't see any of them though. I was too busy thinking back to two months earlier when my girlfriend made fun of me for not being able to clap with music. I was about to be the biggest ass in the room, and I knew it. I asked Gerry to tap his foot so I would know when to hit the drum. He did. I did.
For the first two songs I just hit the drum between my legs each time he tapped his foot. Then something happened.
I felt an excitement in the room, and I began to feel the music for the first time. It filled my mind, my legs and arms, and my soul. I began to hit the drum harder and harder. Then I began to hit it in more and more unknown beats. I closed my eyes and played with the band. I played so hard my glasses flew from my face. I opened my eyes to see that the entire congregation was jumping in unison to the music, arms raised, tears running down their cheeks. I was playing an instrument!
My parents had always told me I just didn't have any talent. I can't say I am the best percussionist in the world, but I have had the best Teacher. I have since been playing percussion in churches all over the world.
Kathryn Hatlestad (Maplewood)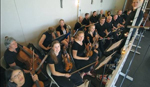 My first musical instrument was a clarinet that my mother had played since she was in junior high school. It replaced her first, a metal clarinet, which was melted down as part of the war effort during World War II.
In junior high, I learned to play baritone sax. I had the choice of two instruments. One was bright and shiny, and sounded fine, like the good student instrument it was. The other was dented and green, in a battered case with no handle. However, it was a professional quality instrument. I made a handle for the case, and played that old sax in jazz band. I loved the sound of it.
Jeff Horwich (St. Paul)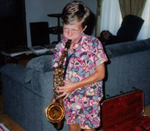 I would nominate my Holton C-melody saxophone, a silver relic from 1924. It doesn't get played frequently, but something about that particular horn (and the musty case it lives in) sums up my childhood, my eccentric tastes and reasons I love music. Opening the case and getting a whiff calls up one of my favorite high-school hang-outs: a dusty-museum-of-a-used-instrument shop on pawn-shop row in Missoula, Montana. Despite the name, "Stringed Instrument Division," the shop was where I tried out accordions, saxes, bagpipe chanters, and any other instrument you might imagine. It opened my ears to the variety of sounds I could try, and the C-melody sax is one of the treasures that absorbed my high school savings. These saxes are obscure – midway between a tenor and an alto, they are rarely played in public and no longer made. And that's why I love it. It represents musical history, and the promise of old and odd things being made useful again. After a recent tune-up (which cost as much as I paid for it 15 years ago: $300) it shines brightly and plays with a classic, early jazz tone. Taking a chance on an odd saxophone led me into a lifetime so far of collecting lovable musical oddities, from a tenor guitar to a resonator ukulele to an Armenian duduk.
Stephen Berg (Champlin)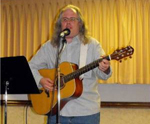 My violin was extremely important to me. I started playing in fourth grade because I had visions of playing in the Minnesota Orchestra. Through learning the violin, I learned theory, how to read music, key signatures, and gained a love of classical music that had been nurtured at an early age by my mother. Through my involvement in orchestra, and particularly because of Ms. Blomgren, my orchestra teacher in ninth grade, I developed a love of music that has moved me on to many other instruments and a part-time career in performing original music. Because of the violin, I made an easy transition to guitar, then bass, then drums, and singing. If I hadn't played the violin, I don't think I would have learned to play the guitar, which is now my main instrument.
Gabriel Heller (Minneapolis)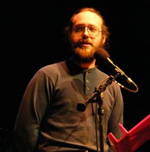 When I was quite young I used to love to play with a little player piano with hammers that hit little bells. If you wound it up, it would play "Oh have you seen the muffin man?" But if you didn't, you could still hit the keys and the notes would chime. Even though there was only an octave and a half, I played all kinds of songs on that piano. I think I may have played it to death. Either that or my parents got so tired of it they hid it from me. I don't know what became of it. But when I went on to play a real piano, I was way ahead of everyone else. Well, at least I could play "Have you seen the muffin man?" really well.
I took lessons from second grade all the way through high school. My junior year I got to play an abbreviated version of the first movement of Grieg's Piano Concerto in A Minor accompanied by the school orchestra, as well as some Liszt and Joplin in the school talent show. I still play today, though not many open mics have pianos, and it's hard to lug one on your back. I've done my best to switch to guitar, but it's not nearly as impressive. So I'm working on a piano-based album next, to get back to my roots. I don't think I'll put "Have you seen the muffin man?" on it though. Maybe as a hidden track. If only I could find that old piano...
Deb Farrell (Walker)
I took piano lessons from second grade until I moved in 10th grade. I was no virtuoso. I had hands that, when I was fully grown, were still too small to span some of the chords in the music I was playing. I never practiced as much as I should have. But I loved the music, and I loved being the one making it. While I was never anywhere near good, I was competent. And for an uncertain, somewhat shy, and tentative adolescent, feeling competent at something wasn't bad.
The best of times was when my dad said, "Show me again," and I taught him, over and over again, how to play a "Heart and Souls" duet with me. He would fumble around. I had to show him over and over. And he would forget it all by the time he asked to play with me again. But side by side on the piano bench, with laughter and enthusiasm, we pounded it out. The awful thing is that you lose so much when you can't play often, and there is so much that I no longer can do. Sometimes now, I struggle to read both hands at once. "Heart and Soul"? I can't imagine that I could ever forget how to play it.
Brad Lynch (Brooklyn Park)
Both the cello and bass are important to me. I don't play them, but two of my sons do. And they have been great connecting points with my sons—similar to the benefits derived from family meals.
Mark Hayes (Buffalo)
My mother has played our church organ for 55 years or longer. When I was living at home I was awakened every Sunday morning by her practicing the hymns of the day. To this day I do not need a hymnal in church for 90 percent of the hymns. I have them memorized—the order of services also. I know them all, including Matins and Vespers, by heart.
Linda DeRoode (Minnetonka)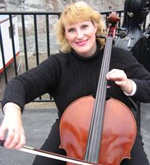 I am blessed to own two cellos. My first instrument, which I keep for sentimental reasons, was given to me as a confirmation present from my parents when I was 14. The school instrument that I was playing was unfortunately not so good, so my parents purchased me my life-changing instrument. I played this cello (named "Suzi") for 23 years until I purchased my current cello six years ago. "CeeCee" was an upgrade. I just told my mom and dad the other day that having me play the cello was the best thing that they could have ever done for me. Playing the cello has become part of my very soul, my very being. I am truly blessed to have music in my life!
Karen Anderson (Burnsville)
An old pump organ was stored in one of my uncles' sheds. I could not reach the pedals to pump it, so my father would do that for me. I had always heard that the organ had been a gift to a small Iowa country church from my maternal grandfather. When they upgraded their instrument, the organ came back to the family. My grandfather played the piano and organ. My mother was a church organist and sang in our choir choirs. As for me, I had lessons for years, and have sung in choirs since the age of 11. I inherited my grandfather's old upright after my mother's death. She had grandfather's piano brought hundreds of mile to our house so I could start lessons at age eight. I cherish it, tune it and play it as often as I can along with all the piano music I inherited going back to the late 1800s.
Ross Reishus (Owatonna)
In elementary school, I observed that our music teacher, who played the piano, also played the guitar. I had been taking piano lessons already, but wanted to get my hands on a guitar. I loved the way it sounded, and this was in the 1970s when John Denver, James Taylor, Carly Simon, and dozens of other artists were all over the radio playing acoustic guitar. Over time, I learned to play piano, trombone, and drums, but the guitar really kept my attention the most. In the end, I became a music teacher myself. As I work on songs with my students now, playing my guitar, they raise their hands and ask excited questions about it, and beg their parents to get them guitars, too. When I was young, I just wanted a guitar to make music. I never knew that it would bring me lifelong joy, both in and out of the classroom.
Claudia Larson (Cotati, CA)
Our North Dakota family farm is still home to the piano that sat in my grandparents' prairie house. That piano withstood all seven of us kids and our piano lessons. It was on this piano that we made music for our Christmas Eve family productions, and where I spent hours playing and singing from my dad's stack of music of the '30s and '40s, my mom sitting nearby. It accompanied my dad's gorgeous tenor voice, and drew grandchild after grandchild to its chipped ivory keys.
I don't play piano as much as I used to. But the skills I gained and the love I inherited for music continue to this day, and on through my grandchildren and the many voice students I coached and for whom I played in my two decades of teaching. A piano is as important a feature in my living room as the couch and easy chairs. We have a picture of that family piano, taken likely in the '30s or '40s, showing off its elegant carved face, standing tall in its uprightness, topped with a large doily—likely crocheted by my gramma—and decorated with a potted plant. Standing there, no human in the photo, it's as alive as I am now, evoking the pride we all feel in it.
Kathleen Monico (Park Rapids)
My mother loved music and played the piano, therefore my sister and I learned to play at an early age. When the time came at school to choose a musical instrument to play in the band, I chose the flute. No particular reason other than loving the sound of it. My flute and its little sister, the piccolo, were my constant companions from sixth grade through five years of college. However, it was in college that they became my salvation. My major, in a difficult field, involved intense study, and, for me, a lot of mental strain. At the end of each school day, going to band practice allowed me to "empty my head," relax, and become a living part of great musical sounds of all kinds. It both relaxed me and invigorated me. Great therapy! Even today, although I don't play my instruments anymore, music of all kinds is a must in my everyday life.
Paul Rolfes (Saint Paul)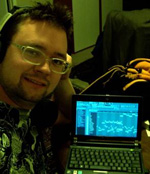 My instrument is a computer synthesizer program. As mixing sounds as well making beats and dance tunes progressed, I slowly developed a respect for electronic music. These programs are great. You can synthesize and lay track upon track. A lot of people may argue that it's not a real instrument since most of the time it's programmed by people like me, and what you have is just a "loop" to be played and recorded over. But this is where I started creating the sounds and mixes as if it were a live show, only all compacted into an actual song to be listened to.
I was given a compact disc software program my junior year of high school. In college, I began creating longer, "progressive" techno beats. These would later turn into songs and then tracks for an album. Then I stopped—in part, because of lack of support and understanding of this type of instrument. About a month ago, seven years from when I first started playing, I reinvented myself and this programmable instrument. My instrument fuels my creativity with its diversity of sounds and the mechanics of laying out patterns and channels. I want to create new sounds and help support an instrument that is becoming more mainstream with multiple genres: rock, hip-hop, jazz and even classical remixes.
Bonnie Wilcox (Apple Valley)
I practiced my lessons and learned to play hymns on a heavy, old upright piano my parents bought used. My faith is shaped by the chorus and song that play in my head, for which I am ever grateful. And in the bench, I found the music my mother played and loved, and it allowed me to connect to her in a whole new way.
The piano allowed me to be part of an ensemble of other musicians, playing jazz, or the latest pop song. I learned to accompany others as they played or sang, and needed to be able to play and follow.
Amy Salmey (South St. Paul)
I played clarinet from fourth grade all the way through college. I inherited my mom's clarinet that she played in school. It was wood, and too heavy for me, so my parents bought me a plastic clarinet to learn on. Being involved in music defined my life, my social groups in school, and more. Music gave me something to look forward to. It was an amazing experience to be part of creating something so much bigger than myself.
Kathleen Hollar (Saint Paul)
I started playing piano at age three. It was an old player piano that been converted to a regular upright. I had a terrible lisp; therefore I didn't speak much. I learned I could speak through that piano. Playing piano became my way of communicating and being needed and popular at school. That piano led me to playing all types of music, in all types of classical, jazz and musical theater venues. It's been a continuing adventure.
Gretchen Klaus (Saint Paul)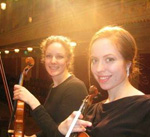 When I was about 10, right before school instrument programs started, I didn't really want to play an instrument. Sure I liked the sound of an orchestra, but I remember telling my mom that I'd rather be a "music appreciator" than a musician. Then someone remembered that my grandpa had an old violin that he'd gotten at an auction 30 or 40 years earlier. There were several instruments for sale, and he eavesdropped on the appraisers to see which were of any value. He bought three. Two went to hang on the wall in his sister's dining room. The third went to sit in his coat closet.
When that violin came to me, it was in pieces, and felt so fragile. Even after it was repaired, I remember thinking it could fall apart at any second. It was so beautiful. Then fifth grade started, and I was in the orchestra program. Everyone else had these clean, uniform, predictably-orange instruments. They were petite and shiny. Mine was tan, with flared stripes on the back and sides, and a ginormous full size. Beauty doesn't mean as much when it means "different." I was so embarrassed by this odd instrument that I'd slam it in its case as soon as we stopped playing. There's still a chip on the back where it hit the latch.
Once I started private lessons, I found out that flares were okay. "Dieter," as I named the violin, and I were close. I hugged him at every practice and rehearsal, kept him in my bed every night (in the case, of course), took him into the basement when tornado sirens wailed, and polished him more times than was probably recommended. We were together through high school and college, at pops concerts and on tour, with Haydn and Shostakovich and fiddle tunes without one author. He was literally in my hands when I fell in love (with a bassist—go figure, we faced each other in rehearsal), and when my symphony seemed to breathe as one being on stage in Vienna. Now he's sitting in his case in my apartment. Don't play as often now. I miss the smell of rosin and polish, and the ache of silver finger-tips. But he's still there, personifying something poignant about life and music.
Andrea Feige (Sioux Falls, SD)
When I was a child, one of my favorite memories of visiting my dad's mom was going to their house, shutting the door to their study, and absolutely pounding away on their old upright piano. Little did I know then that I was forming the typical triads all the way up and teaching myself the difference between minor and major triads. Years later, Grandmom decided to move to a smaller house and needed to get rid of her piano. Our family gladly took it off of her hands, but couldn't manage to get it into the house when we first brought it home because of how heavy and awkward it was. For about a week, I spent my evenings playing the piano as it sat in the bed of our old Chevy pickup in the garage. I remember how my ears were fascinated with the way the sound changed because it was in a different room. Today, that old family upright sits in a place of honor in the room that has become the music room. Whenever I feel stressed or need to take my mind off of something, it is the first instrument I play. It's not always in the best tune, and the sound is getting a little funky. But it's still the old, family piano, and its heritage makes up for anything it may lack.
Noelle Kuitunen-Johnson (Nevis)
I started piano and clarinet in the fifth grade. Now I am an elementary music teacher. I still play that same beat up, old clarinet (originally my cousin's), as well as oboe, piano and organ. Music has been my livelihood and my ministry, as I have played for church since I was 14. So starting piano and clarinet has had a profound affect on my life.
Dominique Pavot (Lindstrom)
When I was in elementary school, my parents were putting themselves through college, so our family was quite poor. When I was in fourth grade, my parents (by some miracle) were able to afford to rent an instrument for me. The violin became my passion. By the time I was in middle school, I had grown out of the instrument that I used in elementary school, but we now owned the instrument and couldn't afford to purchase a larger size. Luckily, my school had an instrument to loan to me, and I was able to continue playing the violin. In high school, another instrument was loaned to me until I was able to save enough money of my own to finally purchase my own instrument. I continued to play my violin through college, majored in music education, and am now an orchestra teacher and musician. Had a donated instrument not been available, I would never have been able to get where I am today!
| | |
| --- | --- |
| | Play it Forward: Classical MPR's Musical Instrument Drive is made possible in part by the Minnesota Legacy Amendment's Arts and Cultural Heritage Fund |
Sponsorship support is provided by Saint Mary's University and the College of Saint Scholastica.