Richard Wagner, who was born 200 years ago, is one of the most decisive figures in classical music.
 His main creative effort was a series of ten operas, all of which remain in the standard repertory. Despite the great demands these pieces place on opera houses, they continue to be regularly performed and recorded, winning new listeners with their blend of innovative music, literary ambition and theatrical effectiveness.
 Wagner's musical innovations, especially in harmony, influenced virtually every composer who followed him. Hugely ambitious, he created a theater dedicated to the performance of his works at Bayreuth, in Germany. To this day, the Festspielhaus performs only his music.
 As a thinker, he left a mingled legacy: his ideas about music, theater and performance are of lasting influence, while the glorification of his work by the Nazis, and his own anti-Semitism, guarantee that he remains a controversial figure today.
Listen to the complete Der Ring des Nibelungen.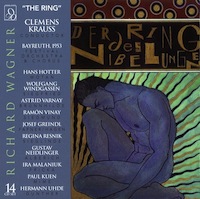 Immerse yourself in over 14 hours of Richard Wagner's masterpiece, Der Ring des Nibelungen, courtesy of Allegro Music. The audio will begin playing automatically; use the "Playlist" tab to jump ahead to specific scenes. Items denoted with an "i" have highlights and contextual information helpful to understanding the opera. Find out more about Wagner, the operas and this recording using the other tabs.
Wagner's Life and Work
Stories about Wagner, and the music he created.