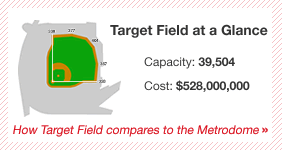 Welcome to Target Field
The new home of the Minnesota Twins debuts this season in Minneapolis. The high-tech, multi-million dollar stadium marks a return to outdoor baseball for the Minnesota Twins.
Minnesota Public Radio News has compiled this guide to help you find out what to see, what to eat and how to get there.


A guide to getting to and from Target Field, whether you're driving your car, hopping aboard a light rail train or riding the bus.


The Minnesota Twins' beat the Boston Red Sox 5-2 at the season opener in front of nearly 40,000 fans at their first official game at Target Field, and team officials say the game also went well behind the scenes.


A sellout crowd attended the Minnesota Twins' home opener on April 12, 2010 at Target Field in Minneapolis. Countless others who couldn't get tickets enjoyed the game anyway... from outside the gates.


At the new stadium, the Twins have many more ways to rake in cash than they did at the Metrodome. They also have bigger expenses, but the team looks like a clear winner--financially--in its new home.