MPR Artists-in-Residence 2010–2011: Cantus
Featured Artists-in-Residence Video
About Cantus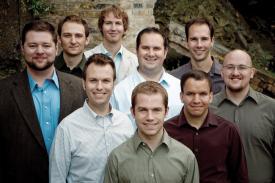 MPR Artists-in-Residency 2010-2011 Cantus. (Photo by Rick Spaulding / Courtesy of Cantus)
The nine men of Cantus are Classical Minnesota Public Radio's 2010-11 Artists in Residence. This vocal ensemble is our musical ambassador to Minnesota. Our shared mission is to surprise, delight, and engage audiences with great music on-air, online, and onstage.
Cantus Member Biographies:
On Now

Listen to the Stream
Playlist
You can now listen to Classical and Choral Music on your iOS (iPhone, iPod Touch, and iPad) or Android device.