[an error occurred while processing this directive]


Not Found
The requested URL /collections/politics/include_collection_navigation.shtml was not found on this server.
Session 2003: Higher Education
At A Glance
The University of Minnesota and schools in the Minnesota State Colleges and Universities system will have to make do with less - much less - from the state under the higher education budget bill. The House voted 69-62 for the $2.5 billion spending package, which cuts the appropriations to the two major public college systems by about 15 percent each. The Senate followed suit shortly after. For the university, the cut translates into $196 million less over the next two years. For MnSCU, it's $189 million. Both will receive about $1.1 billion total.


The cost of going to a public college in Minnesota will likely go up hundreds of dollars this fall. Gov. Tim Pawlenty is expected to sign a higher education funding bill that cuts each of the state's public university systems 15 percent. The bill that passed at the end of the regular session provides $10 million more than Pawlenty had proposed. Still, critics say the cuts are short-sighted and will lead to an erosion of quality at the state's colleges.
(05/21/2003)
Next Monday Minnesota lawmakers must adjourn the 2003 legislative session. They have lots of work to do before then, including coming up with the next two-year budget in the face of a projected $4.2 billion shortfall. Legislative leaders have not yet agreed on overall spending targets, which means conference committees are still waiting to do their work. MPR <i>Morning Edition</i> host Cathy Wurzer previews the week with Capitol Bureau Chief Laura McCallum.
(05/12/2003)
University of Minnesota officials say their plan for solving a $200 million loss in state funding will include tuition increases, wage freezes and program cuts. U of M President Robert Bruininks outlined a budget strategy Friday for the Board of Regents that includes another double-digit jump in the cost of an undergraduate education.
(03/14/2003)
University of Minnesota President Robert Bruininks told lawmakers he worries that budget cuts and tuition hikes may drive off top students and faculty. Bruininks, speaking to the House Higher Education Finance Committee on Wednesday, said if Gov. Tim Pawlenty's 2004-05 budget proposal holds, Minnesota could see a "brain drain" of talented students to other states. The governor is proposing $197.9 million in budget cuts to the university over two years, according to university calculations, potentially pushing medical school tuition "over market rates," Bruininks said.
( 03/10/2003)
A crowd of University of Minnesota students gathered at the state Capitol Thursday to voice their concerns about likely state budget cuts and increased tuition. The students arrived one day after university president Robert Bruininks delivered a similar message to lawmakers. But despite the warning of reduced programs and services, legislators say the current budget deficit means higher education should brace for cutbacks.
(03/06/2003)
A joint session of the Legislature selected nine new members to the University of Minnesota's 12-member Board of Regents on Monday, putting an end to a partisan process that denied a seat to former Senate Majority Leader Roger Moe.
(03/03/2003)
Is public higher education too expensive to be called public? A recent study finds that higher education tuition nationally has increased an average of 10 percent in one year, and Minnesota is above the average.
( 02/19/2003)
Governor Pawlenty has largely kept his pledge to shield elementary and secondary classrooms from the cuts needed to balance the state budget. He says his proposed spending plan for the next two years actually includes a slight increase in the per student funding formula for public schools. The state's public higher education institutions, however, face a 15-percent decrease in state funding.
(02/18/2003)
Gov. Tim Pawlenty's plan to bridge the state's current $356 million deficit has touched off a chorus of protest from some corners of the Capitol. One of the larger items on the chopping block is the state's subsidy to ethanol producers, which is slated for complete elimination for the remainder of the biennium. Higher education, state agencies, and a business tax break would also suffer.
(01/14/2003)
With a projected state budget deficit much larger than anyone thought, officials at the University of Minnesota and MnSCU are hoping for the best, but preparing for the worst.
(01/02/2003)
For the first time in modern history, a lieutenant governor will head a state agency in Minnesota. Gov.-elect Tim Pawlenty named the Lt. Gov.-elect, Carol Molnau, as head of the Minnesota Department of Transportation Tuesday. This in preparation for taking office next week. Pawlenty faces many challenges as the new governor, including what to do about the projected $4.5 billion state budget shortfall. Still, he's sticking to his campaign promise that he won't raise taxes.
( 01/01/2003)
Not Found
The requested URL /standard/include/mpr005/global_module_shortcuts.shtml was not found on this server.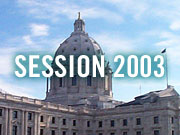 Not Found
The requested URL /standard/include/mpr005/global_ad_middle.shtml was not found on this server.