Jazz vocalist Karrin Allyson performs at MPR studios
11:20 AM, November 27, 2012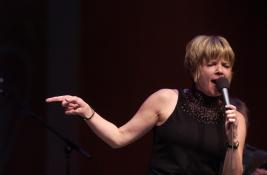 On the radio
Karrin Allyson: Four-time Grammy nominated jazz vocalist. Her latest album is 'Round Midnight.
Resources and Links
Four-time Grammy nominee and former Minneapolis resident Karrin Allyson joins The Daily Circuit in studio Tuesday to play from her latest album, 'Round Midnight,' and discuss her decades on the road as a jazz vocalist.
"She is hands-down one of the best vocalists in jazz, working at the very top of her game," wrote Seattle Times jazz critic Paul de Barros.
She plays at the Dakota Jazz Club Monday and Tuesday evening.
VIDEO: An interview with Karrin Allyson
comments powered by
The Daily Circuit from November 27, 2012