Hurricane Sandy: Can we blame climate change?
11:20 AM, November 2, 2012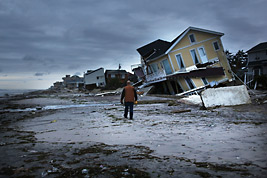 On the radio
Maggie Koerth-Baker: Science editor at Boing Boing and the author of the monthly 'Eureka' column in the New York Times magazine
Resources and Links
Related Stories
Maggie Koerth-Baker, Boing Boing science editor, joins The Daily Circuit Friday to talk about the link between severe weather and climate change. Can we attribute Hurricane Sandy to climate change?
Koerth-Baker will also discuss the future of storm predicting, why Americans aren't prepared for the next wave of big storms and what exactly a hurricane's 'eyewall' is.
comments powered by
‹ Earlier

The Daily Circuit from November 2, 2012