A look at Obama's deferred-action immigration policy
10:06 AM, September 11, 2012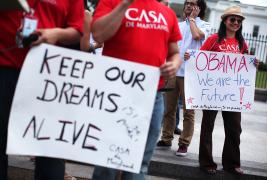 On the radio
Sayu Bhojwani: Founding director of The New American Leaders Project. She served as New York City's first commissioner of immigrant affairs from 2002 to 2004, and has worked on immigrant integration in various capacities for more than 15 years.
Resources and Links
In an op-ed published Monday in the National Journal, New American Leaders Project Founding Director Sayu Bhojwani argues that President Barack Obama's deferred-action immigration policy did not go far enough, and that undocumented Americans are an important and vital part of the country. She says we need a policy that will help the millions of immigrants living in America today.
Bhojwani will join The Daily Circuit Tuesday.
Comment on the blog.
comments powered by
The Daily Circuit from September 11, 2012