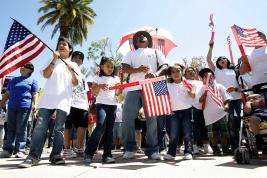 On the radio
Resources and Links
As the US Supreme Court hears oral arguments on Arizona's controversial immigration law this week, we'll look at the role Latinos will play in the 2012 election.
How will the immigration debate play out with the presidential candidates?
Efren Perez, political science assistant professor at Vanderbilt University, talked about the Latino vote with Open Market.
"[W]hen politicians make very aggressive references to illegal immigrants, they are in essence turning off many Latinos, a growing segment of the American electorate," he said. "There are many third and fourth generation Latinos who have very little connection to Latin America anymore. These folks are very integrated into American society. They are business owners and might be more responsive to Republican ideas and principles."
Perez will join The Daily Circuit Monday. Alex Nowrasteh, immigration policy analyst at The Cato Institute, will also join the discussion.
VIDEO: Alex Nowrasteh on immigration reform
KERRI'S TAKEAWAY
Most illegal immigrants are paying taxes and we are reaping some benefits from them.
comments powered by
The Daily Circuit from April 23, 2012
Transcript
Kerri Miller (host): The Supreme Court will hear one of this term's most controversial cases on Wednesday as the justices take up Arizona's immigration law. The case will test whether states can pass their own sweeping immigration laws in the absence of federal immigration reform. The 9th circuit court of appeals ruled against Arizona last year but other states like Alabama have followed Arizona's lead. Today a conversation about what's at stake before the court and the political implications of the debate for the 2012 election. For you, do you believe that Minnesota's immigration laws should be stricter to prevent undocumented immigrants from coming here? Is immigration an issue that will be on your mind in November?


As we talk about the legal issues that the court will take up I'd like to know from you if you think Minnesota's immigration law should be stricter, and is it an issue you'll be thinking about as you vote this November. Our guest this hour, Efren Perez, is the assistant professor or political science at Vanderbilt University, and he joins us today from Nashville. Professor, welcome, it's good to have you with us.


Efren Perez (guest): Thank you for having me.


Miller: Alex Nowrasteh is with us, he's an immigration policy analyst at the Cato Institute, and he's with us this morning from Washington and Alex, thank you very much for the time.


Alex Nowrasteh (guest): Thank you for having me, good morning.


Miller: Professor Perez, as I understand it what Arizona did in 2012 was really to make the state so difficult to live in if you're not a legal citizen that it would stop people from going there and it would urge undocumented immigrants to leave, is that how you'd define the essence of the law?


Perez: Well I mean in some ways, it is sort of an attempt - the thought is that such laws would deter undocumented immigrants from coming into Arizona. The problem is that this issue is sort of like a balloon with a lot of air in it: if you squeeze one corner of it the problem's going to go somewhere else, right? So you could encourage undocumented immigrants to leave Arizona, but I imagine that most of those people and their families aren't going to go back to their country of origin, they're going to end up going to another part of the country where there's less heat from immigration if you will. Essentially what I think the law has done is actually encouraged migration out to other states, to fan it out if you will. This is how we got lots immigrants coming into my current home state of Tennessee for example.


Miller: I was just going to ask you if you were seeing, when you say less heat from immigration, you mean where the laws aren't as strict, and are we seeing people moving out of Arizona and into other states that do not have as strict laws?


Perez: Sure, the data - I don't have hard data on where sort of folks are leaving - sort of what specific states people are leaving to - I can tell you from prior research, and here the case is actually California in the mid 90s when it attempted to pass Proposition 187, which in spirit was quite the same to Arizona's Bill of Rights. In that case they tried to deny government and social services to undocumented immigrants and their families. What we know from the work primarily from sociologists, is that many of those families actually ended up leaving for non-traditional destination states, these were states like Georgia, North Carolina, Tennessee; places that had not seen immigration before but in large part basically the thinking among many of these immigrant families is look, these states have jobs, similar jobs to what we're doing here in California, but immigration authorities are less enforced in these areas, so it made more sense to actually be in those areas.


Miller: Let me take a call here from Keith in Duluth. Hi Keith, what's your view of this?


Keith (caller): Hi Kerry, how's it going? It looks like to me - I'll be brief - it looks like to me that the federal government has completely failed on maintaining the integrity of our southern border. Hence, I think the Arizona Alabama laws - they have no choice, they're getting buried by an influx of immigrants. However, I don't think that the federal government has the power or the time to round up 12 million people. Therefore I am in favor of amnesty, but I'm also in favor of a tightening of the southern - and well, even the northern border but mostly the southern. Do whatever they have to do because we can't absorb any more people, you know we'll run out of water, food etc, that's my comment, my question is will the federal government accept Arizona's and start doing their job and that's it.


Miller: OK, I appreciate the call Keith, but Alex, that first part of the statement that Keith made about the federal government has not been able to do this and so the states have had to step in, that's Arizona's argument isn't it?


Nowrasteh: Yes, and it's one that's totally false. If you take a look at the enforcement numbers for the United States beginning around 2008, you see deportations hitting a record each year, almost 400,000 people per year. You also see the number of apprehensions on the southern border down to a low now that hasn't been seen since the early 1970s in terms of immigration enforcement. You have the Immigration and Customs Enforcement Agency doing remote audits of businesses for the first time, through the I9 forms, and doing over a thousand businesses at a time, you have an enormous number of workplace raids, more strict checks of visas, and you have a virtual doubling of border enforcement personnel and man hours on the southern border since 2006. So the notion that the federal government is not doing its job, or not doing an adequate job, or not even trying is just simply not borne out by the facts. I think what we're seeing here is the fact that we have a very restrictive set of laws that are primarily economic that prevent people from coming into this country legally. And as a result, when you prevent people from doing something legally which would otherwise be peaceful, they are going to seek alternative methods. And in this situation the alternative method they are seeking is either to overstay their visas in the United States and work in the black market or underground, or to enter illegally. And that's sort of the situation we're seeing right now. It's the result of these strict laws.


Miller: And Efren Perez, I think we should talk about some of the other states which followed Arizona's lead, who are going to be very closely watching what the Supreme Court does here. Alabama, right, Georgia I think has had a debate and your own state of Tennessee has had legislation on hold.


Perez: Right, I mean I think in some ways - I mean politicians - I mean I don't mean this in a derogatory way but they're calculating, right? They know that these types of issues pay a dividend, especially within sort of the Republican Party. So I'm not sure how sincere these efforts are in terms of really trying to tackle the illegal immigration problem, as much as scoring political points, signaling to your constituency that hey, we're trying to tackle this problem that other people seem to be concerned about. Now of course they're going to be watching how the Supreme Court rules on the Arizona case, right, and if it's sort of an unfavorable decision then yeah, you imagine it's going to take some of the steam out of their current proposals, but I don't think this issue is actually going to go away, especially for states in the south. These are states that are not traditional destination states, pretty much a lot of the growth in the Latino population in general in these states has been since the mid 1990s onward, right, so I think the issue of illegal immigration is part and parcel of a larger issue concerning demographic changes in many local communities. So sure, the Supreme Court can come down hard on this law, take the hair out of similar proposals in other states, but the issue itself is going to play out politically in the medium run time I imagine.


Miller: If you just tuned in, we are talking about immigration this hour, because the US Supreme Court takes up Arizona's anti-immigration law on Wednesday. We're talking about some of the legal issues, but also some of the political issues of the debate. There have been some debates at the Minnesota State Capitol around this, do you believe Minnesota's immigration law should be stricter to prevent undocumented immigrants from coming into the state and working here in the state? Is immigration an issue that you're going to be thinking about come November, because you are going to hear the candidates talking about it. 800 242 2828, 651 227 6000 and if you're listening this morning and you're online you can go to facebook.com/mprnews. Alex one of the arguments that the supporters of the law in Arizona have been making is that crime is at a 30 year low in Arizona, and I have to say crime has dropped here as well and I know it's dropped in other cities around the country, but they believe this is a result of cracking down on undocumented immigrants in the state.


Nowrasteh: Yeah, but what a lot of those supporters won't tell you is that crime was at a 35 to 40 year low prior to those laws even being passed. And that's not to say that the immigration laws made it any worse, or anything like that, it's just that there were a few high profile cases that sort of jarred the public memory, but according to the Bureau of Justice statistics, and the FBA uniform crime reporting statistics, both for property crimes and for violent crimes, Arizona hadn't seen on the eve of the passage of this immigration law in Arizona, which was in 2010, Arizona had the lowest crime rates since 1971, and the lowest property crime rates since 1965. So the notion that there is some kind of unauthorized immigrant crime wave going on in the state simply isn't true. And there's been a lot of surveys of the literature, and trying to figure out the crime rate for undocumented immigrants and immigrants in general in the United States, and generally it's a lot lower than it is for the general population in general, because immigrants come here from foreign countries, they've taken a big risk, they don't want to have to run afoul of the law if they don't have to, and they generally stay out of trouble. And that's what we saw in Arizona. So it's - we have a few high-profile cases of drug crimes and everything else going on on the border, and that seems to have influenced the public perception, or at least the perception of some politicians who follow this issue, and it's unfortunate.


Miller: And Professor Perez, one of the other arguments as you know is, well, in a state like Arizona, the financial situation - the resources only go so far, and when you have undocumented workers they are taking portions of those resources that should be reserved for people that are legally there. What about that argument?


Perez: Sure, you know, so this is a very slippery point because I think what ends up happening here is there is a conflation between unauthorized immigrants, which are predominantly Latino, and native-born Latinos. You know I've done work on this, and in people's minds, sort of the two groups are indistinguishable. So when they're saying, you know I'm against illegal immigrants, they're basically - the sort of opinion extends to the larger group more generally. And this comes back to some of the things that I think Alex - sort of in pointing out to these facts, those facts are very useful, right? But they're running up against some very strong impressions that I think many Americans have about who immigrants are, what they're like. So this actually extends down to the type of information that sort of people are exposed to. So for example, if you look at media coverage, newspaper coverage of immigration across the last 20 years, and you look at how journalists cover illegal immigration, it's not even close. Essentially 90% of stories done on Latinos tend to have a focus on unauthorized immigration or illegal immigration. 10% of stories are about legal Latino immigrants. Now when you look at who's coming here legally, and illegally, it's the same group, right? Latinos are by far and away the leading group in terms of unauthorized floats, but they're also the leading group in terms of legal immigrants coming to the US. So essentially people are being exposed to a very imbalanced picture of who immigrants are, and what kind of immigrants they are. And in that sense I'm not so sure that you can fault individuals, right, I mean their opinions are only as good as the information that they're generally sort of exposed to. But you know people say one thing that this is really about illegal immigration, and I can tell you that it's a little bit more generalized than that and it's a very sort of slippery slope, right? I mean how do you tell apart two Latinos, one who might be undocumented, the other one who is not? People will jump up and down and tell you all day that they can, but it's probably no better than a 50:50 chance, right? And there's actually some really nice experimental work showing things like the following, you know you get tribespeople to try to pick out a member of their own ethnic group and they typically don't have a better than a 50:50 chance of actually picking out a co-ethnic. So it's really dicy stuff that we're dealing here with and a lot of it comes down to the types of perceptions, impressions that people have about immigrants more generally.


Miller: Let me take a call here from James in Rochester. Hi James, thank you for waiting.


James (caller): Hi. Well one of the misconceptions that he's talking about, about immigrants, is that they want to stay here and have citizenship, when - the people I'm familiar with would prefer to come here, work, go back to in this case Mexico, in my experiences, and live, but often stay here instead because it's too difficult to work through the coyote south of the border and the shyster employers north of the border to get back to the United States and find gainful employment again. And they come and take jobs that Americans aren't taking up, if we had a mechanism to do it legally, they'd be - most of them would be happy to go back, when they're done working. That's it.


Miller: James, I appreciate the call. We're going to take it up here after we get the latest news. Efren Perez is here with us this morning from Vanderbilt and Alex Nowrasteh is with us this morning from the Cato Institute as we talk about immigration policy, US Supreme Court takes it up on Wednesday. We're talking about the legal issues and political issues that come up in the discussion around immigration. For you this morning, do you think Minnesota's laws should be stricter? Should we follow in some ways in the lead of states like Arizona, Alabama, Georgia, Tennessee, having debates around this, and is immigration on your mind as you think about the presidential election and as you will vote in November? 651 227 6000, 800 242 2828; I'm on twitter @kerrympr and you might be on facebook this morning, discussion going on on facebook.com/mprnews.


[News]

Miller: Alex, I want to come back to you with what James our caller had to say about this concern that we forget about this idea that it's very difficult to get back over the border and have that kind of access back and forth. Is that true?

Nowrasteh: Yes, it's true, and I think he hit on a very important point and that is that when most Americans think about immigration they think about moving permanently, but historically, and modern day, many to most really want to move here temporarily and move back home. We saw when the border was tightened and border security was tightened in the mid 2000s much less cross-border flow and that many fewer immigrants in the United States decided to go back home, because part of having a border you can travel across is that you can go back and forth. When they closed the border, a lot of these immigrants who wanted to go back home said, well I don't know if I can come back in the future if I have to, so I'm just going to stay in the United States longer than I otherwise would. And in case some of the callers out there or some of the listeners out there think this is a recent trend, just to give you a little fact, in the early 20th century and late 19th century, of the italian immigrants who came to the United States, about half of them returned to Italy after working here for a while.


Miller: Wow, that's interesting.


Nowrasteh: And that's not something you hear very often. But I also want to go back to the point about the welfare state and public benefits. Now with the fact that immigrants, legal and unauthorized immigrants, use welfare assistance, public services at a much lower rate than do natives with similar characteristics, like a similar low income or poverty rates. I think it's a symptom of the welfare state, and I think it's not a coincidence that when you have states that have large welfare states, where you have countries that have large welfare states historically, they are some of the first ones to put up large barriers to immigration, because one of the first reactions of natives who pay taxes to support the welfare state - their first reaction is - a justifiable one - is that they don't want to pay for services for people who aren't a member of their country. So I think it's an unfortunately - you know, I'm a libertarian, I don't support the welfare state in any way, but I think if you want to have one, you have to recognize that natives in the country are going to vote against immigration so long as they think immigrants are going to use those benefits.


Miller: Here's Jeff in St Paul online, he says an econ professor who's done research on immigration in Arizona says that since the law passed, unemployment has gone up in the state. To the phones to Rebecca in St Paul, hi Rebecca.


Rebecca (caller): Hi, Kerry, thanks for taking my call. My comment is that I am a voter and I think about immigration a lot, I think that it's important to have considerate and maybe a little bit more lenient points of view on immigration as I think about the future of the demographics of our state and the aging population and we need to have sustained economic growth and how that often goes hand in hand with having a younger population which I understand immigrants represent. So I just wanted to bring up that point that I think having immigrants come to our state and welcoming them to Minnesota will create a better economic situation in the next 20 to 30 years.


Miller: I'm really glad you brought that up Rebecca, because Professor Perez we just had a demographic study come out from our Met Council on the seven county metro area here, there is going to be growth, much of it from people who come in from outside the country. And the analysis about this is that these are the people who will be working to support an aging population here in the state of Minnesota, not just here, in many other places in the country.


Perez: Sure, more generally that is often one of the less politicized arguments that sort of pro immigrant advocates try to put up, that we need immigration in part to replace an aging population. You know it doesn't surprise me that you're finding immigrants in places that you wouldn't think of like Minnesota. One of the dirtiest little secrets about immigration, especially in the contemporary era, is that as a nation we have a fairly insatiable demand for low-skilled labor. And this is part of why you have sustained amounts of immigration coming, especially from Latin America, it's a match between an over-supply of labor in many Latin American nations and a demand for these types of workers here in the US. Eventually we're going to achieve some sort of balance where maybe there's not going to be enough people wanting to actually leave Latin America any more, I mean as that region develops more generally I think that's what you're going to start seeing. But this is largely an economic story that get politicized, in many ways.


Miller: We're talking about some of the legal and political issues that come up in the debate around immigration, talking about it today because the Supreme Court takes us Arizona's anti-immigration law on Wednesday. I'm asking you as you listen in this morning if you believe that Minnesota's immigration laws are strict enough. As you know, there have been debates about this in St Paul at the state capitol, and I'm wondering if immigration is something that you'll be thinking about. I know in some of the polls that the economy ends up at the top of the list, but is immigration policy something you'll be thinking about as a voter in November? We're at facebook.com/mprnews if you're getting a busy signal on the phone lines, 651 227 6000, 800 242 2828, and I'm on twitter @kerrympr. To Steve in Bloomington, hey Steve.


Steve (caller): Hello.


Miller: Hi, what do you want to say?


Steve: Well, a very quick comment, I'm a big fan of shows like CSI, where they always follow all these clues and it always ends up being about the money. And I think this issue is politicized but at the heart of it it's really about the money. So you have it sounds like a very well-informed expert on the air there with you, the question I wanted to ask is what is the impact on our taxes if all the real or imagined illegal immigrants were taxed just like everybody else and everyone was on a level playing field as far as what they're paying for infrastructure and benefits and what not. And I'll hang up and listen, thank you.


Miller: Thank you. Alex, do we know that?


Nowrasteh: Yes we do. The first thing to imagine of all time is that immigrants of all kinds can't avoid paying say sales tax, they can't avoid paying property tax, they can't avoid paying a lot of these little excise taxes on goods and services that we all pay. According - but one issue is income taxes. Who pays these? And according to the IRS and their estimates, based on their use of social security numbers to track tax returns, about three fourths of undocumented immigrants in the United States file a tax return. About three fourths. Now, a lot of them are in a lower income bracket, so they don't pay very much to begin with, but they are a lot of them paying a decent amount of money. What you will see though is that if we legalized them all and they all decided to file income tax returns at the same rate native-born Americans would, you would get an increase in revenue, that's absolutely sure, and since they're a younger healthier demographic, they would use fewer medical services, etc, from the state, also a little bit more education services because they're younger on average, but generally it would be positive for things like social security. So the social security trust fund did a study where if they increased legal immigration by about 300,000 people a year to the United States, that would decrease the operating deficit of Social Security by about 10% over the next 70 years. Now we know Social Security is in deep trouble and won't survive without serious reforms to balance the system, but having more legal immigration that are younger, that are more willing to work, that pay taxes, will help alleviate some of the problems with a lot of these social safety nets that are going bankrupt.


Miller: Now Alex, I think it will have surprised people to hear that many of these undocumented workers are paying taxes, I think the perception is that they live completely in the shadows and that they are nowhere on government rolls. Clearly not true.


Nowrasteh: No clearly not true, and I think a part of the reason is a lot of them social security numbers that aren't their own to work, and that means that they pay social security taxes but they can never ever get those benefits because it's not their number.


Miller: Right, to the phones to Diane in Minnetonka, hi Diana.


Diana (caller): Hi, good morning.


Miller: Good morning.


Diana: I'm an employer and I do hire immigrants and I just wanted to say that this whole debate about them taking jobs that other Americans would want, I don't know any kids coming out of high school that aspire to either milk cows or slaughter cattle or work in the fields, or a lot of them don't even want to be landscapers. I think there's a place in our country for these employees, they are hard workers, they do like you say a lot of them pay in , they have their taxes taken out of their checks. I would be for, maybe if they've worked in the country two to five years and they don't have any criminal record, maybe it should be a payroll deduction where we charge you know five or seven thousand dollars to become legal and they have to do some other things. But I think, you know, there's a definite place. I've tried to hire all legal employees and it's just very hard to get good workers and people who want to do the kind of work that I hire people to do.


Miller: So Diana, without giving any more specifics, you do hire undocumented workers because you need jobs done that you're saying you can't find other employees to do?


Diana: Right. Right, or they don't do them well, you know they really don't want to work, they call in sick,they do - you know, they work half as fast as the other people do and then it's like I'm paying them twice as much to do the same job and it's not an 18 or 20 dollar an hour job, you know. I can't keep them or I'd be bankrupt.


Miller: Glad you called Diana, thanks very much. Professor Perez, to pick up on what Diana is saying, part of the anti-immigration crack down in some of these states has been to force businesses to document the papers of everyone they're going to hire, and I wonder what kind of an effect that has had, do you know?


Perez: I mean, we have anecdotal evidence, it does have a chilling effect in some ways. You have reports coming out of many of these states that families - workers and their families - have essentially packed up and gone elsewhere. This illustrates how much of this is an economic issue. I want to pick up on some of what the caller mentioned, that she can't find workers with certain characteristics, and on top of that I imagine she can't find workers for the type of wage that she's paying. This again goes back to the point that it's not that you can't find Americans to do these jobs, it's more that you can't find Americans to do these jobs at the going rate. So for many immigrants, look, it's a bargain. You look at people like - I have a long history of immigration in my own family, my parents' home village basically sent generations of young men to go work in the US. When they were in Mexico, they were essentially peasant farmers. Now, you pay somebody like that a consistent wage for weeks at a time and it's a win win situation. Now, relatively speaking, they're getting paid less than most Americans are and that's primarily why you don't want or why Americans don't want to take some of these jobs. It's not that they might not want to do the job, they probably don't want to do the job at the going wage that's being offered.


Miller: Here's Aaron on facebook, who says that I worked in the banking industry as a translator for several years, much of my day was spent wiring money to the immigrants' home country. I learned that most migrant workers have long term plans to return home. To the phones to Jim in Rochester, hi Jim.


Jim (caller): To piggy back on your last guest there, that's it in a nutshell. I grew up in Austin, the home of Hormel, and non-immigrants are more than willing to slaughter hogs for a living, but not for ten bucks an hour, especially when the going rate was close to 20 dollars an hour 30 years ago, when my dad was employed at Hormel. And the other thing, as far as immigration laws, lets do that, lets make them harder but on the corporations. Hormel used to - I don't know if they still do but they used to recruit south Texas, and what's that all about?


Miller: So they'd be down there -


Jim: Obviously they were recruiting a certain demographic.


Miller: Right.


Nowrasteh: Can I?


Miller: Go ahead Alex.


Nowrasteh: Can I get in on that? I want to begin by saying the notion of being harder on corporations is the same as getting harder on immigrants and American consumers and everybody else. We're going to see an impact on the prices that we pay and the benefits, etc., the lower quality products if we get harder on corporations for hiring these workers. I also want to point out that all these immigration laws, the majority of them deal with punishing employers, as much as possible. There's something in the Arizona law called the business death penalty, there is something called e-verify which was strengthened in the Arizona law, which is an electronic database system that you have to run everyone's identity through when you hire them on a job, and if you don't hire them for a second offense, knowingly or intentionally, you lose all your business licenses, which essentially kills your business. What the interesting result is immigrants don't just flee the state, although we've seen that, a lot of them go underground deeper into the informal economy. So in Arizona, only about 70% of all the new hires are actually run through the e-verify system. That means that 30% of all new hires are getting paid cash, in the cash economy, and it's informal so we know nothing about it. These laws have had the exact opposite of the effect. And going back to what the caller said about if she had, you know that first caller was right on when she said if she had to pay a higher wage, her business wouldn't exist. The reason why we still have agriculture in this country is because farmers have access to voluntary migratory labor, who want to come here and they want to work in these low end fields for a lower wage. Now if the wages raise high enough, farmers are going to start to use more expensive machinery and start to harvest different crops. So if there is not access to foreign low skill labor, you will see the agriculture section of this economy shrink dramatically, and change away from fruits and vegetables and things that require a lot of manual labor, towards things that require a lot more machinery and as a result we're all going to be a little bit poorer.


Miller: We are talking about immigration policy, the legal issues, the policy and some of the political rhetoric around it. Alex Nowrasteh is one of our guests, he is an immigration policy analyst at the Cato Institute, and Efren Perez, he's an assistant professor of political science at Vanderbilt. If you're getting a busy signal on the phone lines you can join the discussion at facebook.com/mprnews, you can always reach me on twitter @kerrimpr.


[News]


Miller: You can share your views on immigration at 800 242 2828, 651 227 6000. To Mark in Minneapolis. Hey Mark.


Mark (caller): Good morning. Thanks for having me on this morning. I just wanted to call in and I really appreciate the conversation this morning and things like that and I think really looking deep at the economic issues, the impact that our trade policies have on places like Mexico. But the issue I saw - I work with the Minnesota Immigrant Freedom Network, I'm the executive director there, and we work a lot with families, parents, mainly Latinos here in south Minneapolis, and empowering issues about education and things like that. But I had the opportunity to visit a small village in south of Acapulco here a couple of months ago, an area that was greatly impacted by trade policies of the US, and a lot of their men have left, and I went there and it was really really heart-wrenching. Because we think about the impact of our broken immigration system on us, but here is all these families that haven't seen their sons or their fathers or their daughters, but a lot of it's the men that have left and can't come back and forth at Christmas like they used to, and can't come back and forth to visit. And just the human impact and the toll that has on people.


Miller: Professor Perez, we haven't talked about that. We also haven't talked about whether things are - we know that immigration is down, illegal immigration is down from Mexico into the United States, but we haven't talked about why that is and whether things are improving in Mexico so that more of these people will stay in those communities.


Perez: Right, so part of it is the decline in - the trends that you just mentioned have to do with the economic doldrums we're experiencing here in the US. In fact in Mexico specifically there is a common thing that when the US sort of sneezes, Mexico catches a cold, right? And so part of why you don't see people coming is they know full well, maybe they don't know the specifics, that it's just incredibly much harder to find a job. The other reason is, you know Mexico has actually been developing, especially at much stronger strength since the 1990s and the passage of NAFTA. You know so there's more jobs available relatively speaking to past times internally, and then on top of that you have demographic trends that are sort of undoing some of the pressure to send people outside of Mexico to look for work. So it used to be the case that Mexican families were a lot larger. Now, most families are having roughly on the order of around two kids per family, which means that there's less people growing up that are going to need jobs, right, within Mexico in particular. So some of the trends that you're alluding to are related to what's happening in the US economically, but some of this is what's happening in Mexico and Latin America more generally in terms of their economic trajectory.


Miller: You know, we have not yet talked about the - just the presidential politics of this, Efren, and I think you have said there are conservative leaning immigrants - Latinos - who might hear Mitt Romney's, or might have heard Mitt a Romney's message on this and been receptive to it. And yet he seems during the primary to have continued to double down on a very strict policy around illegal immigration. So what do you think is happened with that?


Perez: Sure, well look, there's always - there's wide variation in terms of ideology within in the Latino community. But essentially, the breakdown typically is 60, 30, 10 per cent Democrat, Republican, and independents respectively. Out of those 30% Republicans there's essentially a strong correlation between being Republican and being of Cuban origin. So what we're really talking about in terms of potential conservative voters comes down to largely Cuban Americans in Florida. Which is a competitive state, but what's happened with the immigration issue is that the message has gotten so blunt about who it is that we might not want here that even Cuban Americans, who essentially had very little dog in this fight, now gets that sort of identity turned on. Hey we're Latino too, this might be about us more generally. So in some ways that has to do with the types of rhetoric that politicians use, and I understand it, I mean that type of rhetoric, that anti-immigration rhetoric is really directed at non Latino voters, but it has ricocheted itself and it has unintended consequences, one of them being that essentially a group that you might be able to count on solidly, that mobilization might actually weaken because of things that you said.


Nowrasteh: I want to get in on that as well, and I think that one of the - I think that Professor Perez is right, especially looking at the history of states like California, which used to have about half of its Hispanics voting for the Republican party prior to P Wilson in 1984 and Prop 187, now it's hovering between 15 to 20%, but one of the mitigating factors this time around, which we didn't have last time, is that President Obama has been the biggest proponent of enforcing immigration laws since Dwight D Eisenhower in the United States. He set deportation records, his administration has forced secure communities on almost every jurisdiction in the United States. His - the Secretary of the Department of Homeland Security, Janet Napoletano, was the former governor of Arizona who signed into law the first big anti-immigration law in that state, Illegal Arizona Workers Act in 2007, so I don't want to think - I don't think it's a slam dunk for the Democrats this time around, it just depends on how the Republicans change their message because the Democrats have a president in power who says nice things about immigration every once in a while -


Miller: But hasn't delivered.


Nowrasteh: Policy is the exact opposite. I mean by comparison, Bush's policies on immigration are some of the most open we've ever seen, and Obama's are the most closed.


Miller: We'll talk politics about this again I know during the election year, Efren, Alex, thank you so much for a good conversation.


Efren Perez: Thank you.


Miller: Efren Perez with us from Vanderbilt and Alex Nowrasteh, the immigration policy analyst at the Cato Institute.