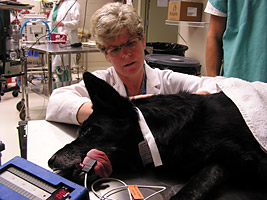 On the radio
Steven Suter: Medical director of the Canine Bone Marrow Transplant Unit at North Carolina State University.
Resources and Links
Advances in veterinary medicine are prolonging the lives of many pets, but can be very costly. Is there a limit to what we should spend to treat our pets?
We had full phone lines during this interviw and didn't get to everyone's story. Continue the discussion on our blog.
comments powered by
The Daily Circuit from April 19, 2012