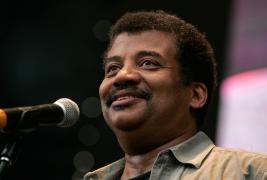 On the radio
Resources and Links
Related Stories
Neil deGrasse Tyson is an astrophysicist who makes us all think we understand the universe a little better. Black holes, distant galaxies, and the potential of extraterrestrial life don't seem quite so complicated when deGrasse Tyson explains them.
He joined Kerri Miller to discuss his latest book "Space Chronicles: Facing the Ultimate Frontier." In a collection of poignant and humorous commentaries, Tyson looks at the role politics plays in NASA and makes the case that America's economy, security and national morale needs space exploration.
When the United States was sending men to the moon, the interest in science degrees and careers took off. The country needs that excitement again, Tyson said in a recent Playboy interview.
"You multiply NASA's budget a factor of two or three and you give it a grand vision," he told Carl Zimmer. "You say, 'We're going back to the moon, we're going to Mars. Oh, by the way, we're going to be on Mars on this date, and right now we are looking at the elementary school children of the nation to see who has the right stuff, because by the time we're ready to go to Mars, they will be the right age to be astronauts.' You attract an entire generation of people into these epic projects. And to solve those problems that have never been solved before, they have to invent things. They have to have new ideas. New branches of mathematics get discovered. This feeds into society, into our culture. It's a difficult sell, but I think it's our only hope."
Tyson has begun production on a new Cosmos television series, which will premier in Spring 2013.
KERRI'S TAKEAWAY
People would actually take a one-way trip to Mars.
comments powered by
‹ Earlier

The Daily Circuit from February 27, 2012
Transcript
Kerri Miller (host): And now we are in-depth with Neil deGrasse Tyson. [sound effect] In the epilogue to his new book, Mr. Tyson quotes Scottish astronomer James Ferguson who once observed of all the sciences cultivated by mankind, astronomy is acknowledged to be and undoubtedly is the most sublime, the most interesting and the most useful. I'll bet you won't get much argument from my guest today. He's clearly fascinated by the geology of exoplanets, to orbiting gas stations to, what to say, if one encounters an evil alien. He celebrates discovery, exploration and curiosity and he writes "The day our knowledge of the cosmos ceases to expand, we risk regressing to the childish view that the universe, figuratively and literally, revolves around us." The new book by Dr. Neil deGrasse Tyson is titled Space Chronicles: Facing the Ultimate Frontier, and he is with us this morning from New York. Doctor Tyson what a pleasure to have you back. Thanks so much.

Dr. Neil deGrasse Tyson (guest): Thank- Thanks for having me. Good to be back.

Miller: You know I wonder if you're concerned that our urge to, to know and understand the cosmos is diminishing somehow.

Tyson: Yes I am and of course those who do it professionally do it because that activity stimulates the deepest, uh, curiosity and the urge to explore and learn something new, tomorrow that they didn't know today. That's one reason to do it. I don't expect everyone to be similarly n- motivated, so I'm not here to say "You gonna like it even if you don't like it." [laughs] I'm here to say that a fully funded healthy NASA with a budget, say maybe twice what they're currently, uh receiving, can transform culture, in a way that can re-invigorate what is now a sleepy economy. And I'm not talking about spinoffs and other kinds of things although I happen to love space spinoffs, I'm talking about a cultural shift in how people think about and value investments in science and technology.

Miller: Yeah I think we have to make the connection there. So how is it that, um the government investing more taxpayer money into NASA does- transforms our culture somehow? Where's the link?

Tyson: Yeah, so right now, our tendency is to think in A to B terms. So you want more scientists in society, well let's have better science teachers. OK we're done. Or you want more innovation, let's put some money in some innovation companies. OK we're done. Well there's some solutions that are a little more subtle than that and might take more steps than just two. And in fact it might even take slightly longer than the proverbial elevator ride to communicate to a member of congress. And so I'll give it- an example. An- bu- drawn from history. We go back to what we now call our golden era of space exploration - the 1960s. That was driven of course by military motives. Because Russia was our sworn enemy. They were the go- the Soviet Union. Our sworn enemy. We go to the moon. We don't remember that era, as being in response to military r- needs. We clean- we've cleansed it a bit, and we've said "Oh we're explorers, we're discoverers in our DNA, we had the charisma and the vision of John Kennedy, we'll put a man on the moon and return him safely to Earth." That same speech, a couple of paragraphs earlier, was lamenting, the fact that, the Russians had put up Yuri Gagarin, into orbit, and we didn't yet have a vehicle that wouldn't kill one of our astronauts. And so, in that, paragraph he says "We need to show the world the path of freedom, over the path of tyranny." It was a battle-cry against Communism. And that was sufficient, to dislodge monies from the Federal coffers to pay for this adventure. So, it gets remembered as an adventure but it was funded because of military drivers. And, I wou- n- I don't like military drivers, as the causes of innovation, but there's another driver out there, and it's economic. And so if you- over that period, we reaped economic benefits, not simply because of enormous spinoffs, from space innovations, but bec- also, and especially because, the culture, American culture understood and valued, what it meant to be engineering and technologically literate so that when you dreamed about tomorrow, you knew that expertise in those fields would enable that tomorrow. And it's those innovations that drive tomorrow's economies.

Miller: You know I was thinking about this when we celebrated John- the 50th anniversary of, of John Glenn's orbit last week, and I listened to a wonderful essay by Scott Simon on Weekend Edition in the morning, and he, a- a- j- the emotional, a- a- the emotion, that came out from the American people I mean he tapped into this- this idea that we took so much pride in being audacious and ambitious in that way. And I-

Tyson: -And that is not something that shows up in a simple A-to-B statement where you're just going to stick some money to try to-

Miller: -Right.

Tyson: -Patch a-

Miller: -Right.

Tyson: patch a band-aid on what you a- observe to be a problem. That- what you're describing, that emotion, that state of mind that mindset, that zeitgeist, was transformative for this nation. We were on an epic adventure. We were exploring space, and even if you were not becoming one of those scientists and engineers, you embraced the subjects that were required to excel in those fields. And you could vote, people into congress. You could vote for leadership that also embraced it as well, and that's what- that's why America basically invented the second half of the 20th century. W- w- it's our innovations that shaped the world.

Miller: You know I think we got an interesting window into this, w- during when the candidates, ah, were in Florida, the GOP-

Tyson: -Yeah.

Miller: -Candidates-

Tyson: [laughs]

Miller: You know where I'm-

Tyson: -Yep.

Miller: -Going with this.

Tyson: Ye- I- n- I'm ready for ya.

Miller: And that-

Tyson: I- I'll wait for you though, go on.

Miller: [laughs] And that debate came up when Newt Gingrich talked about putting a colony on the moon, I- I want to, uh, I want to have our listeners listen to, what he said about this idea of the Northwest Ordinance and, petitioning for statehood, once 13,000 Americans are living on the moon. Let's listen.

Newt Gingrich [recording]: And here's the difference between romantics, and so-called practical people. I wanted every young American to say to themselves, "I could be one of those 13,000. I could be a pioneer. I need to study science and math and engineering. I need to learn how to be a technician. I can be part of building a bigger better future. I can actually go out and live the future, looking at the solar system and being part of a generation of courageous people who do something big, and bold, and heroic." And I will as President encourage the introduction, of the Northwest Ordinance for space, to put a marker down, that we want Americans to think boldly about the future, and we want Americans to study hard and work hard, and together, we're going to unleash the American people to rebuild the country we love. [Applause]

Miller: I mean- Dr. Tyson he's talking about unleashing aspiration, and who does not want that for this country?

Tyson: Right, right. And so, I have very little, gripe with what he just said there, uh, what people tend to do the- sort of the Gingrich naysayers they'll, blend together with that statement his comment about, annexing the moon as a 51st state. [laughs]

Miller: [laughs] Well, I-

Tyson: Which he- I- a- he might have been partly serious but it was mostly a comical statement when he made it, and l- and basically this is his moon colony concept that, where we would have a moon colony by the end of his second term in office which required- requires that he's not only elected the first time but is eleced- elected a second time. And so, the day of that speech, I was tapped by several media outlets to comment on it, which I was happy to do.

Miller: Mm.

Tyson: And then there was the blogosphere reaction to my comments and what I found interesting was that the conservative blogosphere noted- it said, "Dr. Tyson, sympathizes with Gingrich's moon colony." And then the, liberal press, which would be generally anti-Gingrich, or anti all the Republican candidates, said, "Tyson shoots down," [laughs] "the Gingrich plan." So there's clearly a polarization in how people are thinking about an idea. An idea that might itself might not be partisan at all. And so I- I- I applauded the dream of wanting to do something big. But his plan to make that happen, I think is missing some fundamental elements that in- could in fact prevent it from happening at all, unless he, uh, pays close attention to, historical precedent for what would then enable it.

Miller: We- well here's the thing, that I was thinking about because I'd finished your book by the time that that happened, and you say in the book-

Tyson: Well you got an early copy the. Very good.

Miller: [laughs] I did.

Tyson: You must know- know people in high places 'cause I didn't even have a book-

Miller: [laughs] Your publicist, we know that.

Tyson: OK.

Miller: Um-

Tyson: -OK.

Miller: Here's the thing you say in the book which is, irrationality in some ways drives creativity. An- and- and scientists need this to contemplate the mysteries of the universe. And we don't mean irrationality in the common sense of this, but- we- but I- I think I hear you saying, the dream may sound a little in- un- irrational, at the beginning, but we need that to think big.

Tyson: So not only that, but this- this statement of let's put a moon colony- uh, of Americans, before his- by the end of his second term, that's- if you analyze it, that's not even as ambitious as President Kennedy in 1961 saying "Let's put a man on the moon before the decade is out." Because, like I said we didn't yet have a vehicle that wouldn't kill an im- an astronaut going into orbit. And, to go from that state to say, "Let's not have a person walk on the moon" that is far more ambitious than having already been to the moon, and now just simply wanting to set up a colony. So, so- yet Kennedy's remembered as being a visionary.

Miller: Mm, right.

Tyson: But what's at the bottom of all this is, we're not going to go to the moon simply because, we think it's a good idea. This is part of the delusion that pervades the community of space enthusiasts and I count Gingrich among those who are intermittently deluded, in the- his space enthusiasm. And by the way the original title of the book, was Failure to Launch: The Dreams and Delusions of Space Enthusiasts.

Miller: [laughs] Oh was it?

Tyson: And the publishers said, "N- no that's too depressing, you can't have the word 'failure' in the title of a book." So it got denu- it got lightened up and so it's just c- the book is still th- what it was but the title is, now just Space Chronicles: Facing the Ultimate Frontier. So, part of- one of the delusions is that we can just, want to do it and we can all just get some political will together and it will happen. No! We- the other one is we can do it for scientific discovery. No! There's no precedent in the history of culture, where major investments in the frontier of research unfolded simply because people wanted to explore discovery. Let's be honest with ourselves about this. We didn't go to the moon, to discover the moon, we went to the moon because we were at war, with the Soviet Union, period. And we got there and we saw that the Soviet Union was no longer interested in that as a plan, we stopped going to the moon, to the chagrin of all the space enthusiasts who said "We were on the moon by 1969, surely we will be on Mars by 1980, 85?" No! We're not- it's not a given that Mars follows the moon, unless there's the driver to get you there. And the driver is not how hard you want to do it. The driver- my read of history tells me, it's either the war driver, or it's the, economic driver. The "I don't want to die" driver and the "I don't want to die poor," driver. And- so what's a little more subtle here is, what role a- a healthy NASA with an advancing frontier will play, in the health of our economy, which is right now sitting in the doldrums.

Miller: Ah, Kristen just one addendum here on the- on the political discussion on the political discussion on the Lunar colony. A- Kristin in St. Paul says, "Do you remember what Romney said about Gingrich's quote? Something like 'Anyone who brought that concept to me and my company would be fired.'" Hmm.

Tyson: Yeah, that's- [laughs] that's the sure pathway to just moving back into the cave. Because, if somebody's got a dream out there, and by the way, when you dream about tomorrow, and if that tomorrow is a kind of a seductive thing that you might want to make happen, then you will a- you will move into the professions that will enable it. One of my favorite quotes of all time, I think it was A- Antoine Saint-Exupery, uh, he's a na- a- a- an aviator but the- he said this about- I think it was him, forgive me if I got the wrong guy but here's the right quote, is if you want to teach someone to sail, you don't train them how to build a boat - you compel them to long for the open seas. And it is that romance that drives innovation. And all I'm trying to say, and what the fundamental message of the book is, is that, I don't want to go to Mars for war reasons, although if China said they wanted to put military bases on Mars, [laughs] we'll be on Mars in two years, we'll be like there immediately, all right? A- a- nobody wants that to be the reason, I don't want that to be the reason. But there is a compelling economic reason to do so. And that is because you change, the s- the- the- you change the mindset of the nation. We are making tomorrow, come. And I wanna make- I wanna be a part of that enterprise and it's innovations in science and technology that are the engines of tomorrow's economy, and we've know that since the dawn of the industrial revolution.

Miller: Le- let's zero in on Mars here, for a minute. So what would it take, and don't just talk to me about the money although I'm sure it's a lot of money, what else would it take to go to Mars?

Tyson: Well if once we commit- by the way, the Obama administration has committed to going to Mars. The problem as I detail in the opening chapter of the book, that chapter called "Space Politics," the problem is here's Obama saying, and I was at his speech at Kennedy Space Center where he said "You know, we've been to the moon, so why go back? Let's go to the next great destination, Mars, and asteroids." And it got an applause, and I was among those who applauded. And then, until you pause and realize, that he's promising something that's to be executed by, a president to be named later, because the time scale would have us on Mars sometime deep in the 2030s. And, when is that? H- Obama's back on the beaches of Hawaii then. And on what budget? No budget that he's established now. So what does it mean for a president to make that kid of promise? And then receive applause for having done so? So, so th- the ambition to make space the next frontier, in all the glory that represents, has to be deeper than a political whim. And it has to be deeper, and survive, economic cycles. And one way to do that is to recognize that, such investments, like I said, trigger innovations in your culture. Outlook in your culture. An outlook that makes tomorrow come and that's what drives economics. So if you don't- if you don't even care about space you surely care about the wealth of the nation. And so, either way I'll take it. And most people it's just the wealth that they're going to be thinking about. And- I- another piece of this is ah- uh- o- some of the naysayers to NASA would say, "We have real m- problems here on Earth. Why spend money up there?" Well I did- I looked at the Federal budget, and said "Well how much of that Federal budget, goes to social programs?" That's a way to reference problems on Earth. 50 times the budget of NASA in the American portfolio, goes to social programs and- and education. 50 times. So to say "Take the money away from NASA and put in more social programs," you think that's gonna really make a difference there? I don't think so. Meanwhile we have a force of nature unto itself to influence the ambitions of students in the pipeline.

Miller: To the phones to Darren in St. Paul. Hi Darren.

Darren (caller): Hi Kerri thanks for taking my call.

Miller: Sure.

Darren: Neil I'm a big fan, um, first of all I'd just kind of like to ask, you talk about the cultural indifference towards space exploration, I was wondering, primarily where do you think that stems from? I have a theory that, maybe, as a culture people think maybe there's, there's nothing out there, so it, maybe it's sort of a waste? It's sort of a, closed-minded view, maybe just touch on that?

Tyson: Oh sure, it's I get- got an easy one there. [coughs] Excuse me. Uh, a- a- a part of that, concern has been, why send humans, when robots can do the job? And robots are very exciting objects, you know the rovers on Mars have triggered all manner of interest in schools and visits to the website, here's the- here's the problem. The problem is while the rovers were going on, we had the space shuttle. And the space shuttle while it was doing amazing engineering feats, constructing the international space station, fundamentally, it was boldly going where hundreds had gone before. The space shuttle was not advancing a space frontier. And if you advance a space frontier, every next mission is more ambitious that the previous one. If you do something that's never been done before you have to innovate. And it's that stream of innovations that transforms your culture. So I submit to you, that if in fact NASA had been advancing a space frontier, all of our attention would have been to those astronauts on that frontier, and the robots would have been a footnote, on the activities of space. We have evidence of this in the past. We had robots on the moon in the 1960s. Did you hear about them? Probably not. There were photographic surveys, the Russians had a rover on the moon, you didn't know anything about them. If they were in the paper they were on page 50, because on the front page was all about the Mercury 7 and the astronauts that were advancing that frontier. When one of ourselves is out there, advancing the frontier, they're the ones who we name high schools after. They're the ones who we- we give ticker-tape parades to. And they're the ones who we vicariously participate on advancing a frontier.

Miller: E- e- a- just let me come back to Mars here for just a moment. Scientifically-

Tyson: [laughs] -I love that sentence! Come back to Mars! [laughs] R- real us in! Bring us back to Mars.

Miller: [laughs] Scientifically, what is preventing the, the um, exploration of Mars? Of course it's the distance, but what else?

Tyson: Oh OK, so there's still challenges, but they're not insurmountable challenges. Before Sputnik, anyone who said we won't go into space, or can't go into space, was- did not have any sense or understanding of the capacity of creative engineers to solve problems. This is what engineers and scientists do, professionally. They solve problems when they're handed one. And so, yeah. So there's the radiation from the sun, there's the long voyage, there's you don't want to bring all your food with you - it would be nice if you could sort of grow things hydroponically, either en route or there, but, no one who- who's in this challenge, is thinking of these as so insurmountable that we should not undertake this project. And if it is a radiation problem you go when the sun is quiet. The sun is not always blasting us with plasma. There are times in the solar cycle where it's quite calm and peaceful. And you can say "who's gonna do this and you risk, being exposed to a dose of radiation," you know, the line will still be wrapped around the block. Because the payoff on that risk is you're one of the first people to walk on Mars. This talk that we live in risk-averse times, that's another delusion. We're risk averse because the challenge is not to do what no one has ever done before. If there's a 2% chance I'm going to die by going into the space shuttle, because we lost two shuttles out of 100 or so, if, it's 2% chance I'm going to die and all I get to do, is go where hundreds have gone before, that is not a good enough risk for me to take. So I'm- I- I tell you , if you s- I could- we could do the experiment tomorrow, say "Who wants to go to Mars, and not come back, but you'll be the first ones to do this" the line will be wrapped around the block.

Miller: Really?

Tyson: Oh, b- by a- t- t- no question about it.

Miller: W- would you sign up for that?

Tyson: There are people who, you've seen these people these are the people jump out of perfectly good airplanes with a parachute. These are people who m- rock climb. W- th- th- the- a- a- I- I- I- I read this, I didn't v- re-verify it but that the deadliest in Mt. Everest's history, where the most number of people died, the year after that had the greatest number of climbers ever. The risk of death is something that attracts a subset of the human species, provided that risk comes along with a great, um, a- achievement that they can be- within reach, for having done so. And it's those are the folks who are the first to leave the cave and cross the valley and climb the mountain and I'm happy and proud, that such folks live among us. It doesn't have to be everybody, just has to be some of us. And they're the ones who we build statues to when they come back, and even if they don't come back.

Miller: To the phones here to Scott, in St. Louis Park. Hi Scott.

Scott (caller): Hey, great subject. Um, I just- you guys had just mentioned about going to Mars and not being able to return, and I think it was NASA within the last year put out a question telling people "Would you sign up if you knew you weren't coming back from Mars," and they had a flood of people sign up, "Yes, I'd love to go-"

Miller: -Really.

Scott: -And there was a lot of women who wanted to go. A lot of women signed up, and they wanted to go. They didn't need to return. And-

Miller: Yeah why, I wonder why so many women. Hmm.

Scott: I don't know! [unintelligible] But anyway, the other thing I wanted to know was-

Tyson: Maybe they wanted to change that concept-

Scott: -uh, do you have any feeling or concept about NASA now being privatized-

Miller: -Ah, yeah.

Scott: -sorta- how- how's the cash flow goin' and are they tearing down and closing everything up or are they keepin' things open-

Miller: -OK.

Scott: -and I'll hang up and listen.

Miller: Good thanks.

Tyson: Uh sorry thanks for that e- excellent question and just b- back to women going to Mars maybe they want to change the stereotype-

Miller: -Well yeah.

Tyson: -that men are from Mars women are from Venus you know? They just want to [laughs] just fix that one in the-

Miller: -Good one.

Tyson: -bud right there. Uh, so yeah people will go on one-way trips and I think if you have enough money to send them there we'd have enough money to bring them back so, I think it's a test of concept not a plan that anyone is really taking seriously. So with regard to the privatization, the press has gotten a lot of that wrong, more of the delusions of what's going on in people's reckoning of the present and future of space. If you ask some people, even some people in private sectors they would say "Yeah, we should privatize NASA and then we can really advance the frontier." That's just false! There is no precedent in the history of human culture where, private enterprise took on a frontier that was expensive, dangerous with unknown risks. When all those four factors exist, you cannot value them in the capital markets. And if you can't value it in the capital markets you can't attract investors. T- in a free market enterprise, it's return on a- ROI - return on investment that matters. Every major advance in the history of our culture, of all cultures have come about, expensive advance, where there's risk, has come about from government investments. The first Europeans to North America to the New World was not the Dutch and East India Trading Company. It was Columbus. It was Magellan. These are the people funded by governments, in that case, Spain, funded by governments to draw the maps, assess where the danger zones are, find the prevailing trade winds. Assert whether there are actual riches there to be, uh, taken exploited, eh, hegemonized whatever, once that's done, then private enterprise comes in afterwards. And they use the maps paid for by the governments to then conduct their business. The analog to space would be, you hand over low Earth orbit, couple hundred miles up, to spa- to private enterprise. We've been there done that, the patents have been granted, the risks are understood and assessed, and that'd be great! Tourism, t- tourist traffic, satellite launches, which in some ways is going on already, uh, NASA doesn't need to use their own vehicles to launch their satellites they've got Boeing they've got Lockheed Martin, to do this. So, um, private enterprise is an important cog, in the space wheel, they're just not going to lead, the exercise.

Miller: Uh, I got a tweet, uh, Neil here from a listener who says "Yes, I'd take a one-way trip to Mars in a heartbeat." And here's another listener who asks-

Tyson: -And you thought I was pulling your leg! Of cou- I- ah- [laughs] I wasn't lyin'!-

Miller: -I thought you were being a little optimistic. Let's just say that-

Tyson: -These people are out there, OK?

Miller: [laughs] Ah, here's another listener who says "Please ask Dr. Tyson what he's working on, and most excited about next." What is that?

Tyson: OK, well thanks- thanks for asking that. The- uh of my various projects right now, we are scripting what will be the 21st century version of Carl Sagan's Cosmos. And I'll be hosting that-

Miller: -Wow! Oh-

Tyson: -and the executive editor- it's been 32 years-

Miller: -Wow that is cool-

Tyson: -since that came out. And so I teamed up with two of the original three creative collaborators of that series, Ann Druyan and Steve Soter, and of course Carl is gone but, um in that slot, huge shoes to fill. But I- I- I hope and expect to rise to that and bring that landmark series into the 21st century in a way and to remind some listeners if they haven't seen the series, and those who may even remember it, what distinguished it from any other documentary, is that it presented science not as something to know, but as a way of understanding nature, i- in your mind, body, and soul, in a way that science becomes a fundamental way of how you think about the world around you, and it transforms what kind of a citizen you would become. That's the challenge we have ahead of us and we're scripting it now, it'll be either end of 2013 beginning 2014-

Miller: -Oh I can't wait-

Tyson: -The release date is not set-

Miller: -That's, that's great-

Tyson: So that's what I'm working on now.

Miller: To the phones to Chris in Mendota. Hi Chris, your question for Dr. Tyson?

Chris (caller): Thank you, hi Dr. Tyson this is really exciting to talk to you. Um, say, do you feel there are any technologies that are being purposefully suppressed? I mean I don't want to sound like a conspiracist but, I mean like I've been kind of following the VASIMR space engine, and you know I had like a Google alert telling me whenever something talks about that and it seems like a really exciting technology, and it seems almost hidden, and uh you don't see much about it, and I'm just wondering, I mean would there be reasons for some technologies to be favored? Seems like we're still doin' the same old thing with, you know the same old engines and the same old technology.

Tyson: Yeah OK so the VASIMR e- a- drive, a lot of that, effort was pioneered by Franklin Chang-Diaz, who is a former, uh NASA astronaut and, he ended up heading their propulsul- propulsion unit, ah, within NASA, NASA actually had a division, specially focused on innovative methods of propulsion. That, e- area got its budget cut and for all I know it's not even there any more, he ended up leaving NASA starting his own company. So, so there is no technology that I have seen, or that I would interpret as being suppressed, I can tell you, that, right now the ion drive does not have much utility for the manned program. Because an ion drive is once you're out in space, it's a very efficient way to get long distances. But we don't even have a budget to get out of low Earth orbit yet, so, so I think he should continue, and when we finally get NASA budgeted up to do something other than boldly go where hundreds have gone before, then you bring in that technology to do the the- the- the- the- the tuned tasks of moving cargo from one place to another, that would a- that's awaiting your arrival when you get there. All manner of ways we c- we would want to use ion drive. But you can't use an ion drive to launch anybody from Earth's surface, and right now we're not launchin' anything. So, it- it's a lower priority not because of suppression, but because there's the- the- the- the most effective way we can use it doesn't yet exist yet.

Miller: So I was watching a speech that you gave, um, a while back in California, and you described this asteroid named Apophis. Is that right?

Tyson: Yeah, yeah, Apophis, the Egyptian god of death and darkness-

Miller: -Right, and I want to play a little cut for our listeners about what you said about this.

Tyson [recording]: In the year 2029, the month of April, the 13th of April, a Friday, Apophis, will come, so close to Earth, that it will dip below our orbiting communication satellites, and it is the size of the Rose Bowl. It will be the largest, closest thing, we have ever observed, to come by Earth.

Miller: So are we all doomed?

Tyson: [laughs] Well that one is gonna be a buzz cut. That's actually not gonna hit us we know enough about its orbit that we are safe from it, and right now you should rent hotel rooms in Norway and sorta northern, very northern Europe because it'll whiz by [laughs]-

Miller: You be- I mean serious? You'd be able to see it?

Tyson: Oh yeah yeah yeah.

Miller: That well?

Tyson: And, but actually it'll just kinda look like a s- a- a- an airplane, I mean a slow-moving airplane, I mean it's- it's- it's yes it's moving fast in absolute space but, the angle over which it needs to cross your field of view it'll take a few minutes- a couple minutes to do that. So, but you get to say that you saw Apophis give Earth a buzz cut. We've never observed anything that large approach that close. Of course, larger things have come closer, but not in the era of our observation of the night sky. An asteroid took out the dinosaurs 65 million years ago, and that was the size of Mt. Everest. So it's not like we haven't been hit, we have been hit, we will get hit. What's interesting about Apophis is that we still don't know what its next trajectory will be. It intersects Earth's orbit every 7 years, depending on how Earth's gravity acts on it, in that passage, we will learn whether it will hit us exactly 7 years later, once again on April 13th, except that's a Thursday, that time around. [laughs] Thursday, the 13th. And so, a- wh- the- right now the odds of it hitting are b- based on our uncertainties in the orbit are several in a million, but there- you know there are people who buy lottery tickets with lower odds than that expecting to win. So if this thing hits it would hit the Pacific, and flood the entire west coast of North America it would be a bad day on Earth-

Miller: -Wow, wow-

Tyson: But nobody has to die. You just evacuate the coast. [laughs]

Miller: Well what do we- that's all? That's all we do about it is evacuate or-

Tyson: That's- that's wh- well, no no, OK. So, I wanna live in a world where you don't run away from disasters, you prevent them in the first place.

Miller: Yeah.

Tyson: And so you g- so whi- the- there's a plan afoot - unfunded, that is - to deflect the asteroid. It'll live another day, of course, but if you deflect it a little bit now, then it will miss us by a lot later. And this is where you need foresight, and this is where you need people who'd- whose business in this world is to solve problems that have never been solved before. That is the culture that I'm talking about. And it's that kinda culture- is- th- will create the country I wanna live in in the future, because that was the country I grew up in.

Miller: Grab a call from David in Minneapolis, hey David thank you for waiting.

David (caller): Well briefly for starters I'm 68, yeah I'd go to Mars in a heartbeat.

Miller: Would you?

David: What- oh yes, oh yes, oh yes. But-

Tyson: -Excellent-

David: What- what's, Doc, what- what's your take on the space elevator, I think if we had a string of space elevators some distance apart, string up, some sort of electrified net like a, like a- dust collector on a- on a furnace, electrostatic, that maybe we could clean some of this garp out of the atmosphere and save the planet from massive global climate change. But in otherwise the space elevator just for launching payloads into orbit and- and getting stuff by the time you get to the other end of it you're going, golly, nearly the speed of light as fast as you wanna go once you're out of the atmosphere.

Miller: OK, Dr. Tyson how about that space elevator idea?

Tyson: Well first of all, the man is 68 years old which means he, lived, that entire space era-

Miller: -Oh, yeah-

Tyson: -And saw Sputnik and reacted to Sputnik, and he is dreamin' about tomorrow. See how that works? He's still dreamin' about tomorrow. [laughs] And that influenced him, you know 40, 50 years ago. So, it's not a small effect, it's a big effect, that people think about tomorrow. The space elevator, not everyone might be familiar with it, is an idea, that, would enable you to get things into orbit for very low cost. You- you suspend a platform above the Earth that orbits with the Earth that you hoi- you lower a cable down to Earth's surface. There's an altitude, above Earth, where it orbits at exactly the rate the Earth rotates, and that's called geo-synchronous orbit. Communication satellites are at that orbit. And so it appears to over Earth's surface. You lower down a cable, and then you a- attach an elevator to it, and you just hoist it up. And you don't need rockets, you just need a little motor, and, you can play some space elevator music [laughs] on your voyage up there, and it's 20, t- t-

Miller: -Oh, what would that sound like?

Tyson: D- I know I don't- don't think we wanna know actually. Uh, but it's- it's a long ride, it's 22,000 miles, and it's a way to gain access to orbit and then to the rest of the solar system. It's really ambitious at this point because, we think maybe carbon nanotubes might be strong enough to s- to be that cable, but it's very dreamy at this point an- and what's driving it is to lower the cost of orbit. But I submit to you that the cost to orbit is not even that much when you look at the total budget available to spend on stuff in America. So I- I don't- I'm- I don't think the budget is the problem. Uh you know, launch us. Let's go ahead and do it, that- it's easier to launch us right now that it is to invent a nanotube, that long. We can invent those nano- the nanotube process tos- today, you can make a nanotube about a centimeter long. That's way less than 22,000 miles. [laughs] So, there's a long way to go before space elevators become a reality and, th- I don't want that to be the- the lynchpin in whether or not we end up going into space. We should proceed right ahead right now.

Miller: It is always inspirational to talk to you Dr. Tyson thank you so much.

Tyson: And I- I- I don't know if your listeners know I tweet the universe @NeilTyson, N-E-I-L T-Y-S-O-N, they're mostly cosmic brain droppings, but, um, at- whatever thoughts I have you're gonna share- you're gonna find them there.

Miller: And I follow you by the way, so great-

Tyson: -Oh excellent well thank you-

Miller: -Thank you. Thank you for the hour today.

Tyson: Great to be with you.

Miller: Neil deGrasse Tyson's new book is called Space Chronicles, Facing the Ultimate Frontier.