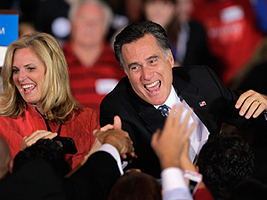 On the radio
Krista Tippett: Host of On Being
Joanna Brooks: Covers Mormonism, faith, and politics for ReligionDispatches.org. An award-winning scholar of religion and American culture.
Resources and Links
During Mitt Romney's second run for the Republican presidential nomination, he isn't saying much about his Mormon faith. And oddly, he doesn't get asked about how it informs his personal ethics, his approach to community and his beliefs about power and responsibility.
What's the significance of Mormonism in the upcoming election? What are some of the common misconceptions of Mormonism?
Kerri Miller will be talking with Krista Tippett, host of On Being . Joanna Brooks will also join the conversation. She covers Mormonism, faith, and politics for ReligionDispatches.org and is an award-winning scholar of religion and American culture.
comments powered by
The Daily Circuit from February 22, 2012
Transcript
Kerri Miller (host): Mitt Romney isn't saying much this time around about his Mormon faith and oddly he doesn't get asked about how it informs his personal ethics, his approach to community, his beliefs about power and responsibility and more on why the media hasn't probed that in a minute, I want to talk about that. But first, is Romney's candidacy laying much of the misinformation out there about Mormons and by the way why is there so much misinformation about Mormons? Two guests are going to join us in a minute; I want to talk about this. How much do you actually know about the Mormon faith and how is what you know and what you don't influencing the way you think about the prospect of a Mormon president? I would like to hear from you this morning; I know our guests would too about how much you feel you actually know about the Mormon religion and how is what you know and what you don't know influencing the way you would think about a Mormon president?

Our guest Joanna Brooks is a columnist for ReligionDispatches.org she blogs at Ask Mormon Girl and she is the author of "The Mormon Girl" and she is with us this morning from San Diego. Joanna welcome it's a real pleasure to have you here.

Joanna Brooks (guest): Thank you Kerri. It is great to be here.

Miller: Krista Tippett is here as well she is the host of the national show of On Being and the author of "Einstein's God" and she is with me in the studio. I have to confess Krista I heard your conversation and I thought there are so many questions I must ask so I am glad you are both here together.

Krista Tippett (guest): Thank you.

Miller: Joanna you said something recently that gets at this idea of misinformation and confusion. You said that Mormons know our religion seems exotic and even esoteric and we chuckle when we compare sensationalistic media depictions of Mormonism to our everyday lives. I'm going to get to the exotic part of this. Really are Mormons chuckling about the misinformation out there?

Brooks: In our best moments we are chuckling. There is a lot of hand wringing and anxiety too. People are strongly identified with Mitt Romney whether you are a democrat, in full disclosure I am a democrat, or more conservative as most Mormons are republicans. We feel a sense of kinship with him and watching Mitt Romney sort of whether various rounds of scrutiny and criticism in the media has brought out feelings of protectiveness in all of us.

Miller: So why do you think the Mormon faith is perceived as so exotic? That's the word you used.

Brooks: And it is curious the disconnect between the sensational images or ideas about Mormonism which I'm sure we will get to and you know the fact that the Mormon candidate in the race right now happens to be the most stayed and moderate on the GOP ticket. It's important to just think about Mormon history.

We started in the northeast United States in the 1930's as an upstart protestant sect making some bold belief claims that other Christians rejected. Some of our religious practices set us at odds with our neighbors. We encountered a lot of mob violence in the Midwest and we left the United States in 1840's and founded our own basically theocratic community in the desert west and remained fairly isolated as a culture well into the twentieth century. It's only been in the last few decades that Mormons have really assimilated back into American public life and still we maintain a great sense of guardedness and insularity in interacting with the main stream.

Miller: You know Krista I wonder if you think this is about a sense of foreignness the exoticism that many Americans look at this faith with?

Tippett: You know it is striking and I think when I spoke with Joanna a few months ago she really brought this home to me how deeply embedded Mormonism is in the history of American protestant Christianity. That's something many people don't know but it is a young religion, it's a young tradition. Talking about Mormonism reminds me of talking about Pentecostalism which is non-denominational but there are charismatic characteristics, it is a hundred years old so a tradition that has deep roots in American Protestantism but started here like Mormonism is global and so in that sense also. I mean that's also one very easy explanation for why it does seem exotic. It simply hasn't been around as long but as Joanna says there are also idiosyncrasies.

Miller: Okay yeah you knew where I was going with this. Is it some of the traditions and some of the practices of the faith itself even though you could pull out stuff about Catholicism or many other faiths that seem odd out of context? Is that part of it?

Tippett: You certainly can and Roman Catholicism Southern Baptist church in which I grew up these traditions have lots of idiosyncrasies too but we know them, we are used to them, we see them as part of a reality we are familiar with that is not threatening.

Miller: So Joanna it's really just the familiarity here?

Brooks: I think so and there's elements of Mormon belief and practice that resist familiarity. For example Mormon temples in many areas of the country that are beautiful Mormon temples in high visibility locations here in southern California and Washington DC and these are spaces not used every Sunday. They are not spaces open to nonobservant Mormons or to non-Mormons and this element of sort of privacy in religious rights has sort of disappeared from mainstream American religious lexicon and so to encounter a faith where there are things that are held private strikes many people who don't know Mormonism as odd. It is difficult for them to get a sense of what goes on in there. You might even say secret, it feels like secrecy. There are things that are hidden, that are unknown.

Miller: But is it? Maybe it is secrecy.

Brooks: It reminds me, my husband is an anthropologist and works with Native American communities and if you tour any Native American community in the southwest that is from the pueblo cultural family there will be places in the community you don't get to go as an outsider. So yeah there are things that Mormons don't talk about even to their young children at home that are understood to be a part of an adult faithful life. You go to the Mormon temple to participate in basically learning and worship services inside the temple. Only adults go there, it's a space of reflection based apart from the world. It is a space that is held in some secrecy and again that's just not a practice that's familiar to most of the mainstream American community.

Miller: Our in-depth this hour on the Daily Circuit is demystifying the Mormon faith. We've got the Mormon girl with us to help us do that, Joanna Brooks's blogs as askmormangirl. Krista Tippett is in the studio. I am asking you how much you think you know about the Mormon faith and is what you know and what you don't know influencing the way you perceive the candidacy of Mitt Romney. Admittedly, oddly enough, there has not been much conversation about this and I say oddly because I would think his faith informs some of the perspectives he brings to this idea of the most powerful man in the world and we are going to talk about why that is. To Nathaniel in Minneapolis, Hi I appreciate you waiting.

Nathaniel (caller): Hi, how are you?

Miller: Good how are you?

Nathaniel: Well I know very little about the Mormon faith but that's not going to influence my view of Mitt Romney at all because I think that any responsible politician and I think Mitt Romney is one, can keep their personal and religious views separate from their political responsibilities.

Miller: Krista?

Tippett: I was just thinking back to something Joanna said to me when we spoke several months ago I had asked you what would be the really hard question of a Mormon candidate for president. The question has tended to be kind of superficial would be something to do with polygamy which is not really for someone like Mitt Romney the issue and you talked about obedience and conscience as having particular resonance and depth for a faithful Mormon and you thought that would in fact be a revealing question to ask of Mitt Romney and I wonder if that echoes for you when you hear Nathaniel's statement that these things can be kept separate. Can they be kept separate for someone as deeply planted in the tradition as Mitt Romney is?

Brooks: I think Nathaniel's perspective and question is excellent. It's important to remember that there are fifteen Mormons already serving in congress. They include Harry Reid, a prominent democrat so clearly being Mormon doesn't determine the way one precedes on public policy. There are a range of possible positions within the tradition from left to right on questions of policy and governance and many Mormons have shown themselves over the last century capable of upholding the office while remaining true to the faith but the question of obedience over conscious has emerged as a particularly sensitive one in Mormon communities in the last decade especially around issues that have to do with LGBT quality.

The institutional church, the Church of Jesus Christ of Latter Day Saints has been very clear in committing resources to fighting marriage equality for LGBT people and that's put a lot of Mormons who would be more moderate or progressive in a difficult spot when it comes to following one's conscience if they are more of a civil libertarian on these matters and so it would be interesting to hear someone like Romney who grew up in a multi-generational Mormon family deeply connected to the institutional hierarchy, how he might negotiate these issues where what might be best for the majority of the American people or more in the interest of justice conflict with deeply held religious beliefs. In the past during the govern ship of Massachusetts he tended to be more moderate on these questions the republican primaries have turned him a bit more conservative.

Miller: You know I was reading Krista and Joanna something that Randall Balmer who is an episcopal priest has been writing about this, he is also a professor of American religious history at Colombia and he wrote in his column earlier that he thinks that questions of faith are appropriate obviously for all of the presidential candidates but here's what he writes, "The pertinent question applies to all presidential candidates who make declarations of faith how does religion shape your policies", and then Balmer adds "unfortunately Romney has remained studious tight lipped about all matters of faith referring only vaguely to my church." Is that fair Joanna?

Brooks: He has been absolutely tight lipped. Mitt Romney does not want to talk about his Mormonism, he does not want to talk about his Mormonism because it is a difficult subject that immediately conjures up a range of sensational associations. Polls showed that large percentage of Americans still think we might practice polygamy, mainstream Mormons which we don't. It's nothing but a sticky subject for Romney. At the same time we are waiting for him to make a more nuance statement about how his faith, you know there is room, to say how is faith informed him as a leader. This is a story that newspapers like Washington Post have been covering in some detail. Romney himself doesn't appear to have the bandwidth to talk about faith issues in the public eye in a nuanced way. He's not the only one; there are very few nuance conversations about faith like this one in the public sphere. Romney has showed himself particularly reticent to give it a try.

Miller: You know and yet Krista I don't put all of the blame on the candidates about this because I don't know, and you're a good person to ask this of, I don't know that the national medial approaches this with confidence and with penetrating questions. I think reporters shy away from this for the most part.

Tippett: He is not being asked nuanced questions. He is not being asked interesting questions. There was a lot of attention around this a few months ago, a little bit earlier in the primary and it just drifted away. It's been surprising to me also Joanna I know there have been some, maybe this was in the New York Times, interesting articles about detailing what it means to be a Mormon of Romney's stature that he has been a bishop which really doesn't translate into the way we think of a bishop.

Miller: And I have to say there were some revelations there for me.

Tippett: And I felt like there could have been a lot of it that was informative it was meaningful, it was good to know, it was substantive. And then I expected some follow up by other journalists so how does this inform your life as a politician? And I haven't heard it.

Miller: Joanna?

Brooks: In the news cycles on faith in the election have been driven by the most extreme voices. We remember last fall Pastor Robert Jeffers from Dallas made a big splash declaring Mormonism a cult. Franklin Graham the son of Billy Graham made a comment yesterday that made headlines by saying oh it's not Christianity another persistent misconception about Mormonism and so the news cycles are driven by the extreme voices. We have good reporting done by religion reporters like Laurie Goodstein of the New York Times like the Washington Post, but it doesn't translate into political coverage.

Political reports tend not to know much about religion and they are the ones who are writing the stories that are making the front section and not the feature but if you dig into those features you will find coverage of Romney that provides really fascinating and as you said Kerri revealing how Mormon congregations operate on a day to day basis. How does someone like Mitt Romney who was raised with an expectation that he would play a role in the leadership of the church was trained in the sense of duty from the time he was a boy how they move into their adult lives and assume this life of faith.

Miller: I was going to say I do have an example of a conversation with Mitt Romney from 2007 it was on Face the Nation, maybe you both saw this, and this is Bob Schieffer asking Mitt Romney if it's true that Mormons believe the Garden of Eden is in Missouri. Listen to what Romney says. "You know they're probably the right folks to give you the answers to questions related to much of Mormon teachings so I'll probably let them respond to questions about specific doctrines but what I can tell you is that the values of my faith are founded to Judeo-Christian principals and the same kind of philosophy that is associated with other Christian faiths and Jewish faith and others is very much consistent with ours. The view that there is a God that created us that all children on Earth are of the same if you will divine origin. That the loss of one life anywhere is the loss of a fellow son or daughter of God. That liberty is a gift of God. These fundamental principles are the same faith to faith." You know Joanna what's so interesting about that is that so Bob Schieffer is asking the question that I think many people watching they would do a double take, what you believe that the Garden of Eden was in Missouri, and his answer is go ask the leaders of the church like he's not qualified to answer.

Brooks: Right. Now this is textbook example of how a whole generation of Mormons feel most comfortable interacting with the mainstream. First Bob's question cherry picked one of the most sensational actually nineteenth century speculations in Mormon theology you know talk about your religion here's something really weird someone in the nineteenth century suggested, you know Missouri and Romney you can hear the guardedness in his voice. You can hear him backing away from the question and deferring to this sort of authoritative, institutional perspective. You know this guardedness, this carefully managed messaging to the outside world has been the way that Mormons have reentered the American mainstream in the late twentieth and late twenty-first centuries and it is a guardedness that we learned in the nineteenth century when we were, let's face it, a persecuted American minority with fairly strongly divergent beliefs so you can hear that history in Romney's voice.

Miller: We have a ton of calls which I don't want to ignore so let me go to the phones here to Sandra in Madelia. Hi Sandra I appreciate you waiting. What did you want to ask?

Sandra (caller): Thanks so much. I have two questions. One is Mormonism is belief system that consistently publicly trumpets family values yet I'm having trouble squaring that because when my child converted to Mormonism and got married the non-Mormon members of her family were not allowed to attend the wedding. The other concern I have specifically about Mitt Romney is that he has publicly trumpeted his belief and commitment to respecting religious freedom and I'm trying to reconcile that with what is the central command of Mormonism that they have an obligation that they have to convert and that they actually obtain a higher level of salvation when they convert others to their belief system and so I am extremely worried about what the effect of a Mormon president would be.

Miller: Okay so Joanna and Krista I'm going to ask you to think about that for a moment while we listen to the latest news and then we are going to get right back into it. So Joanna I'll go to you and then I want to go to Krista about what Sandra asked about this idea of salvation and her concern about Mitt Romney.

Brooks: I want to thank Sandra for candid questions as it is so important to have these open discussions in the public sphere when we can and religious freedom is as important to many Mormons as it is to any other group in the United States we are a small minority, 1.6 percent probably the U.S. population. We experience ourselves as a minority in most of the places we live. It is not a Mormon teaching that I have ever heard that you go to a higher level of heaven when you convert others although the church and its members do devote a lot of time to proselytizing and growth rates in the U.S. are flat lining for us.

Miller: Really?

Brooks: Yeah, so to assume that Mitt Romney would approach the office with proselytizing impulse is there any evidence that he did that in Massachusetts. Is there any evidence that he did that in is time at Bane capital. You know let's look at his record as a politician, as a business man and see if that's constant with his characters he has demonstrated so far.

Miller: Krista?

Tippett: I want to speak to the proselytizing piece of it. I actually think that the family issue is important to that, and maybe we'll come back to that later. But I actually think that some of what Sandra said and something that came up before again gets at what is truly a nuanced real hard question about religion. So look, you can ask Mitt Romney if the Garden in Eden is in Missouri, you can ask a catholic if, and this is a very serious central issue in Roman Catholicism, if it is really true that when you stand at the alter the bread and the wine actually literally become the body and blood of Christ. I mean there are things in every tradition that are not rational and so I'm not defending Mormonism, I'm saying that all of these transition share but have different details and in terms of proselytizing I mean protestant Christianity especially evangelical Christianity which is forty percent of the population we had an evangelical president in the white house. This faith has conversion and proselytization at its core at least as much as the Mormon tradition so I guess again I am saying I want us to ask interesting and real questions about Mormonism but some of this is not interesting and real and we are holding Mitt Romney, a Mormon to a different standard than we would hold a Christian candidate, even evangelical for president.

Miller: I wish you two could see my twitter feed right now because there are some interesting comments here. Joanna nothing you haven't seen before, but this kind of goes to what we have been talking about. Here's a listener who says "I'd like to ask the Mormons about their magic underwear." I honestly don't get it. Here's another listener who says "ask Mormon girl about posthumous baptism, Eli Weisel's parents for example" and here's "Kerri please research the Mormon church you will be stunned." Let's go through that Joanna the magic underwear.


Brooks: You know lots of very observant people of faith and traditions around the world wear clothing that reminds them of obligations of religious covenants, promises in their daily life. Orthodox Jews might wear a kippah or a netalis under their clothing, Hindus and Sikhs, Sikhs especially have ceremonial items they wear with them every day. For LDS people highly observant LDS people when you attain adulthood you go to a Mormon temple and you make covenants, coming of age promises to be a fully-fledged devoted member of the adult faith and part of that includes wearing under your street clothes every day some very plain white undergarments that remind you of your promises to live a life of devotion and chastity. And they are as simple and familiar to people who grow up in the culture as any other kind of underwear is to the rest of the world. And that's it. You will hear stories, you will hear Mormons say my garments, is what we call the undergarments, saved me and this and that. That's not doctrine, that's a part of Mormon oral tradition or folk culture. It's not theological.

Miller: I'm going to get to the baptisms here in just a minute but I want to take a call from Billy in Duluth. Billy you were raised Mormon?

Billy (caller): That is correct.

Miller: Okay, what di\d you want to add to the conversation?

Billy: Well just going back to is Romney running with all the knowledge of Mormonism out there, is it enough? Do people know enough about it? I would have to say from my end of it that yes the information is out there and his problem is sheer good old American ignorance. Just as you guys were saying that people latch onto like magic underwear or oh my gosh why weren't we allowed into their temple for the wedding. Like your religion doesn't have rules, like your religion doesn't do weird things. There isn't in my mind a religion that isn't weird or doesn't do odd things. But I do feel that it is my job, I am an atheist, having been raised a Mormon to defend at least number one thing I was raised Mormon; oh did you have lots of wives, number one thing. Now you can ask your Mormon guest Joanna was it 1891 that was abolished? We are talking 120 that has been abolished, not part of the Mormon religion, but yet when you say hey I'm a Mormon, oh you have lots of wives, that's the number one thing that comes up. Number two, underwear. Number three, the whole temple thing. And until that goes away Romney is going to be looked at as this weirdo. And my other point was that I think peoples big problem with Mormonism is that it is a good for you religion, they don't drink, they don't smoke, they don't fornicate, they don't drink coffee, they don't cuss, they don't do everything that all of these other Christian people do on a regular basis that makes them look bad.

Miller: So Billy and Krista they are saints walking around.

Brooks: I love what Billy says in terms of the lack of familiarity about Mormonism still and it still has this air of sensation about it and there was a wonderful column in the Washington post by my friend Jana Reese, a Mormon writer who said you know Romney isn't the Kennedy running in the 1960's he's the Al Smith running in the 1920's who's one of the early catholic candidates running for president. Yeah Billy is right, there is a great deal of non-knowledge we encounter in our daily lives and you know attention given with the typical media cycle does tend to fixate on the on the most sensation aspects of the faith. There are very few stories in the public eye about what an actual day to day Mormon life looks like and feels like. Very few of that more in depth nuance story telling for people to latch on to.

Miller: And on the other hand though Krista and again this goes back to what Joanna said, if Mitt Romney were not so uptight, if they had the demeanor that Joanna has about this maybe that would demystify. Billy wouldn't be constantly asked about the underwear and the wives.

Tippett: Well this raises a question that I would love to ask Joanna. One of the defining characteristics of the Romney campaign is that people are ambivalent about him. And there is the authenticity question and I'm wondering from you if that authenticity question and that ambivalence exists within the world of Mormons, among Mormons do Mormons feel like he is a good representative to kind of grow this faith up in the public eye.

Brooks: Huh, that's a difficult question to answer.. I mean Mormons are in many ways Romney's most natural base plus Donald Trump go figure. There are some photos that came out yesterday on a site called Buzz Feed a reported named McKay Coppens actually harvested photos of Mitt Romney from one of his daughter in laws mommy blogs, and mommy blogs are an honored Mormon genre and Mitt Romney looks relaxed, his hair is messed up, he looks like he is enjoying himself and these are private photos and he clearly running for president he carries a sense of duty and his Mormon sense of guardedness almost like he is bracing every moment for someone to ask him to reveal or speak to one of the more sensational aspects of the faith and that has really shaped his ability to connect with voters. As well as the fact that he has transitioned from a more moderate past into this now he is fully trying to pass himself as really trying to appeal to religious and social conservatives with very limited success and so its almost as if it uncertainty, his anxiety has telegraphed into his relationship to voters and that temperamental disconnect has been his major problem, not his Mormonism.

Miller: So what do you think of that Krista? Do you agree with that?

Tippett: I still feel like I know you don't want to speak for all Mormons but I mean how to Mormons fell about that kind of shift?

Miller: Joanna is that true that you don't want to speak for all Mormons because in some ways that's what happens when we call you out.

Brooks: Yeah, I am a very accidental speaker, I don't want to say spokesperson because I don't speak for the institutional church, but I speak as sort of an independent public sphere voice as a scholar and a writer. But you know here's how we feel about Mitt Romney, he reminds us of people we know in the Mormon community. His sense of masculinity which is not sort of red blooded masculinity is not jocular, it's not red meat, it's more reserved, it's a touch sentimental. That sets a Mormon form of masculinity. The demeanor he has, his stiffness that's familiar to us, that's how Mormon leaders carry themselves in our community and we don't see that as menacing, we don't see that as telegraphing some hidden agenda, we see that as someone who has since his late teens saddled with major responsibilities and maybe hasn't hung out with the guys at the bar and developed a robust sense of humor. He has been in the service of the church and community since he was a teenager at the time when other candidates were still yacking it up in college and partying. He was having kids, he was raising a family, so he has that overgrown sense of duty, that guardedness, we get that. That doesn't seem fearful to us.

Miller: Joanna, one of our producers told me the other day, she is in her twenties, and she said you what my friends know about Mormonism is from that musical the book of Mormon which is on Broadway and has won a lot of awards. So what's that doing for our knowledge about Mormonism do you think? Helping or hurting?

Brooks: I actually think that most people who don't live on a coast have had contact with the book of Mormon the musical. It's extremely difficult to get tickets and it's not yet on Netflix, it's just not in circulation. I will say this, the creators of South Park notoriously funny, crass, over the top have brought that sense of humor to Mormonism and yet there is a sweetness at the base of the musical towards the Mormon faith towards the Mormon people even if we are portrayed as being sort of naive so in as much as it makes it possible for Mormons to laugh at ourselves it's been a wonderful blessing but I don't think most folk have had contact with that. What about Meryl Streep as the Mormon mother in Angels in America. I think more people may have seen that.

Miller: Oh yeah, no that's right I haven't thought of that.


Brooks: Which was a very passionate portrayal in its way. Complex.

Tippett: I thought Tony Kushner did a great job with us in that play. I thought he really did because you know he worked from a place with conflict. Here is this gay Mormon man trying to come out, live a life of dignity and his family that cares about him deeply is trying to react from a place of love and faith. That is an American story. That's an human story, this is a story that happens in Mormonism all of the time. These are the kind of voices we need to be hearing about Mormons who do struggle with faith in productive ways as we all must struggle with faith. That's the coverage I'd like to see.

Miller: So Joanna we didn't get to the baptisms here but have you written about would we find it on your blog?

Brooks: I wrote a post about the baptisms at religiondispatches.org you can find it there still in the blog column on the right. Its lamentable the church has reacted really strongly, its put controls in place after 2010 accord with Jewish leaders to stop the baptism of Holocaust victims it's an affront and I hope it would stop immediately.

Miller: Our social media editor is sitting in here and listening to this and she will post that on our page and we will tweet about it.