Andrew Zimmern on America's bizarre foods
11:20 AM, February 21, 2012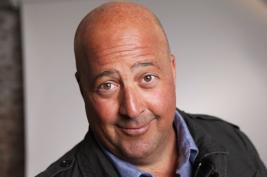 On the radio
Andrew Zimmern: Food writer and host of the Travel Channel series "Bizarre Foods".
Resources and Links
Andrew Zimmern, local food writer and TV personality, has spent the last few years roaming the globe in search of exotic and bizarre cuisine. Now he's on the road in America, searching for the nation's most unique culinary offerings. His new show, "Bizarre Foods America" on the Travel Channel, is a spinoff of his original "Bizarre Foods with Andrew Zimmern". He's also recently joined the faculty of Babson College as an "entrepreneur-in-residence," where he'll work on innovation in the food business.
Zimmern will be joining The Daily Circuit to talk about what food he's found in the United States and how we define innovation in the food business.
comments powered by