Mango Languages offers free language lessons, but some experts are not impressed
Posted at 9:48 AM on November 8, 2007 by Jon Gordon (2 Comments)
On Future Tense today, I have a piece on a new language learning Web application called Mango Languages.
Mango Languages is a Flash-based Web app that offers free lessons Spanish, French, German, Italian, Russian, Greek, Brazilian Portugese, Japanese, and Mandarin Chinese.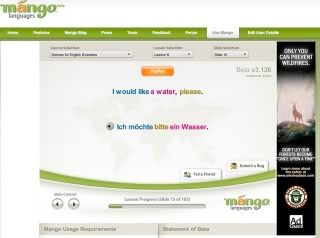 There are 100 lessons with dozens of slides featuring text and audio of native speakers for each language.
Adam Howell, who works in a college bookstore in Michigan, has been learning Greek with Mango Languages to improve communication with his Greek-speaking wife and in-laws.
"Using the program is great because it's really repetitive and it reviews the previous lesson or and not just the previous lesson but a prior lesson you were supposed to havelearned at the beginning of each lesson so you're always constantly
reviewing," he said. "And just the interface of the thing is very user-friendly."
If Howell were to complete all 100 lessons, he would have a running start at becoming fluent, according to Mango Languages founder Jason Teshuba.
"I'm not saying necessarily that you'll be 100 percent fluent upon completion of the course," he said. "Rather, you'll be far more confident, you'll have a solid foundation in the language."
Some language experts think Mango Languages is not the best way to learn a new language. Future Tense asked Jenise Rowekamp, director of the University of Minnesota's Language Center, and seven of her language instructor colleagues at the U of M to check out the site. Rowekamp and her associates agree that the site relied on outdated language instruction methods.
"The consensus was somebody couldn't really learn a language this way, that maybe if you are going to do a little traveling you could pick up a few phrases or it might be a useful supplementary approach to a course you are be taking," she said. "But nobody felt this would be either very effective or even very fun."
Not fun, she says, because the site is too repetitive and ties you to a computer screen for too long. Even so, Rowekamp said Mango deserves praise for its user interface and use of Web technology.
"The sound is really clear, it loads fast, it's easy to repeat things," she said. "I kind of liked the use of rollovers -- you know, when you put your cursor over you might get some pronunciation help."
Rowekamp also likes the use of native speakers and the emphasis on high-frequency words, phrases and sentences that would be useful to travelers.
Comments (2)
---
I saw Jon Gordon twitter about this a couple days ago, and was intrigued! I've done a couple Japanese lessons in the meantime, and it's a blast.
For something that's free, I think it's a great place to start learning some basics of language.
Posted by Hannah Valentine | November 8, 2007 10:51 AM
---
I don't see how anyone--expert or otherwise--could conclude this is ineffective or not fun. I have been zipping through the Russian lessons on Mango and I absolutely love it. Despite whatever the latest greatest learning methods may be, "repetition enhances learning" is never going to be disproven.
I have no illusions of becoming fluent from using Mango, but I have no doubt that I will have an incredibly strong basic understanding which will give me a huge edge when I begin lessons from a local tutor this summer.
The idea that being "tied" to computer is a negative is absurd. With Mango you can log on anywhere and bring up your current lesson. How is that less convenient than taking lessons with a tutor, or in a university classroom?
Posted by Artus Register | February 24, 2008 11:26 AM