Not a retrospective - a Gilbert marathon
Posted at 6:20 PM on November 30, 2010 by Euan Kerr
Filed under: Film

"That's a fancy word, retrospective," Melody Gilbert chuckles. "I'm too young for a retrospective really. I like to think of it as a movie marathon."
She is talking about the event this coming weekend at the Parkway Theater in Minneapolis where she will screen all six of her documentaries, made over the last decade.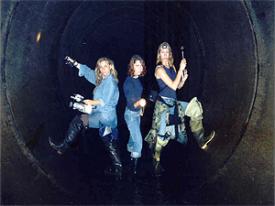 These include "Into the Darkness" (seen at left, Gilbert's the one with the camera.) It's her portrait of the world of urban exploration.
There's also "A Life without Pain" which examines the consequences of a rare affliction which leave some children without the ability to feel pain, with often tragic results, and "Whole" the film about the little-known group of people who believe they should be amputees. Both films are emotion-packed and thought-provoking.
The Melody Gilbert Marathon is part of the Parkway's ongoing series showing the work of local filmmakers. When the theater staff talked to Gilbert which of her documentaries to screen they eventually decided just to show them all.
There was more than just an unwillingness to choose behind the decision.
"People always ask me 'what happened to the people on your films?'" Gilbert says. So the marathon is an opportunity for an update. Not only will Gilbert be present at all the films, some of the people in her films will be there too.
"At least one of the couples from "Married at the Mall" will be there -and yes they are still married." Gilbert made that film back in 2002, profiling couples who enter into the joys of matrimony at the Chapel of Love at the Mall of America in Bloomington.
"Every time I watch it it just makes me laugh," she says, " And it captures the joy that I felt the first time I made an independent film."
The marathon also includes a screening of "Fritz" Gilbert's film about Walter Mondale looking back on his political career, and "Disconnected" a documentary Gilbert made with a group of Carleton College students who followed a trio of scholars who tried to survive for a month without using computers.
There is also a chance to get a sneak peak of Gilbert's latest project, which she insists is "gonna be big!"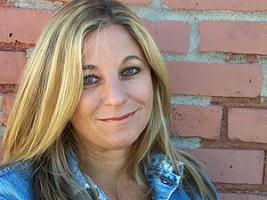 "The last couple of years I would say I have slowed down a little bit, where I am not obsessively making films that way I have for the last 10 years. I have been advising and assisting other people making their films," she says.
Two years ago she was approached by Phil Lawrence, who had been filming his experiences weaning himself off anti-depressants.after using them for 10 years.
Gilbert says it was amazing and intense to watch.
"And while he was filming himself going through which was essentially withdrawal, he also did interviews with people trying to understand how did we get to a place in our country, in the world really, where we are taking so many anti-depressants and don't know what that means."
Gilbert became executive producer for the movie which is now titled "Numb." She helped re-edit it and found a distributor interested in putting out the film. Gilbert will host a sneak preview for "Numb" at the Parkway on Wednesday December 8th to get audience feedback and to raise money to finish the film.
She's expecting a strong response. Gilbert says when word got out about the subject matter before another sneak peek, the screening sold out. There was also a long discussion after the film about the pros and cons of anti-depressants. Gilbert says it's a rarely discussed topic, but one which touches a lot of people.
"I asked folks in the theater, 'How many of you know someone who has been on anti-depressants, or has been on antidepressants yourself?' And every hand went up in the room."
Gilbert points out that "Numb" isn't part of the Marathon, but she hopes it will draw people who have had their appetites whetted by the six films in the big event.