Friday, February 12, 2016
About Tim Pugmire and "The McCarthy Tapes"
Posted at 12:40 PM on December 8, 2006 by Bill Wareham
As I write this, I'm listening to a very fine documentary on Eugene McCarthy and the 1968 presidential campaign. The McCarthy Tapes was produced by reporter Tim Pugmire and editor Mike Edgerly, with substantial help from Larissa Anderson and others.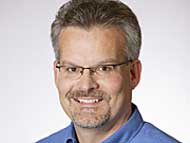 Here's one of those behind-the-scenes tidbits I've promised but rarely delivered on: Tim Pugmire is a lot of things I would be proud to be - an excellent reporter, a nice guy, a wonderful colleague, etc. But I don't think I'm speaking out of turn when I say he probably didn't fancy himself a documentarian when this project first surfaced a year ago. I'm pretty sure he considered himself the wrong guy in the wrong place as he saw the initial obituary he produced following McCarthy's death balloon into something bigger in the eyes of several news managers, myself included.
When I asked him to do it, It was with obvious trepidation that he undertook the assignment. And it was a total change of pace for someone used to cranking out four-minute features on a regular basis. There were many days I'd walk by Tim's desk, ask how it was going and the reply would be some variation of "Fine, I guess. Sorry I haven't been on the air for awhile."
Those were the good days. There were days during the arduous process of creating something that would hold listeners rapt for an hour that I know were incredibly frustrating. Tim doesn't always say much, but if looks could kill I would've needed Kevlar longjohns.
The end product, which is just winding up on Midday right now, is worth every imagined bullet I dodged. The McCarthy Tapes is an incredibly vivid account of that watershed campaign featuring audio that in some cases hasn't been heard by the public before today.
The other end result is that Tim Pugmire can justifiably consider himself a documentarian. If you liked it, send him an email to let him know.
In case you missed it, it will air again tonight at 9 p.m., and is available online here. There's also a wonderful interactive timeline and some longer audio clips from the McCarthy audio collection at the University of Minnesota.
In addition to Tim, Mike and Larissa, credit goes to Stephen Smith, Sasha Aslanian and PattiRai Rudolph for their help on the radio documentary and Bob Collins, Mel Sommer, Ilona Piotrowska and Ben Tesch for the web site.