A hot new bakery spot
Posted at 4:57 PM on July 6, 2006 by Melanie Sommer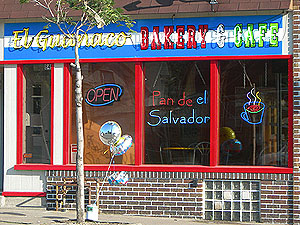 A few days ago, MPR reporters Ambar Espinoza visited The Guanaco Bakery and Cafe, a Salvadorian bakery that opened recently in St. Paul.
Apparently our Listener Services staff have been getting a lot of questions about that bakery, mainly -- where is it? Seems a lot of folks want to try out the Salvadorian quesadillas, which Ambar described so deliciously. She bought some samples and shared them with the newsroom staff last week, and believe me, they are worth a trip to the bakery.
Guanaco Bakery doesn't have a Web site, so we didn't include their address in the story. But since there's been so much interest, I just added it today to the bottom of the story page. It's also here:
The Guanaco Bakery and Cafe
849 East 7th St.
St. Paul, MN 55106
Phone 651-776-3320
Give it a try if you're in the neighborhood.