Posted at 9:37 AM on April 16, 2009 by Euan Kerr (1 Comments)

This week there are so many movies opening I can't keep up (particularly if you include the Minneapolis St Paul International Film Festival.) If you are going to the MSPIFF, tell us what you want to see in the comments box.
Posted at 2:45 PM on April 16, 2009 by Euan Kerr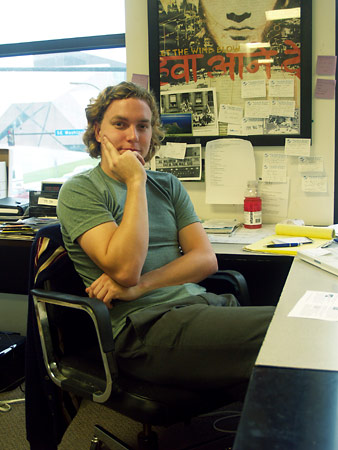 MSPIFF programmer Ryan Oestreich says something seems to have worked because the phones are ringing and the film fest staff are getting ready for a busy weekend. "I've got a nervous office and a happy P.R. person," he said.
Tonight's opening screening for "500 Days of Summer" sounds like it will be well attended and special guest Geoffrey Arend who appears in the film is already in town.
"He's taking a nap" said Oestreich.
Oestreich says the weekend is going to be very busy, with a lot of visiting film makers appearing with their movies.
On Friday night actor Aimee Klein will introduce director Goran Rusinovic's film "Buick Riviera." It's a drama about the immigrant experience set in Fargo. It was shot in North Dakota but credited to Croatia / Bosnia-Herzegovina.
On Saturday Rick Velleu the locally based co-director of "School Play" will introduce his documentary on the real tensions within a group of 5th graders doing a production of "The Wizard of Oz." Velleu, who worked with the Jim Hensen Company, was part of the creative team which developed "Dora the Explorer." He actually designed the Dora character. Listen out for him tomorrow night talking with Tom Crann on "All Things Considered."
If improve is your thing you can enter the lives of Second City veterans T.J. Jagodowksi and David Pasquesi in Alex Karpovsky's film "Trust Us, This Is All Made Up." Karpovsky shot one of the stranger films ever made in Minnesota called "The Hole Story" a few years back. He will introduce the screening.
On Saturday night "Pachamama" director Toshifumi Matsushita will present his film about a 13 year old boy in Bolivia, who dreams of making an epic journey across a nearby salt lake - by bicycle.
On Sunday a screening of "William Kunstler: Disturbing The Universe" will be presented by co-director Emily Kunstler, who is also the famed lawyer's daughter.
Details of all these films at at the MSPIFF website.
Any film festival is about more than the movies: it's a lot about chance encounters. This morning I was at the gym when I suddenly saw Oesterich's touselled form staring down from a flatscreen above a treadmill.
This was amusing because just a couple of days before I had heard him loudly declaiming that he wouldn't go before any cameras, (a strange thing for a movie guy to say if you think about it.)
Yet there he was on Fox 9 talking a blue streak about the films.
When I asked him about it today Oestreich said he was tricked, and he hasn't seen the spot because it was on the air before he work up. He says he wasn't planning on going on-line to find it either.