Of Dolls and Murder: local film examines the grisly details
Posted at 3:36 PM on January 12, 2009 by Euan Kerr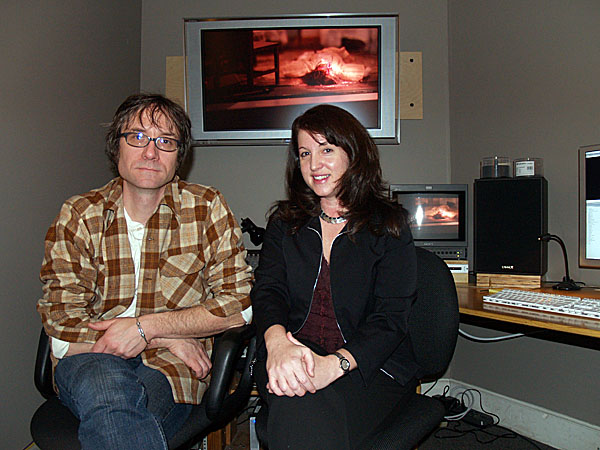 John Kurtis Dehn and Susan Marks take a break from editing "Our Wildest Dreams." A still of one of the Nutshell Studies is on the screen behind them.
Susan Marks never saw herself for being a person who would be fascinated by forensic investigations. After all she was the film maker who made "The Betty Mystique," about that special something about Betty Crocker.
"Now I'm hooked," she says. For the last couple of years she has been working on one of the stranger documentaries in the Twin Cities. She and her production partner John Kurtis Dehn have been making "Our Wildest Dreams: A True Crime Documentary of Dolls & Murder."
It centers around 18 macabre dollhouses, each one a meticulously built recreation of a gruesome murder. The "Nutshell Studies" as they are known were made in the 1930's and 40's by Frances Glessner Lee, who is also known as the Patron Saint of Forensics. She was a wealthy heiress who taught medical investigation at Harvard.
Marks says that Lee knew that it is vital for the first detective at a crime scene to read it correctly. If that doesn't happen it will likely do irreparable damage to any case. The Nutshell Studies quickly became a central part of the training of homicide detectives. The dioramas were passed to Chief Medical Examiner of Maryland in Baltimore. Now 70 years later, in the age of CSI and huge computer databases, the decidedly low-tech dollhouses are still being used.
Marks first heard about the Nutshells about five years ago through a book published at that time. She says she knew the author was a documentary maker and was surprised she had decided to write a book rather than make a film. When she enquired as to why, she was told the challenge was "they didn't move."
When she decided to move on the project she found the bigger challenge was actually access as the Nutshells are jealously guarded. Then when she did get permission the next challenge was they are so small, (they are made to a scale of one inch to the foot,) that they are very hard to shoot.
Marks said she engaged the services of local shooter Matt Ehling, and she says he has done an incredible job of capturing the important tiny details. Dehn admits he wasn't entirely sold on the project until they did the first shoot and they came away with some very impressive results.
Marks says another important element has been the soundtrack which adds an element of suspense to the inanimate objects. A lot of this comes from music which Dehn has been composing as they put the film together. The finishing touch is the narration by Baltimore's most famous disciple of the strange, John Waters.
The film also visits a range of other vital forensic training sites such as the Body Farm in Tennessee where real human bodies (all donated to the cause) are left outside so detectives can have real-life experience working with corpses in various states of decomposition. They visited morgues and went out on death calls with investigators. They will be travelling east for one final shoot at a site in Bethlehem, Pa where there are full-sized crime scene models used for detective training.
Marks hopes to have the film done by early summer and then will go on the festival circuit. She says she is pretty confident it will be picked up for distribution. She says the Nutshells just seem irresistible to many people. She believes it's because of the dolls. "They are both safe and gruesome at the same time," she says.
You can get a taste of the film from the following excerpts on YouTube.