Michael Shannon heads from "Revolutionary Road" to Peru?
Posted at 6:15 PM on January 8, 2009 by Euan Kerr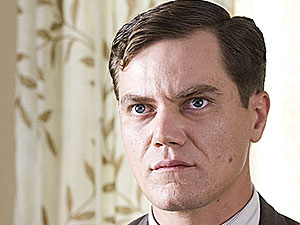 (Image courtesy Paramount Vantage)
Michael Shannon is riding high at the moment. Fresh off a stunning performance in "Revolutionary Road" as a young man recovering from a nervous breakdown, he's off to Peru Monday to make a film with Werner Herzog.
"It's called 'My son, my son, what have you done?'" Shannon says. "It's pretty wild. I haven't found a good way to describe it yet. I am going to need to sit and think about it. My best description right now is it's Lynch-ian, David Lynch-ian. It's kind of like if Werner Herzog made a David Lynch film."
Now if that doesn't turn your head around, nothing will.
Turning to "Revolutionary Road" Shannon says he loved the book, which he read long before he knew it was going to be adapted for the screen.

"I fell more in love with the book as a whole more than any particular character. I just felt it was very vivid writing I had ever encountered. I felt that I knew the characters better than any other novel I had read simply by the force of (Richard) Yates' writing."
Shannon says when he heard the film was being made he would have been happy to play any of the characters, but now he is glad he ended up playing John Givens, the young man who is introduced by his mother to Frank and April Wheeler (played Leonardo DiCaprio and Kate Winslet.) His mother hopes that associating with people of his own age will help John recover his mental balance, but instead he senses the Wheeler's unhappiness with their 1950's suburban life and challenges them to do something about it.
Shannon surprisingly describes John as 'very playful.'
"In a very kind of sad, desperate, lonely way," he adds. "He's kind of the jester of the story, in the Shakespearean sense the fool in the story, and that's always fun to play."

Shannon adds he thinks John is unfair in his challenges because he has given up on any sense of normalcy, and doesn't have to maintain a family, a job or a home. He has some sympathy for April who is trying to keep things on an even keel, while being honest to herself and her husband.
"I think perception is reality. I think every character in that room has a different perception of reality and I'm not sure who is right and who is wrong," he says.
Despite the bleak storyline Shannon describes working on the film and an exhilarating experience, and the only bad thing was when work wrapped up at the end of the day. He says DiCaprio and Winslet had to deal with much more oppressive parts of the script, including the parts where they had to keep silent as he rants at them.
"I think in the movie and the book, people appreciate John, but if they were ever to meet someone like John it would be a pretty frightening experience," he says.
He points out that in the book there is more of John, and it reveals just how damaged and vulnerable he really is. Shannon says one of the things he hopes the film will do is encourage people to seek out the book.
You can listen to our conversation here: Listen