Posted at 10:53 AM on January 9, 2009 by Euan Kerr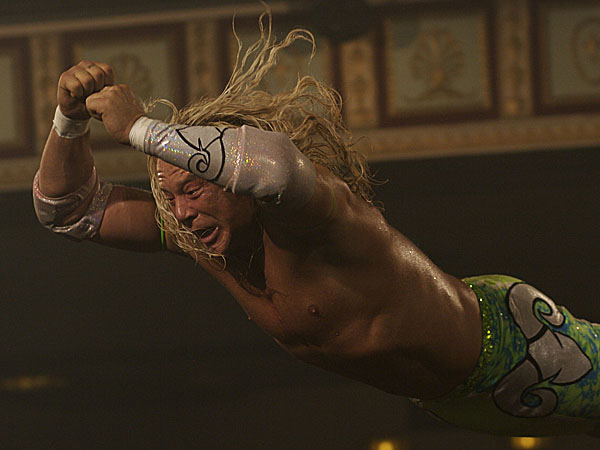 (Images courtesy Fox Searchlight Pictures)
For all the bashing and the crashing, the sweating, swearing, and blood, (lots of blood,) Darren Aronofsky's "The Wrestler" is, at its heart, a tender film.
As Randy "The Ram" Robinson Mickey Rourke grabs audiences by the scruff of the neck and subs its collective face in the ugly side of the wrestling business. Yet the power of his performance comes as we watch him wrestle with the demons of old age and loneliness.
Randy is a guy who has lived in the adrenaline for being a wrestling hero for decades, but he's getting older, the crowds are getting smaller and so are the purses. After his moments of glory in the ring he returns to a solitary life, where he's just about got enough dough to get by, but not always. He has to work in a supermarket hauling boxes and behind the deli counter to make ends meet.
Early on we see Randy as he plies his trade, not only in the ring, but all the other stuff, like at the hairdresser and at the tanning salon. There are the steroids too of course. We see him meeting with the other wrestlers, working out moves like old friends, who moments later are trying to do horrible things to each other before crowds baying for blood.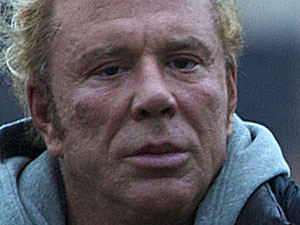 Randy realizes he's got to give it up, but is left with horrible question of what comes next, and who does it come with?
He's alienated his daughter and hasn't seen her for many years, and his hamfisted attempts to reconnect have mixed results. The one person with whom he seems to make a real connection is Pam (Marisa Tomei)who works in a nude bar where he spends his time after work some nights.
There is a subtle connection between them which goes beyond their physical attraction, both are working hard to maintain a little pride while working in trades which put them through physical humiliation every day.
Many of the scenes are shot from behind Randy the Ram as he barges on through life. We see the reaction he evokes from people around him, which is often a mixture of joy and awe. Yet we also hear him gasping and swearing under his breath as old wounds plague him as he moves. It's a painful life, and it's a pain the audience shares.
There is little mystery where this is all going to end up, but it's impossible to look away from Mickey Rourke. The pretty boy face which served him so well in his early days as an actor is now pulped from his years as a boxer. But it's behind this new face, with his mane of peroxided hair, that he reaches the potential he hinted at in those early films. Randy the Ram is a hero for hard times, someone who gets the job done, and lives with the consequences.
It's not easy. It's not fun. But it's extraordinarily human.