Posted at 6:16 PM on July 10, 2008 by Euan Kerr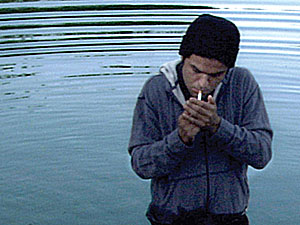 The Sundance Film Festival gets thousands of entries every year.
So it comes as a bit of a surprise to hear that the Sundance Institute which runs the festival, not only goes out looking for more, but it's actually sent some folks to Minnesota to encourage Native Americans make movies.
The Institute's Bird Runningwater says minnesota is an important place historically for Indian Country, and particularly recently with some of the activism and organizing which has led to positive change for Indians nationally.
Runningwater brought along Sterlin Harjo director of "Four Sheets to the Wind," (above) an engrossing family drama set in the Seminole community in Oklahoma which will screen at the Walker in Minneapolis this evening. He came up through the Sundance Institute training program. He sees a time when independent film will allow the various tribal communities around the country to tell their own special stories. You can check out our conversation here.
And get a taste from the trailer:
Also if you missed it check out the finished story on "Brick Lane."