Posted at 11:04 AM on February 1, 2008 by Euan Kerr (3 Comments)

Having left "Eastern Promises" feeling pummeled, I slipped into my seat for "No COuntry for Old Men" a mite unsettled. However, I left feeling very satisfied.
Yes, this is a violent, blood-soaked film. No-one comes out well, and a lot of people end up dead. Yet the Coen brothers have once again created a fascinating parallel universe where psychotic killers have seemingly supernatural powers to find victims and evade the police. Part of it's fascination is our knowledge we can walk out of the theater and leave it behind.
The bones of the story are simple enough: a man stumbles across the scene of a shoot-out at a drug-deal gone wrong, and finds a case filled with $100 bills. He takes it. He almost gets away with it. But he makes a decision, based on compassion, which sets off a whole series of events, and puts him in the sights of the aforementioned killer.
On surveying the shoot-out a deputy opines "It's a mess." To which the sheriff responds, "If it ain't, it'll do till it gets here."
What makes "No Country" so watchable are the small touches and juxtapositions, some which harken back to their earlier films, and especially "Blood simple." The gathering storms over Texas which flash across the sky, but never bring the relief of rain, Instead it's the flash of headlights from arriving cars and pick-ups carrying more malevolent spirits driven by mindless greed and bent on destruction.
The Coen's characters are victims of fate. Lives hang on seemingly simple decisions, a coin toss, an invitation to have a beer. Some of the characters are unaware of this. Others dwell and even bank on what they see as inevitability.
I am being deliberately vague here because this is a flick with so many twists, including the end, it would be just plain wrong to reveal more. Interestingly at least one person at the showing I attended loudly voiced upset at the conclusion of the film, but it fits right in as far as I'm concerned.
"No Country" is up for a passel of Oscars: best picture, best director, best supporting actor (Javier Bardem,) best adaptation, best editing best sound, best sound editing, best cinematography. It has to be a strong contender in all of these categories, with the Coen's wringing and direction being central to this. And while Tommy Lee Jones is not nominated for this film, you have to believe that his strong performance as the lyrically depressed Sheriff Ed Tom Bell will play into the voting for his best actor nomination for "In the Valley of Elah."
Again I have to see more of the contenders for the best pictures, but Javier Bardem is remarkable as the calmly psychotic Anton Chigurh. Part of the brilliance of his character is while most of the anglo characters are dismissive of the Mexicans in the story, the fact that the most powerful and terrifying person in the story undermines their entire worldview, without many of them being aware of his presence.
Posted at 4:10 PM on February 1, 2008 by Euan Kerr (1 Comments)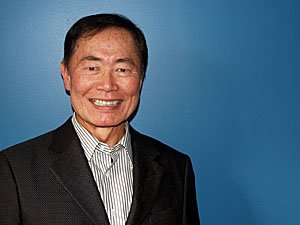 George Takei came in today and we had a great chat. He is a charming man who is at peace with the fact that even though he has played in movies, on stage and on tv, he will always be known at Mr Sulu from Star Trek.
For many people he is the beat known Japanese American actor, and I asked him if he had ever met Toshiro Mifune. His eyes lit up. He had! You can hear the story here.