What it's all about
Posted at 10:01 AM on April 25, 2007 by Euan Kerr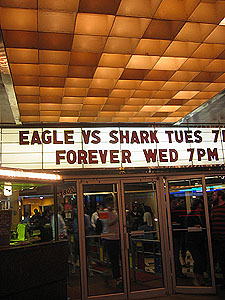 How fun is this? Zipping across town to the Riverview on a Tuesday night to join a couple of hundred other people to see a slightly bizarre movie about New Zealander nerds who fall in and out of love.
"Eagle vs Shark," which screens again Saturday at the Oak Street as part of MSPIFF, is the kind of film which make the film festival experience so worthwhile. A fun film, watched by an audience looking to be entertained and even surprised, and ready to howl with laughter.
"Eagle vs Shark" picks up where "Napoleon Dynamite" left off, cleaving to realism and avoiding the transformative wrinkle which made that film a fairy tale.
A favorite at Sundance, the film follows the romantic misadventures of Lily, a depressed cashier at a Meaty Boy burger bar who falls for Jarrod, a clueless electronics store employee who is obsessed with getting revenge against a childhood bully. The path to true love is seldom straight, and Lily and Jerrod have a talent for taking the wrong turn as often as possible.
It's always good to be reminded of how many different ways there are to fall in love
In The Spotlight
Your daily note for good music, news and pop culture. With attempted jokes.