Ali Selim: the Sweetland back story
Posted at 2:34 PM on January 16, 2007 by Euan Kerr

I had a brief chat with Ali Selim this morning about the tale he'll tell tonight at the Minnesota Historical Society about making and distributing "Sweetland." He describes it as a case study of how to go from "insane dream" to success story.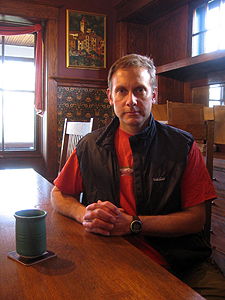 A lot of indie films never get distribution, and for a while "Sweetland" was struggling, despite glowing reviews on the festival circuit. It might have disappeared without trace had it not been for a chance meeting at a Portuguese festival.
Selim bumped into Jeff Lipsky, and they began gabbing, as much, Selim says, because they were the only film makers over the age of 25 at the festival. Lipsky is now a writer director, but for 20 years he was one of the top indie film distributors in the business. A founder of October Films who also worked for New Yorker Films and Samuel Goldwyn Films, he distributed some 230 films during his career including "My Life as a Dog," "Stranger Than Paradise," and "Sid & Nancy."
He'd retired though, to concentrate on making his own films. Then he saw "Sweetland."
He told Selim he thought his former colleagues had blown it by not picking up the film, and that he wanted to come out of retirement to do the job himself. Selim says he got the impression Lipsky was more than a little upset and in a way was getting back into the game to spite the his former co-workers.
Whatever the reason, "Sweetland" has exceeded all expectations. The original goal was to have it shown on 20 screens. It's now been shown on 150, and Selim guesses it will make it up to 300 before it's done. (That's 291 more than Mike Judge's "Idiocracy." )
It hasn't done well everywhere: apparently it never really took off in Boston. However Phoenix, Seattle, Denver, Cleveland, and of course Minnesota have all done well for the film.
Selim says he'll talk about this tonight, as will actor Tim Guinee and producer James Bingham. Details at the Minnesota Historical Society site.