Posted at 10:25 AM on August 25, 2006 by Euan Kerr

The publicity materials for "Changing Times" pitch the movie as an attempt by former lovers Cecile and Antoine (Catherine Deneuve and Gerard Depardieu) try to rekindle their old flame.
While that's an important element of the story, focusing on just those two sells this film very short. The plot swirls around an illogical assortment of people drawn together by a conflicting assortment of attractions and desires.
Cecile, host of a bilingual radio request in Tangiers is actually married to Nathan, ("Cote d'Azure" star Gilbert Melki) an idealistic but philandering doctor. When Antoine arrives in Tangiers to try to win her back after 30 years, she is disinterested.
She's far more concerned about her son Sami who has just turned up from Paris with his arab girlfriend Nadia and her son Said. They say they are in Tangiers on vacation, but it's clear both have other agendas with other people in the city.
This all plays against the uneasy backdrop of the post colonial presence of the French in Morocco, and the tensions of the Iraq War. Director Andre Techine throws out way more questions than he answers, but gives us a window on a very complicated world.
It's a delight to watch Deneuve and Depardieu together in performances which draw power from their understatement. Depardieu so often plays a boorish bear. But as Antoine he displays a softer side, as a man who can compose passionate letters on his dictating machine, which he never sends, who is left tongue-tied by Cecile's actual presence. Deneuve is much stronger but again it's her vulnerabilities which make this performance.
Posted at 10:59 AM on August 25, 2006 by Euan Kerr

There are various ways of measuring out your life. For some of us a crucial milepost is the arrival of the latest installment of Michael Apted's "Seven Up!" series.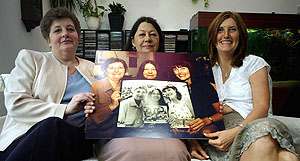 Originally begun in the sixties as a special for Granada TV in Britain Apted has been interviewing a disparate group of young Britons every seven years. It was initially an exploration of class, and that's been an important element in the films over the years. Yet as the films have appeared over the years these people have entered our lives as people who matter. There has been joy, sadness, love, marriage, divorce along the way. And of course there is Neil, the bright youngster who seemed to be considering suicide as he wrestled with his inner demons, but then ended up as a suburban politician in London.
Now they are 49, and I can't wait to see what's happened. The movie will get to Minnesota in October. In the meantime we devotees will just have to make do with the trailer.
It's thought-provoking stuff. You can read what thoughts the series provoked for MPR's Gardening blogger Preston Wright right here.