Un-effected
Posted at 4:23 PM on June 2, 2006 by Euan Kerr (1 Comments)

"District B13" revisits a well-trodden scenario. Set in a Paris of the future, where the government walls off crime-ridden neighborhoods, there's a bad guy with a nuke. A maverick cop must go save the day, and picks up a young convict with inside knowledge to help.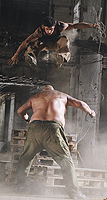 Have we seen it all before?
Yes.
Is this a movie worth seeing despite all that?
Very much so.
"District B13" is a fantasy with one big thing going for it: reality.
This is an action film that doesn't sully itself with special effects. Much of that action comes in breakneck (literally) chases as Damien the cop, (Cyril Rafaelli) and Leito the insider (David Belle) take on the bad guys.
Belle is the real-life co-founder of the Parkour movement. Practitioners aim to run, jump, and roll through their environments in intriguing ways. These ways become all the more intriguing when you are being chased by large numbers of uzi-toting thugs.
This film is a thrill ride, with a couple of intriguing plot twists, and smarts enough to know it needs to keep the (atrocious) dialogue to a minimum. It's unlikely to inspire may deep thoughts, other than "did he really just jump down that building?"
But that's OK for a summer movie.
You just need it sometimes.
---
Comments (1)
B13 was a great summer movie with a real sense of fun. It reminded quite a bit of "Ong Bak". Come to think of it these two movies would make a great double feature.
---