Posted at 5:38 PM on April 4, 2006 by Euan Kerr

I spent the weekend in and around New York, and one of the highlights was a visit to the Museum of the Moving Image in Queens. Located in the building that was once the Astoria Film Studio (which has now evolved into the commercial Kaufman Astoria studio which still operates next door) the museum boasts three floors of film, television, and digital media artifacts.
Visitors are encouraged to start up on the top floor where the section on how film works boasts a range of hands-on displays. Visitors can make animated films, and even capture themselves on flip-books.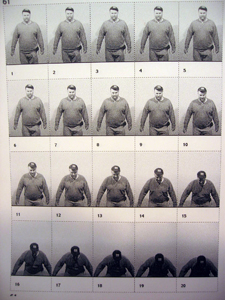 It's kind of scary in a way.
The cinematic treasures lie on the second floor. There is huge wall covered with hundreds of black and white photographs of stars past and present. Intriguingly some of the more contemporary shots seem significantly more dated than those from the Golden Silents Age.
A little further on lies a collection of props, including the mechanical doll used as a head-spinning stunt double for Linda Blair in "The Exorcist" and the huge building from the opening of "Blade Runner" which turns out to be only five feet tall.
It's well worth dropping by if you are in the neighborhood.