Watching "Nightwatch"
Posted at 3:32 PM on March 2, 2006 by Euan Kerr

I saw the Russian vampire movie "Nightwatch" in a theater filled with metal fans. They had all won tickets from another Twin Cities radio station. It was neither a good or a bad thing, just different.
It's a little like the film.
"Nightwatch" has been compared to "The Matrix" which is easy to do, although there more than a little Lord of the Rings" here too. Making those comparisons aren't terribly useful.
Two sides, good and evil, are gearing up for the final battle. The combatants in question are the Others, beings who appear human, but have special powers which become apparent later in life. When that happens and the Others find him or her the newby has to decide which side to join, the Light or the Dark. The Others on the Dark side are vampires, and even those on the Light find that a glass of blood (they prefer pig blood to human for ethical reasons) can help build their powers.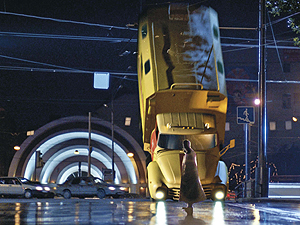 (Members of the Nightwatch hit the brakes a little too hard to avoid an all-out war by running down the leaders of the Dark Others. Confused? You may well be by "Nightwatch.")
The interesting wrinkle is the Light and the Dark have a truce with strict rules about how the Others will interact with each other, and with lesser humans. Thus members of the two sides, who acknowledge that it's just a matter of time before they are going to be trying to do each other in, know each other well, and some even consider themselves good friends. In reality there's not that much of a difference between the two.
The Nightwatch is a group of Light Others who cruise around Moscow at night making sure the Dark Others behave. The story follows Anton, a schlub of a Nightwatch officer who isn't very good at his job. He is a seer however and his occasional revelatory flashes are enough to keep plunging him in the thick of the action as it becomes clear the end-times are approaching fast.
What's great about the Nightwatch is they are pretty ordinary superbeings. None of them look too good, and it's clear that while they are committed to the battle ahead, deep down they all kind of wish they weren't Others. It's an intriguing take on the Russian psyche.
There are moments when this film is pretty amazing. Yet there are also several points when you realize you may be watching a reference to a movie yet to come. "Nightwatch" is the first of a trilogy, and director Timur Bekmambetov is clearly setting up the next two movies. That slows things down more than a little bit, and you have to wonder what it will do to the other films.
If you are a hard core Matrix fan, this film will feel flabby and unfocused. If you are like long Russian novels this might be more of your samovar of tea.