Unmasking "V for Vendetta"
Posted at 6:40 PM on March 15, 2006 by Euan Kerr (4 Comments)

The Wachowski brothers are redeemed! After writing and producing a great movie, "The Matrix," and spinning it out into an overblown trilogy with impenetrable spiritual aspirations, they are back with a taut, challenging thriller.
"V for Vendetta" is set in a London of the near future where a totalitarian government led by a wild-eyed dictator rules with a combination of a manipulated media and a vicious secret police.
Suddenly a masked avenger appears to challenge the system. Known only as V, he dresses as Guy Fawkes, the man arrested as he tried to blow up the Houses of Parliament in November 1605. V (Hugo Weaving) stumbles across Evey (Natalie Portman) and recognizes a kindred, if unwilling, spirit. V launches his campaign against the government by taking over the national TV news channel on Guy Fawkes night (November 5th.) He announces he'll blow up Parliament in a years time and invites lovers of liberty to come watch. His action launches a wild year-long chase.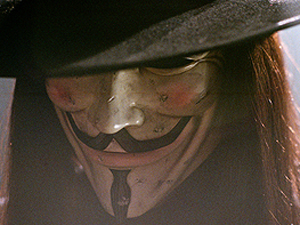 Hugo Weaving as "V" in "V for Vendetta" (Image courtesy of Warner Brothers Entertainment)

This film features some fine performances by Portman, who only seems to get better with each new film, and Weaving, who doesn't let the fact that he is wearing a mask get in the way of developing the emotional density of his character. John Hurt plays the dictator, Chancellor Sutler, with phlegm-flecked intensity. Stalwart performers Stephen Rea, as the police investigator, and Steven Fry as a television presenter tired of toeing the government line add depth and humanity to the plot.
First time feature director James McTeigue provides lots of action, but most of the gymnastics are really of the mental variety. "Vendetta" pokes at the flimsy tissue separating freedom fighters from terrorists. As Evey quickly learns, V is prepared to go to extremes to further his cause.
While he targets the government officials, he is clear as to who is responsible for allowing the dictatorship to exist. "If you are looking for the guilty" he says during his broadcast,"Look in the mirror."
I've been enjoying how this film, and its circumstances, make your head spin.
Here we have a movie, released during a war where both sides accuse each other of terrorism, made by a huge entertainment corporation, Warner Brothers Entertainment, about a man, V, bent on bringing down the government, who bases his exploits on a historical figure, Guy Fawkes, who is either a villain or a martyr, in a story written by a man, Alan Moore, who claims his material was stolen from him.
To try to explain: V styles himself after Guy Fawkes, who is still burned in effigy every November 5th in Britain. Supposedly it's a celebration of King James (he of the King James bible) being saved from an awful fate. However most people have forgotten the story, and Fawkes is more celebrated than the King. Historians now acknowledge that Fawkes, and the others in the Gunpowder plot, all Catholics, were probably set up by the Protestant elite who were looking for an excuse for a sectarian clampdown. It's hard to decide who were the bad guys.
The film is based on a graphic novel by maverick comic book writer Alan Moore. As laid out in a New York Times article last weekend "The Vendetta behind 'V for Vendetta'" he demanded his name be taken off the film, as he feels he has been ripped off by DC Comics which published the graphic novel. He has walked away from characters with which he is best associated.
In some ways it is almost more fun to think about than the film itself.
---
Comments (4)
Did I see the same movie?
Even if you're looking for nothing more than a simple revenge thriller, you'll probably be disappointed by this movie. The action sequences are sterile and boring save for a couple explosions. While the previews promised a mysterious, shadowy anti-hero, the movie delivers a hyper-literate prankster who does some nifty things with knives. Oh, and he seems to have plenty of time and money to arrange elaborate floral displays, cook, and watch old movies in his swanky lair. Kind of makes you wonder what he's rebelling against!
The biggest downfall of the movie, however, is that it tries to be something more important than a thriller. I admit, the movie started to draw me in with the Guy Fawkes premise. There were times where the film started to do some interesting things with the idea of terrorist ideologies (like when Evey was released from imprisonment). But the rest of it is ham-fisted or flowery. John Hurt's Chancellor runs the typical fascist state you've seen portrayed more convincingly in a hundred other movies. The directors try to update the story with some current events references, but none of them are explored in any detail. In short, the world of terrorists and secret agents is portrayed in a much richer and complex way in a movie like Munich, which I thought was a slightly-above-average sort of movie.
Portman, though better than in her Star Wars role, cannot turn around some rather bad scenes. The romantic moment between Evey and V near the end was totally unearned, and her acting wasn't good enough to pull it off. Then there was a laugh-out-loud bad speech at the end of the movie. I started to feel sorry for her and then remembered she was earning probably $500 a word for it.
The supporting cast, while great on paper, was wasted in this movie. Rea's role was reduced to a simple device to expose V's backstory. He didn't get much to work with. Only Steven Fry was dead on as the nasty partisan presenter.
---
I think V is the greatest. I'm glad that V & Evey fell in love.
---
I really enjoyed this film. I took the opportunity to see it a second time in the theater and I'm glad I did. I very rarely rewatch movies, but this one was worth it. Especially on the big screen.
---
Any review of this film is useless as the material is above the comprehension of most people. Mr Kerr did point out one thing that was true at the time of Guy Fawkes and still reings true now.
"It's hard to decide who were the bad guys."
Even now this is true. Does thi smean that George Washington or Thomas Jefferson were terrorist's and it is common knowldedge that Begin and the Freedom fighters used terrorist tacitics to regain Isreal. It is odd to me when a people use force to regain their freedom from oppresion they are called terrorist's. Is it not terror to have bombs reign down on you from above when you are a child and to see your family blown to bits because of people you don't know and their political and religious differences. V for Vedetta speaks to another side of people that I believe most fear. The right to act and to make change when life no longer is cherished by those who supposedly lead them.
"We hold these truths to be self-evident, that all men are created equal, that they are endowed by their Creator with certain unalienable Rights, that among these are Life, Liberty and the pursuit of Happiness. — That to secure these rights, Governments are instituted among Men, deriving their just powers from the consent of the governed, — That whenever any Form of Government becomes destructive of these ends, it is the Right of the People to alter or to abolish it, and to institute new Government, laying its foundation on such principles and organizing its powers in such form, as to them shall seem most likely to effect their Safety and Happiness."
I rest my case.

---