A German friend comes knocking
Posted at 3:58 PM on March 21, 2006 by Euan Kerr (2 Comments)

Wim Wenders says "The New World," is the most beautiful film he has seen since "2001." Or that may have been in the last 15 years. He was in a reverie when he said it and it seemed rude to interrupt.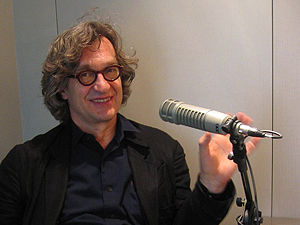 Wim Wenders
Wenders is in Minnesota briefly to talk up "Don't Come Knocking" the movie he recently completed with Sam Shepard as both scriptwriter and star. Shepard plays Howard Spence, an aging film star who specializes in westerns, who, at age 60, rides off the set of his latest film one day, and just keeps going, trying to find himself. He finds amongst other things, a mother he hasn't talked to in 30 years, and a family he never knew he had.
Wenders says he had wanted to make a film with Shepard ever since they last worked together on "Paris, Texas," which Shepard also wrote, but the time was never right. He had also wanted Shepard to star in that film, but Shepard declined, and Harry Dean Stanton was immortalized in the main role.
The film is set in Montana, but Wenders says the movie was written in Stillwater, during the time Shepard lived here with Jessica Lange. He says the film may be set in the west, but it reflects Minnesotan ideas and values about the importance of family.
"Don't Come Knocking" opens locally in a couple of weeks.
---
Comments (2)
A trailer at a Landmark Theater intrigued me. This post is enticing, too. So if Don't Come Knocking doesn't flatline at Rotten Tomatoes, I'm seeing it opening day.
Underappreciated Sarah Polley's a small selling point. Why isn't she a lead in more or bigger films?
---
Yes, Sarah Polley plays a significant role in this film, and she does it very well.
---