Insight Now Talk about issues in the news
Insight Now: July 25, 2011 Archive
Posted at 9:21 AM on July 25, 2011 by Michael Caputo

The assertion: The state should widen the use of mid-level practitioners and support the new community paramedic law
What's at issue?
Kai Hjermstad, seen here with a patient named Jose, is among the first crop of "community paramedics," one Minnesota answer to supply health care in rural areas short on doctors. (MPR Photo/Jennifer Vogel)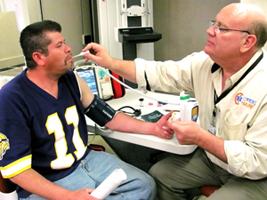 You live in rural Minnesota and you need a doctor. But there aren't many who serve your area. Do you see a health care professional with lesser credentials but empowered to perform functions that a doctor would? How about a medic instead of a nurse?
Minnesota Public Radio's Ground Level initiative recently looked at the difficulty in providing adequate health care to those who live in rural areas of the state. As the Ground Level team reported: "While around 12 percent of state residents live in its most rural areas, the Department of Health estimates that fewer than 5 percent of doctors practice there." (see that article here).
So rural areas turn to alternative means for bringing the patient together with the doctors. Some use technology - a video link called telemedicine.
And more and more often the answer to the rural health care shortage is to, as Mark Schoenbaum, director of the office of rural health and primary care for the state Department of Health, put it: "look beyond the physician."
Why is this debate important?
One Ground Level article fully articulates the places where new roles are filling in for the shortage of providers:



Nurse practitioners are being leaned on more.


Minnesota is the first state to license these dental therapists, who fill the role of the dentist or hygienist.


Minnesota is also the first state to establish certification for community paramedics to fill roles that doctors or nurses might.


The worry of these approaches is that such moves only replace licensed caregivers with cheaper, lesser-trained alternatives. The move will compromise the patient's health, say opponents of programs like the "community paramedic".

Those who favor the position believe that deploying providers like the "community paramedic" to do simple patient care will meet the challenge that a shortage of health care workers in rural areas creates.
Our debate will pose this question: With a shortage of health care workers in rural areas, should the state support mid-level practitioners - such as dental therapists and community paramedics - to fill the gap?
The debaters
Pro -Gary Wingrove, paramedic and chair of the International Roundtable on Community Paramedicine
Wingrove is a program director for the North Central EMS Institute in St. Cloud. In addition to chairing the International Roundtable on Community Paramedicine, Wingrove coordinates the Community Healthcare and Emergency Cooperative that developed the Community Paramedic curriculum, which has been provided to over 40 universities in 5 countries and the US Military. Gary lives in Buffalo with his 12-year-old twins, Joey and Allie.
Con - Carol Diemert, RN, MSN and Carrie Mortrud, RN, Minnesota Nurses Association
Diemart is a nursing practice specialist with theMinnesota Nurses Association, which is a a professional organization representing registered nurses to promote the professional, economic and personal well-being of nurses; and to advocate for quality care. For the last 11 years, Mortrud has been a public policy specialist for the state Nurses Association, Before her work with the association, Mortrud was a registered nurse working at Abbott Northwestern Hospital.
July 2011
S
M
T
W
T
F
S
1
2
3
4
5
6
7
8
9
10
11
12
13
14
15
16
17
18
19
20
21
22
23
24
25
26
27
28
29
30
31
Master Archive
Services