Insight Now Talk about issues in the news
Insight Now: July 19, 2011 Archive
Posted at 8:13 AM on July 19, 2011 by Michael Caputo

The assertion: Too little revenue has caused the state's systemic budget imbalance
What's at issue?
House Speaker Kurt Zellers and Gov. Mark Dayton announce a budget deal at the Capitol in St. Paul (MPR photo/Jeffrey Thompson)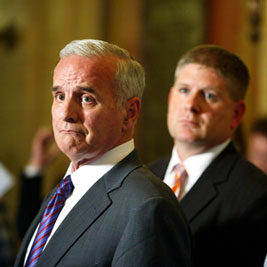 An announced budget deal by Minnesota leaders last week might signal relief from a paralyzing shutdown.
But this budget agreement does little, if anything, to deal with the real problem in state finances: The systemic imbalance that has caused the state's budget recurring budget shortfalls. The spending plan uses one-time shots of cash to balance the books (by borrowing against future dollars from the settlement of the lawsuit against tobacco money and by delaying payments again to schools).
The phrase (or cliche) that describes the settlement suggests that the real problems were passed on until the next budget negotiation - kicking the can down the road.
Why is this debate important?
So as Gov. Mark Dayton and Republicans who lead the state legislature pass this budget ... the real problem of systemic budget shortfalls remain outstanding. How can Minnesota address the perpetual imbalance. Should they look to real spending cuts that would likely be felt by many in the state? Should they increase taxes of some kind - be they income taxes on the wealthiest to sales taxes to closing tax loopholes?
Former Gov. Arne Carlson, who railed against this budget proposal, said it has become vital for the the state to address the problem or "the deficit will go up and rating agencies will downgrade the state's credit while the political debate continues."
So it's a no-brainer what our debate this week should focus on: The real solution to the state's budget dilemma.
And we get that discussion started by asking this: What's the primary cause of the state government's budget problem, too much spending or too little revenue?
Pro - John Van Hecke, Executive Director, Minnesota 2020 and MN2020 Fellow
For the last four years Van Hecke has led Minnesota 2020, a progressive non-partisan think tank. In the mid-2000's Van Hecke was the campaign manager for the DFL House Caucus. He also worked for the late Democratic Congressman Bruce F. Vento. Van Hecke graduated from Macalester College with a political science degree and served as a Minnesota 4-H Foundation Fellow at the National 4-H Center. He and his family live in Saint Paul
Con - David Strom, Policy Fellow, Minnesota Free Market Institute
From 2007 to 2008 Strom was president of the Free Market Institute. From 2004 to 2007 Strom was president of the Taxpayers League of Minnesota. He has most recently served as a researcher for the Republican House majority caucus. Strom taught political philosophy at Duke University, North Carolina State University, Carleton College, and the University of St. Thomas. He also hosted his own radio show for 6 years and has appeared on public affairs programs radio and television programs in the Twin Cities. He lives in Minneapolis with his wife Margaret Martin.