Insight Now Talk about issues in the news
Should Minnesota use tax increases to balance the budget? (Wrap-up of 4/25-4/29 online debate)
Posted at 7:26 AM on April 25, 2011 by Michael Caputo

MPR held a discussion on whether or not to raise taxes as a way to plug a $5 billion hole in the state's budget. DFL Gov. Mark Dayton has included tax increases as part of his approach. Republicans controlling both houses in the Minnesota state legislature have so far opposed this income tax increase.

This seemed the opportune time to engage in a discussion about taxes since the state budget deadline is just four weeks away and state leaders would seemingly have to find some common ground.
The arguable assertion: Minnesota leaders should reject tax increases of any kind to balance the budget.
The debaters who were invited were:
Pro - Charlie Weaver - Executive Director, Minnesota Business Partnership
Con - Nan Madden - Director, Minnesota Budget Project
To go straight to the debate itself or to read full opening remarks, rebuttals and closing statements Click here for the links.
Below is a bit of what we learned from the discussion...
Public positions on taxes are hard and fast
"I doubt little of what will be argued here will change many minds."
This was how the debate was started by Charlie Weaver, executive director of the Minnesota Business Partnership. Those who commented later appeared to understand the nature of this debate. No one will change their minds.
One line stuck with me as much as Weaver's opening - "What we can't do is follow ideology over the cliff".
But you have to wonder, is that a problem for people who have to win elections? Perhaps that sounds like a harsh critique of politicians - as only interested in winning an election. Yet couldn't the truth also be that elected officials are simply carrying out the promises they ran on?
"Balancing the budget without raising taxes is what I campaigned on, why I got elected and what the people of my district expect from me." - Rep. Bob Barrett, R-Shafer.
Gov. Dayton said in that same story that voters may have elected a large number of Republicans to the Legislature -- but they also elected him. And he reminds Republican leaders the voters knew where he stands on taxes.
Sen. Majority Leader Amy Koch and Gov. Mark Dayton (MPR file photo)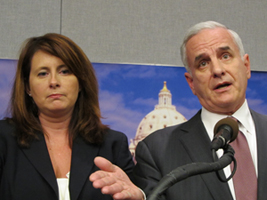 Wouldn't those who didn't adhere to their promise suffer the same fate as a president who went back on his campaign pledge to
"read my lips"
?
What if those in elected position were held to some other standard, one that didn't foster a win-lose mindset that, as a commentator in our debate put it, does not enable the discovery and enaction of win-win solutions that actually work."
Hope in the back room?
Now, you might remember the one-hour discussion we had online at Insight Now earlier in the month. We invited a former state revenue commissioner who has taken to pushing tax reform with an organization called "Sensible Tax and Fiscal Systems".
John James, who has also advised the state and federal governments on tax law, was in the audience during a policy forum at the Humphrey Institute in April( a discussion that included Amy Koch, Republican Senator Majority Leader and Gov. Dayton's budget commissioner, Jim Schowalter. It was moderated by Steve Sviggum, the former Speaker of the House).
After that discussion, we asked James whether their was an opportunity for real tax reform in the state legislature... (click below for his thoughts):
This was a hopeful note. And perhaps we can hope that the behind-the-scenes discussion in the legislature doesn't match the public inflexibility.
There was one commentator who had a wish, "to come up with a new way to talk about these issues. I really don't know what that way is."
Perhaps James's website, which includes some real tax policy shifts, could be a start at changing that dialogue.


A few other sensible thoughts:
1) Can't we get off the "tax seesaw"?
2) Can't we pick a number and stay there"?
A few real life stories about tax impact
We had comments from those who wonder where the dislocated worker fits in to the broad notion of who is productive in society, we heard a small business perspective and we were given the view from a a state worker.
A lesson for the moderator of these debates
As the host of these discussions, I will be more mindful of whether or not to start discussions based on the fatigue factor. Taxes have been talked about since January, and I sensed that there wasn't a lot that could push this conversation forward.

Please join the discussion, which will continue.

April 2011
S
M
T
W
T
F
S
1
2
3
4
5
6
7
8
9
10
11
12
13
14
15
16
17
18
19
20
21
22
23
24
25
26
27
28
29
30
Master Archive
Services