Insight Now Talk about issues in the news
Asking students about school spending... imagine that...
Posted at 9:32 AM on September 30, 2010 by Michael Caputo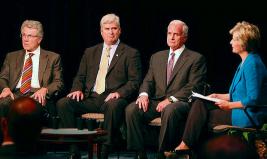 Education funding will be front-and-center during the coming weeks as Mark Dayton, Tom Emmer and Tom Horner via to become the state's next governor. Have a crack at sifting through their proposals (if you dare).
We've been looking at funding through the eyes of one school district - Chatfield Schools. Superintendent Ed Harris has shared with us how he will pitch a tax levy increase to constituents.
We also wanted to hear from those affected the most by a November 2 decision on raising revenue for schools - the students. On Friday we talked in an online forum with four Chatfield High School students and their teacher on what they see when it comes to financially supporting education. Have a read...
September 2010
S
M
T
W
T
F
S
1
2
3
4
5
6
7
8
9
10
11
12
13
14
15
16
17
18
19
20
21
22
23
24
25
26
27
28
29
30
Master Archive
Services